MARTINSVILLE – New exhibits at Piedmont Arts range from the freedom of the abstract to the confinement of detention.
Exhibits include watercolors by Richmond artist Javier Tapia; a virtual reality experience of juvenile detention; art by Martinsville City Jail inmates; paintings by last years' Expressions winner, Donna Koger; and photographs by teenagers.
"Acuarelas en Gran Formato" means "large scale abstract watercolors." Artist Javier Tapia was born in Peru and moved to the US in the 1980s.
The artist is an associate professor of painting and printmaking at Virginia Commonwealth University (Piedmont Arts' public relations director Bernadette Moore took one of his classes). His work is all over the country and the world, represented by the Reynolds Gallery in Richmond.
Large scale paintings of geometric designs in largely basic reds, blues and greens dominate the Hooker Garrett Gallery. "Martinsville is extremely lucky to have this place (Piedmont Arts)," Tapia said. "I am incredibly, deeply honored" to have an exhibit there, the artist said during a gallery talk at the recent exhibit opening.
The works on display are among those he painted from 2013 to 2018, he said.
"I know that many of you know how difficult watercolor is," he said, but he feels that he has "reached the point where I am in my work using opacity and transparency in interchangeable ways and I really like the idea that watercolor can reach places where it hasn't yet been around. That's what I look forward to keep discovering."
He talked about the process of creation.
"There is something about, when you start a painting … you start thinking about very little in a way, and that subject for me drives me to a place where I even contradict myself, and I really go back and forth, back and forth, so in that kind of opposition, something electrical really happens."
His designs are not pre-planned, he said. He starts off in one direction, "and in half an hour I'm totally on the opposite side.
"I really like the idea that if you're exploring a subject the way I like to explore it you can not only – if it's going to be deep enough, it's going to have to entertain the opposite side. I really like that … in and out kind of thing."
One day as he was working, he said, "I was thinking, 'Around.' … as I move around the work, I'm thinking around, the in and out, of trying to do something in the work that lets the color be, lets the line be, lets the space be, but not without the kind of struggle that has to be going through when you examine a subject in opposite ways.
"Watercolor is incredibly wonderful, but without the opacity … I need the other side of it. I need the whole spectrum of possibilities, and I realize if you have opacity you can really speak about the world."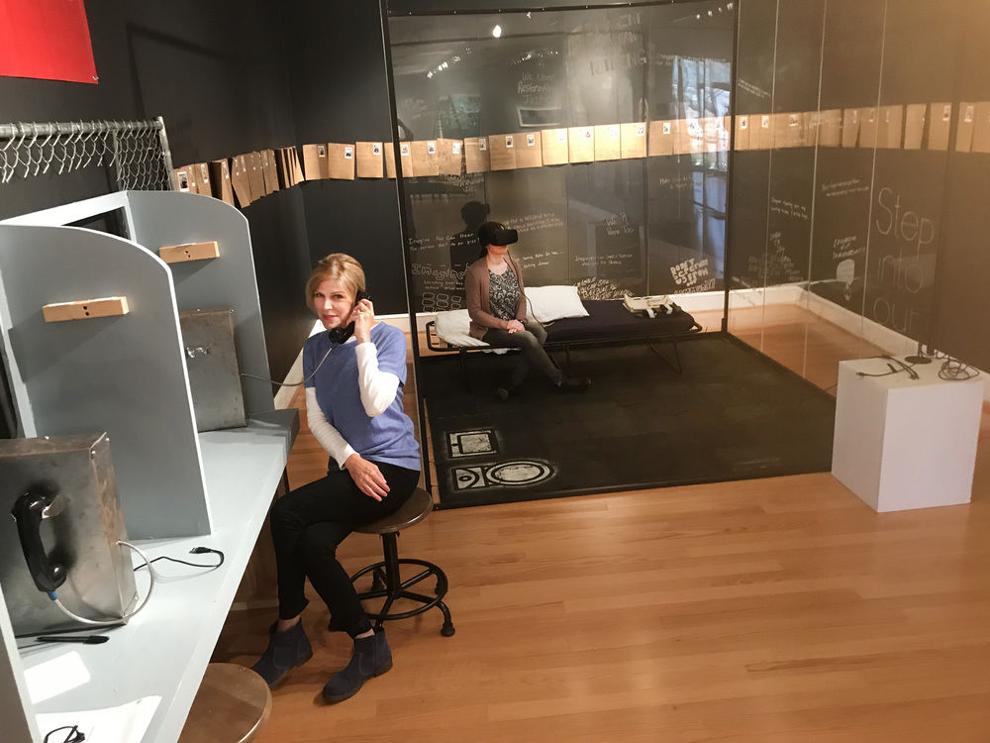 In the Pannill Gallery is "Art 180: Imagining a World Where No Youth Are Locked Up," a full installation from a group in Richmond, a non-profit that creates and provides art-related programs for young people living in challenging circumstances and encourages personal and community change through self-expression.
At the gallery talk, Piedmont Arts Director of Exhibitions Heidi Pinkston described Art 180.
Through Art 180 there is a program called Forming Statistics, "the first program in the state to work with youth trapped in the youth school-to-prison pipeline. They work with them to sharpen their advocacy and leadership skills," she said.
Its entries were created by teenagers inside U.S. juvenile justice systems. "It shows the stories, voices and viewpoints of teenagers … who were in Richmond detention center," she said.
Through self-portraits, digital narratives and visual media, teenagers in detention facilities explore their views of education, family, change and their futures using various mediums of expression, Pinkston said: "What this project is trying to do is to give these youth a voice."
The exhibit also invites people to participate — as visitors to the facility, or as inmates.
A bank of phones is set up jailhouse-style: Sit down, pick up a phone headset as if you were talking on the phone to someone across the glass from you, and hear messages from kids in detention.
In the back of the gallery is "Step into My Cell," a recreated detention center cell. Inside its glass walls, you sit or lay on a cot. Once you put on the headset, all you see and all you hear would be just like you were inside a detention center.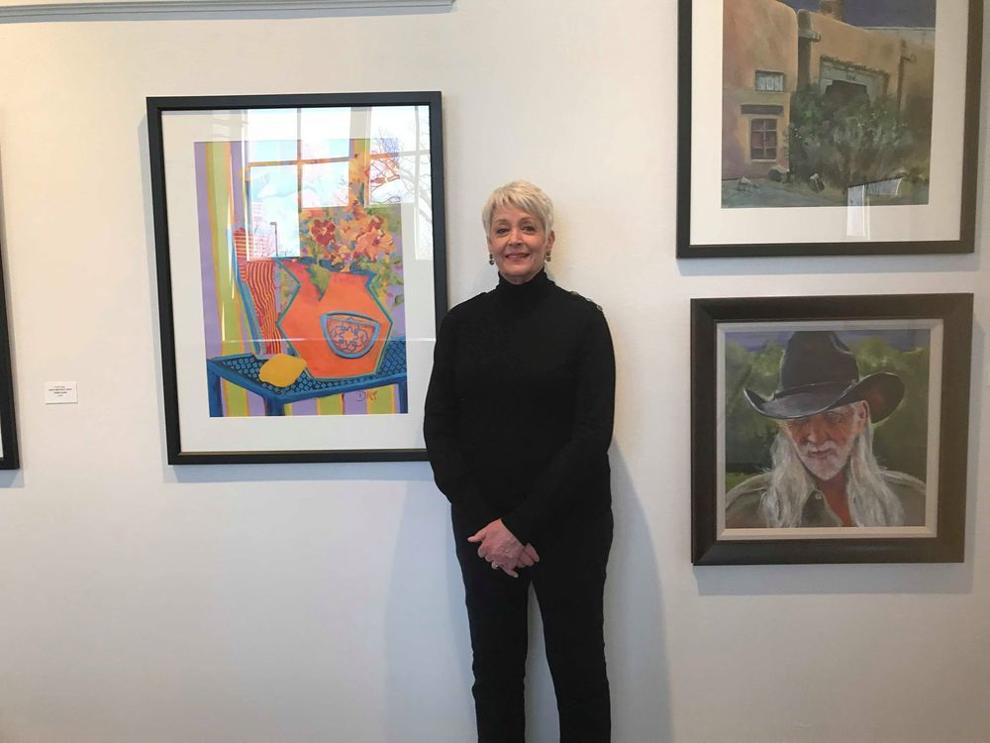 In the Lynwood Artists Gallery is "Second Chances," paintings, sculptures, drawings and writings from Martinsville City Jail inmates.
Donna Koger of Ridgeway won Best in Show in "Expressions" last spring, and now several of her paintings are on exhibit in the Box Mezzanine.
Pinkston called Koger "a wonderful artist, a watercolorist and acrylic painter." With more than a decade painting, she has studied with Carol Moates in Greensboro, North Carolina; at The Studio School in Roanoke; and under Tracy Budd, Robin Poteet and Vera Dickerson.
"PhotoVoice" is a collection of photographs by CHILL students. As part of the "PhotoVoice" project, students made two photographs: one of something in the community that helps them make positive decisions, and something else which makes positive decisions difficult.
An Art @ Happy Hour event related to the exhibits will be held from 5-7 p.m. Thursday, April 26.
The next exhibit will be the popular open-entry show, Expressions 2018, May 19 through July 20. Entries will be accepted from 10 a.m. to 2 p.m. Saturday, May 5, and an additional acceptance time is available for Lynwood Artists and students: 4-6 p.m. Thursday, May 3.