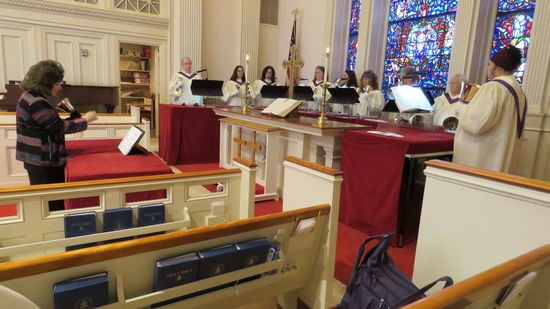 Martinsville musician and world-renowned composer and arranger of handbell music Cynthia Dobrinski of Mountain Valley has died at age 71.
More than 175 of her works are in print. She also worked as an instructor and conducted about 350 handbell workshops.
Her pieces for handbells, which have been heard in churches across Virginia, the nation and parts of the world, include her original composition, "All Glory, Laud and Honor" in 2 or 3 octaves, the classic hymn "God Rest Ye Merry Gentlemen" in 3 through 7 octaves, and Beethoven's "Joyful, Joyful" in 3 to 5 octaves, published by Hope Publishing.
She also nwas a composer for Choristers Guild, a large choral, school, handbell and instrumental music publisher.
"She was one of the most famous handbell composers in the world," said Byron Corcoran of Martinsville. "She was just an exceptional organist, composer, Fulbright Scholar and just on and on and on."
"She was probably the highest level of handbell authority in the country," said Judy Corcoran, who filled in on piano for Dobrinski for the past two Sundays at First Presbyterian Church.
"There aren't very many people who write handbell music, and she wrote very beautiful, complicated and advanced handbell music," she said.
"All of her work is unique, because of her harmonies and her ability to take a melody, and sometimes her own melodies, and sometimes hymns that are well known, and write them for bells. It's not easy to do," said Sandra Ford, who has taken lessons from Dobrinski and sang with her in the First Presbyterian choir.
"As both a bell ringer from an early age and a bell conductor for many years, I have always enjoyed playing and directing the works of Cynthia Dobrinski," said Pam Randall.
"Handbells have a wide variety of techniques that can be used to create music. Cynthia was a master at weaving those various techniques through her music while simultaneously asking ringers to modulate through several key changes. This deft composing and arranging brings the pieces to life and keeps the ringers on their toes.
"When I select music for handbell groups, her pieces always come to mind first. While she is probably best known for her arrangements of well-known pieces, she also composed several original works. Her music is accessible by most handbell groups, entertaining for the audience and engaging to play."
Dobrinski had a bachelor's degree in music from Texas Christian University and a master's degree in organ performance. She taught handbells and organ at Southwestern Baptist Theological Seminary for 15 years.
As a Fulbright Scholar, Dobrinski studied organ in Germany, Judy Corcoran said.
When Dobrinski came to the Martinsville area, she first was the organist at Pocahontas Bassett Baptist Church, before becoming the organist and choir director at First Presbyterian Church, Judy Corcoran said.
It was around when she came to First Presbyterian that the popularity of handbells really took off.
"Handbells started in the late 1950s, a kind of novelty thing," said retired organist Robert Chapman, who last played for Broad Street Christian Church and ran a community handbell choir.
"By the year 2,000, the handbell became a craze. Any church that had a full-time music director, they were faster to hop on the bandwagon and get handbells."
As well as composing music for handbells, Dobrinski was a "very good" instructor and director, he said.
He experienced that when he went to substitute for one of her handbell chorus members: "She would start with physical exercise of arms, wrists and fingers, and then you would get into actually ringing the bells.
"She would start them and stop them until you got a section of music worked out. She was rather diligent" with the time it took to make sure the sound was smooth and pleasing, Chapman said.
Ford was new to composing when Dobrinski arrived at First Presbyterian, she said.
"I've been published for maybe 10 years. I made a point in taking classes from her. She was so knowledgeable.
"Her beautiful, swirling harmonies had fascinated me before I got to meet her," Ford said.
Dobrinski also played organ in the King's Grant chapel once a month, said Pocahontas Bassett organist Peter Ramsey, who said he filled in for her last month on her request.
"She wanted me to do it again this month," he said.
"I will probably pick a piece of hers and play it as an offertory in her memory and honor this Sunday" at Pocahontas Bassett, he added.
Dobrinski died Tuesday morning at Sovah-Martinsville, Judy Corcoran said. The Corcorans had attended Dobrinski's Independence Day 199 wedding to Rocky Granger, who at the time was the minister of music at First Baptist Church in Collinsville, in Arlington, Texas, she said.
A funeral will be held later in her hometown of Lorraine, Kansas, Judy Corcoran said, and there probably will be a memorial service in Martinsville at First Presbyterian Church.
Note: Corrects name of Dobrinski in second-to-last paragraph.
Holly Kozelsky writes for the Martinsville Bulletin. She can be reached at 638-8801 ext. 243.