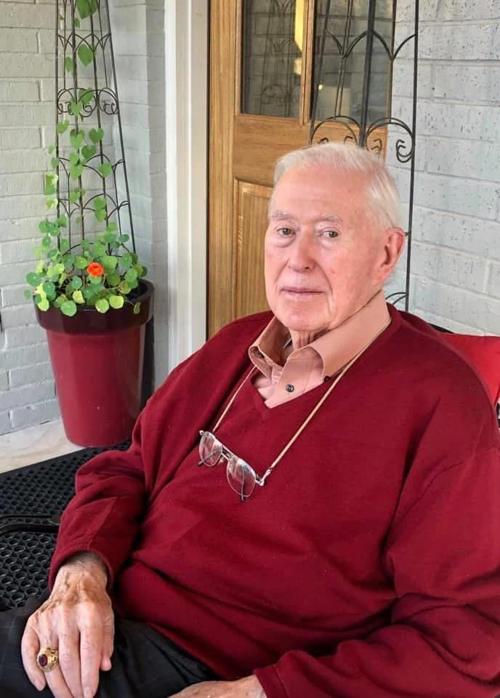 Hal Prillaman, who died Thursday in Texas, where he had been living with his daughter, is remembered as a man who was dedicated to his community.
Prillaman was one of the members of a committee that worked to integrate Martinsville, well before integration became mandated, said his nephew, Joe Hundley of Martinsville. Other members included a legendary local pastor, the late Rev. R.T. Anderson.
The committee, made of black and white community leaders, held their first meeting together over a meal in one of their houses. "That was such a foreign concept, for black and whites to eat together, and he said it was brilliant: It broke" a big barrier right from the beginning, Hundley said.
His uncle used to talk about how they went about integration, Hundley said. It started with integrating sports and giving students the choice of which school to attend. They also got some teachers to volunteer to teach in the schools of the opposite race.
Prillaman and his brother, the late Nick Prillaman, were co-owners of The Prillaman Company, a business started by their father in 1936. The Prillaman brothers built the Prillaman Chemical Corp. and The Prillaman Brothers Inc. and acquired several associated corporations dealing with industrial finishes, coatings and recycling, including American Alchemy, Asher-Moore and Daly-Herring.
Hal Prillaman also was an officer in the National Guard.
Prillaman "often spoke about civic responsibilities," said Nancy Baker of Martinsville. His community contributions included helping remodel the library and building the rescue squad building off Fairy Street. He was a Jaycee, a member of the Kiwanis and the president of Chatmoss Country Club from 1995 to 1997.
He was a chairman of the Patrick Henry Development Council and a strong advocate for Henry County and Martinsville to share joint economic development efforts.
He also was one of the founders and on the board of Carter Bank, Jim Severt said.
Eliza and Jim Severt of Martinsville said their friendship with Hal and Wanda Prillaman started at a Jaycees picnic for new teachers in 1958, when the Severts were new to town.
"Hal was a good community citizen," Eliza Severt said.
Prillaman was a dedicated Hokie from Virginia Tech. "Of the four Prillaman brothers, two graduated from Virginia Tech, but the other two had to go to UVA," Baker said.
Hal and Nick Prillaman, "or it may have just been Hal, gave enough money to establish a professorship at Virginia Tech," Eliza Severt said.
He also was one of the early supporters of Virginia Tech's Ut Prosum, the philanthropic organization named for the university's motto, "That I may serve."
"He was quite the engineer," Hundley said. "He was recognized by Virginia Tech as one of the outstanding engineers from Virginia Tech."
Hal Prillaman always had said that he and brother Nick "never had a cross word the whole time they worked together," Hundley said.
The Prillaman family maintain the family homeplace, which was built in 1830 or before, in the Dyer's Store community.
"He loved the Prillaman farm," Hundley said. "His dad told him to take care of the Prillaman farm, and he loved taking care of it."
Prillaman held many leadership roles with First Baptist Church.
During worship services, "he always save a seat for his dad, and after Wanda died, he saved a seat for Wanda," Hundley said.
"He enjoyed people and liked to reach out to newcomers, encouraging them to meet others and to do things," Baker said.
"He and Wanda were perfect hosts, and many fondly remember the Halloween parties," Baker said, adding that he enjoyed seeing his guests' costumes as much as he liked dressing up himself.
All said he enjoyed hosting groups at Smith Mountain Lake. Brenda Hundley recalled that he even would ask neighbors there for his overflow guests to stay in their bedrooms. He also liked to organize trips for groups, both in the U.S. and abroad.
His wife, the late Wanda Prillaman, was an accomplished and popular painter. "He was proud of Wanda's artwork, encouraging her as she shared her skills in so many ways," Baker said.
"His volleyball team, the Mamas and the Papas, played together for over 30 years," Baker said. "The group often gathered at Najjar's, where they were often the recipients of age-related jokes. But one year the team won the longevity award as well as the tournament trophy."
He also kept up playing golf and tennis until just three years ago, Baker said.
Survivors include daughter, Ann Hamre of Fort Worth, Texas; grandchildren, Ian Hamre, Max Hamre, Jules Hamre, Violet Hamre, Chloe Cox and Duke Cox; and brothers, William W. Prillaman of Naples, Fla., and Jerry L. Prillaman of Obsonville, France.
Holly Kozelsky is a writer for the Martinsville Bulletin; contact her at 276-638-8801 ext. 243.
Holly Kozelsky is a writer for the Martinsville Bulletin; contact her at 276-638-8801 ext. 243.
Be the first to know
Get local news delivered to your inbox!