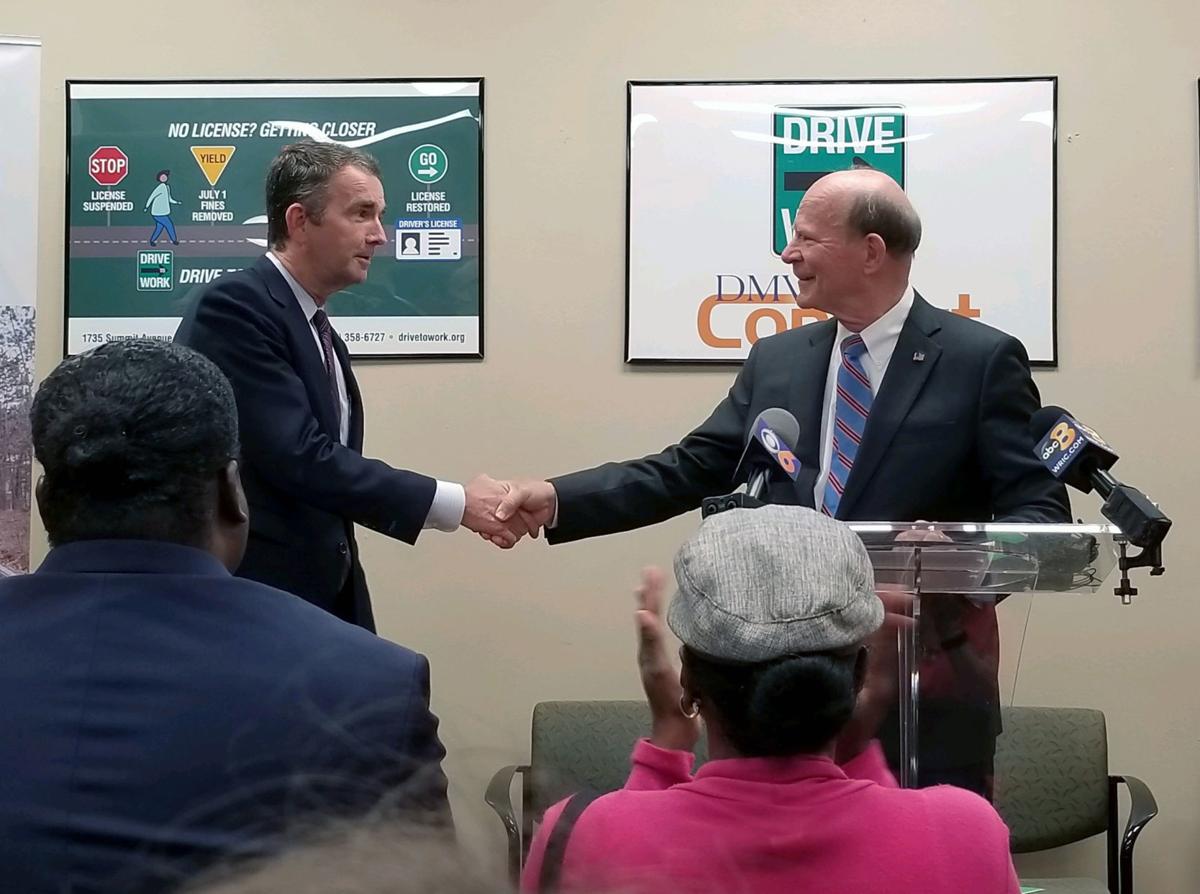 A part-time Henry County resident is retiring from a statewide program he started to help reinstate driving privileges.
O. Randolph "Randy" Rollins, 76, started Drive-to-Work almost 13 years ago to help poor Virginians and former inmates resume their driving privileges.
Rollins and his wife, Martinsville native Martha Franck Rollins, live in Richmond but spend time on their farm near Leatherwood.
His wife is the daughter of the late Bill Franck, who had been the head of Tultex, followed by her brother John as CEO. Tultex went out of business in 2000.
In 1994 Rollins was hired by Tultex and worked there until it closed. The couple lived in various places, he said, and right before they bought the Leatherwood farm in the 1990s, they lived in Bill Franck's former home in Chatmoss, after the Francks moved to King's Grant.
Throughout that time, they kept their home in Richmond, where Martha Rollins had an antique business.
She started Boaz and Ruth, a non-profit organization that oversaw various programs "to help people get resettled after they've been in prison and jail," he said.
Its first operation was in Richmond, and its affiliate opened in Martinsville in 2004, according to Bulletin reports. The Martinsville location closed in 2006 because of struggles with funding, reports stated.
She retired from Boaz and Ruth in 2013, her husband said. The organization remains in operation.
After Randy Rollins' retirement, the Rollins' primary residence will remain in Richmond, he said, but the couple will be able to spend "more than just weekends" in Henry County.
Drive-to-Work
During former Gov. Douglas Wilder's administration, from 1990 to 1994, Rollins was a Virginia's secretary of public safety. That department encompasses the Department of Corrections, Virginia State Police, Department of Fire Services and other agencies, Rollins said.
Through that role, "I got to know something about the problem of re-entry," he said.
After he left public office he said he looked at what else he could do. "I saw this massive need for people to get to work," he said — and most people need to be able to drive to and from work.
Owing fines was the main reason people had lost their driver's licenses and not been able to get them back, he said. Other reasons have been being a habitual offender, having a DUI or owing child support.
To help people get or keep their drivers' licenses so they could fulfill essential functions, he started Drive-to-Work in 2007. The organization "had a number of high profile people who supported it on board," he said.
The Department of Motor Vehicles was interested in his organization's efforts "not because it was of advantage to them but because they were overwhelmed by people coming into their offices asking for their licenses back," he said. "They were happy to see some organization or person was interested in the problem," which otherwise tends to be overlooked, he said.
The organization helps in three different ways: It assists individuals; it helps through group programs; and it advocates for changes in laws.
There are four full-time and four part-time employees. Rollins had been an attorney, and one of the part-time staff is an attorney as well, he said.
Some crucial allies helped get the program started. One was a former law partner who had become a federal judge, and the other was Harold Clark, a newly appointed director in the Virginia Department of Corrections.
Clark "had a national reputation on how to be successful with prison re-entry," Rollins said. "As a result of his work with the Virginia Department of Corrections, for three years in a row Virginia has had the lowest recidivism rate of any state in the country."
Clark supported the Drive-to-Work efforts with a program in which volunteer-trained lawyers give seminars inside prisons, this year 45 seminars in 15 prisons. The program helps people who otherwise might not figure out how to reinstate their licenses.
Drive-to-Work also tackled the problem from a legal angle. It "identified a number of different laws" that restricted licenses for people who otherwise would be able to drive, Rollins said. "Over the course of our operation in its 13th year, we've gotten probably 20 pieces of legislation through the General Assembly and helped address the issue of the unintended consequences of suspending licenses because of owned fines."
The organization has helped "address the strange outcomes people never thought about" when the rule of revoking a license until fines were paid was instituted.
Reinstated licenses
In July the state removed suspensions from people's driver's licenses in the cases of suspensions based on fines, Rollins said.
A major group that helps is former inmates. Previously, their licenses would be suspended until fines were paid.
In April the DMV had determined that there were 1.3 million suspended drivers in Virginia, Rollins said. Of that, 612,374 were suspended only because of fines owed. They were eligible to get their licenses back when the new law took place July 1. If a reinstatement fee had been required, that fee was waived.
"If that was the only reason they were suspended, those people automatically got their licenses back," he said. "They might still have to go to the DMV to take the test and show they are legally in the country."
On the second category — licenses suspended both for fines owed plus other reasons — "they still had to work those [the other reasons] out," Rollins said. Although outstanding fines no longer served as impediments to having a license, they still had to be paid – even if it was through being sued or wages garnished.
The rest, around 334,000 people, had no fines, but their licenses had been suspended for other reasons, he said.
In addition to 46,000 Virginians who have taken steps to get their licenses restored, another 30,000 people each month have been saved from losing their licenses because of the move, the Richmond Times-Dispatch reported on Sept. 30.
The new president of Drive-to-Work will be Sara Redding Wilson, a former director of the Virginia Department of Human Resource Management for 20 years under six governors, the Times-Dispatch reported. Rollins will retire on Jan. 1, and she will take over the next day.
Holly Kozelsky is a writer for the Martinsville Bulletin; contact her at 276-638-8801 ext. 243.
Holly Kozelsky is a writer for the Martinsville Bulletin; contact her at 276-638-8801 ext. 243.
Be the first to know
Get local news delivered to your inbox!