Don Hopkins' museum and lifetime collection of fairy stones all started with a chance find.
Half a century ago, he came across his first fairy stone while cleaning debris from a screen at a water line coming from a spring outside Stuart.
Hopkins was fascinated and began a search that uncovered loads more. Now fairy stones he has been collecting since the early 1970s are on display at his Stone Cross Mountain Museum at 17529 A.L. Philpott Highway in Horsepasture.
The facility doesn't have regular operating hours anymore, but he's happy to meet anyone there at any time to share the passion; people set up times by calling him at 276-957-4873 or 734-7895. Admission is $6.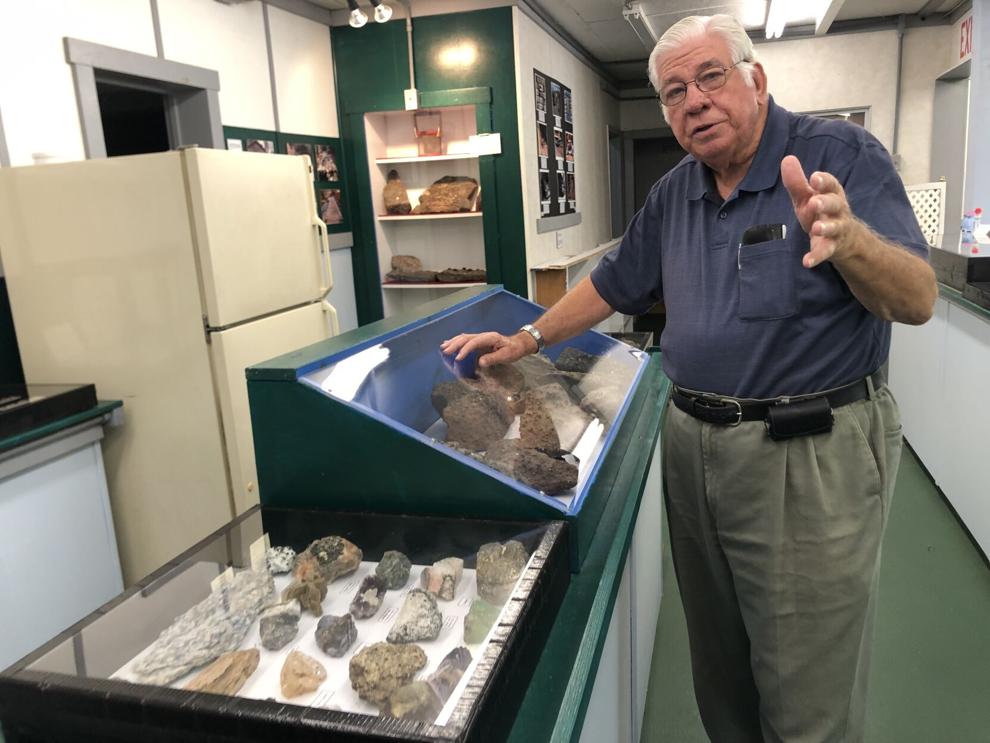 "If I was in it for the money, I wouldn't have never got in it," he said with a laugh.
The museum has rows of display cases showcasing fairy stones by features such as size, shape, color and degrees of perfection of shape. It also features rocks full of embedded fairy stones and displays of other gems and minerals.
"I have dug out of the mountain, with a mattock and shovel, over 3,000 buckets of dirt," he said. "Now, that's a lot of washing – but you see what I've got."
Technically speaking, fairy stones are staurolite, a combination of silica, iron and aluminum, and the museum refers to them mostly as "staurolite crystals." As the staurolite crystals grow, they often intersect to form crosses. Three shapes are identified: Roman cross, shaped like a cross or plus sign; St. Andrews, shaped like "X;" and Maltese crosses, the rarest, which have crossbars at the ends.
Fairy stones "go from nothing to perfect," Hopkins said, pointing to a display of the stones in rows. "The first stage is the faint image of the cross, and then the image of the cross gets a little plainer and a little more detailed with each stage all the way to a completely perfect cross."
They are found in only a few places around the world.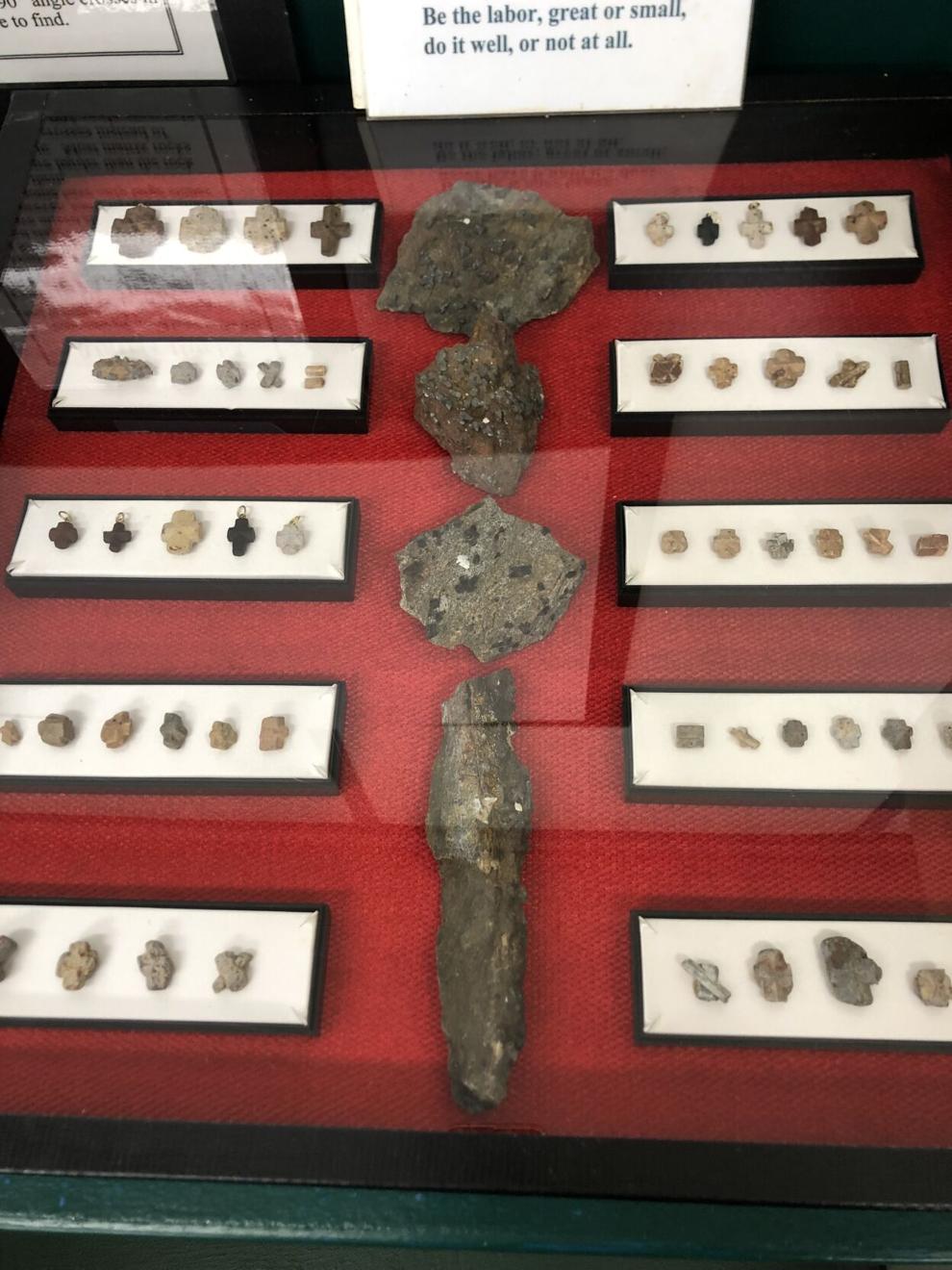 Fairy stones
Fairy stones are found in a perfection scale from nothing to perfect" and can be both embedded in rocks and loose in soil. "That is the nature of gems and minerals," Hopkins said.
What most people have seen of fairy stones are those that have prepared for sale by having been cut out and polished, "but the closer it is to perfect, the less work it is to bring it out," he said.
Fairy stones can be as thin as a piece of paper up to as thick as 2 or 3 inches and a hardness from 2 to 7.5 on the Moh's scale, he said. The lighter stones are softer, and the darker stones are harder, about as hard as quartz.
They are a bit bigger in North Carolina, and in Georgia, up to 5 or 6 inches, he said.
In Virginia, they are found in a vein about 3 miles wide and 50 miles long running from the south of Stuart to across Patrick County and Henry County to Smith Mountain Lake, he said.
There are five colors that are said to represent the races of mankind: red, white, black, light brown and yellow. Fairy stones that look gray aren't really gray, just oxidized, he said.
The little dark specks in them are garnets, and the cavities are places where garnets had been but worn away.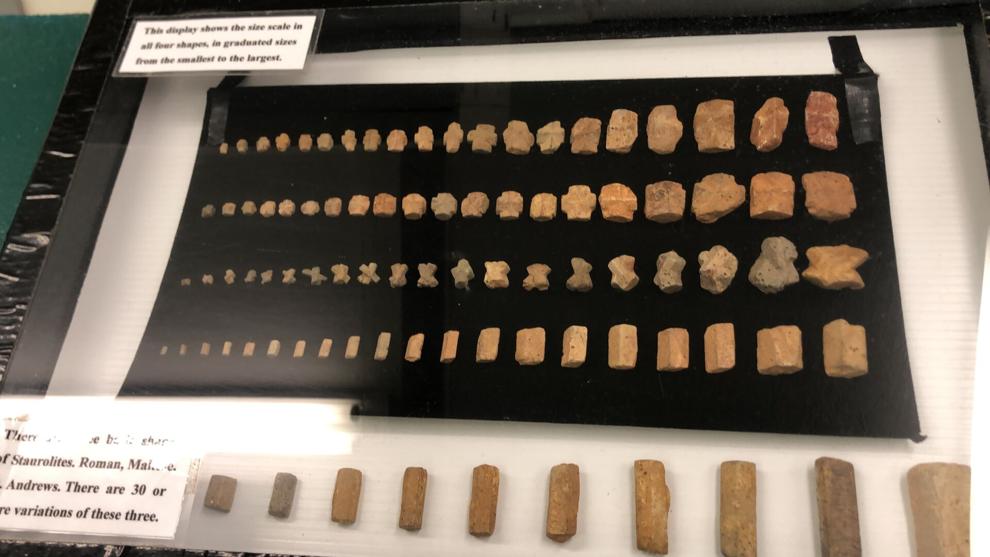 Message in stone
Hopkins said the various shapes of the stone crosses carry a message. The three top points of the cross represent God, Jesus and the Holy Spirit, and the bottom "is one way. There is only one way to God, through Jesus Christ."
The Saint Andrews' stone is X-shaped, "the symbol for rejection," which represents the unbeliever. The equal-sided Maltese cross-shaped stone represents the believer, and that shaped stone fits inside the Roman cross stone, which has a longer base.
"The believer is in Christ, but the unbeliever is not. You can't make it fit," he said.
The mine
Hopkins bought the land that yielded fairy stones – though he didn't know it at the time – in 1971. However, through most of the 1970s he and his wife, Carol, lived in Floyd, where he ran a Sears store.
The fairy stones fascinated him from the beginning. When he started collecting, Hopkins didn't know what he was getting into. Back then, he thought there were "three sizes, small, medium and large. That's all I knew. Now I know it's over 100."
The varied colors of them intrigued him, and the sizes. Also, "as I started collecting, I started seeing more things that were parallel with the Crucifixion," he said.
"I begged God, 'If this is what this represents, if this is true, would You give me more knowledge.'" A "small, still voice" answered him that the fairy stones represent the Cross.
In Floyd, "that business flourished … We had a good home, the respect of the community … we had achieved the American dream." However, he said, God told him to dedicate himself to sharing the message of the little stone crosses, so the couple went to Stuart.
In 1982 he opened Stone Cross Mountain Mine in Patrick County where people could sift through dirt to get fairy stones. It was "the first staurolite crystal screen-sifting mine in the world," he said. By then his son, Jon, was 11 and worked in the mine with him, and the couple's daughter, Lisa, was a baby.
Fairy stones on that property were plentiful in a vein about 75 feet long and 100 feet "top to bottom," he said. He had a man with a bulldozer and front-end loader to "pile it up for me where it would be easier to work."
People would separate the dirt from the stones by putting some in a cricket basket with rigid handles and swishing it around in 5-gallon buckets of water.
A couple of years after he had built the mine, he had to build a new building on more property, because of changes the state made to the highway, he said.
It was hard for Hopkins and his son to go out of town, because they would have to close the mine. "So I studied on it, and I decided, 'I'm going to do it by the honor system. I'm going to put me a little mail slot there, and put me a notice there, that you put two dollars in the mail slot, and then you get a bucket of dirt and screen it.'"
He said his son didn't think that would work, but after the first day they tried it, "there was $44 laying on the floor," corresponding to the exact number of buckets that had been screened.
For a while, 12,000 tourists visited his mine in a year.
Then hard times hit, "and we lost everything we had, except for these stones." He and his wife separated, and he and Jon went to live in a small house and then a trailer in Patrick Springs. The son worked at Lowes, and the father worked at the elastics plant in Stuart.
Years of sorting
Hopkins' own collection of fairy stones filled six gallon-jars, but "I mixed the good and bad together … That was dumb, but I wasn't thinking."
After his second shift at the plant, he'd sort the stones "by good and bad" into bowls, and then by style, "and then I still had to separate them by size."
In 2002, around the time he retired, he bought the Horsepasture property. The father-son pair lived in the apartment upstairs and opened the museum in 2004.
Hopkins created a website for the museum. In addition to information on staurolite crystals, it features books he's written on religion, fairy stones and his grandmother's recipes; you can order them by mail for a fee, or download them for free.
"I moved here and opened up and I thought people would be tickled to death to see what I collected," he said. However, much to his disappointment, the museum didn't seem to get many local visitors, but rather just tourists who were visiting the area.
"Local people, believe it or not," think they know enough about fairy stones, and rarely came to visit the museum.
He invited church groups and school classes, but churches wouldn't come because of the word "fairy," which some people took to be a pagan symbol, and "I didn't have a single school come here because it's a religious symbol."
Even so, father and son happily ran the museum together until Jon died in 2017. The loss of his son, coupled with the decrease in tourist traffic after the rise of gas prices, caused Hopkins to stop opening on regular hours.
However, he keeps plugging along, opening the museum upon request, and making plans for the future. "I guess the average man would have gone under with the things I've had to deal with, but I'm not average," he said.
The collection's future
His next goal is to build a creation museum, highlighting "the beauty of God's creations." He just needs to find the investor to go in on it with him.
"I want to have overwhelming evidence of God's creation and no one could deny it," Hopkins said.
"There are so many wonderful things that come out of the earth it's just amazing. It's mystifying to me, sometimes, when I think about it. One of the greatest creations of all is these stones."
And, at 82, Hopkins is concerned about who will take over his collection to share with the world when he's gone.
"I want somebody to get involved with it that will dedicate himself to doing some good and see it as a worthwhile operation. I'm just afraid that I'm going to die before I can find somebody and they'll end up just selling this or breaking it up.
"I want this collection to be out there where people can see it."