To understand the impact of a half-million deaths of Americans because of COVID-19, here's a basic perspective: 500,000 is equal roughly to 10 deaths for every resident of Henry County.
Virginia will have contributed about 7,500 of those deaths, and the West Piedmont Health District has added 212 of those.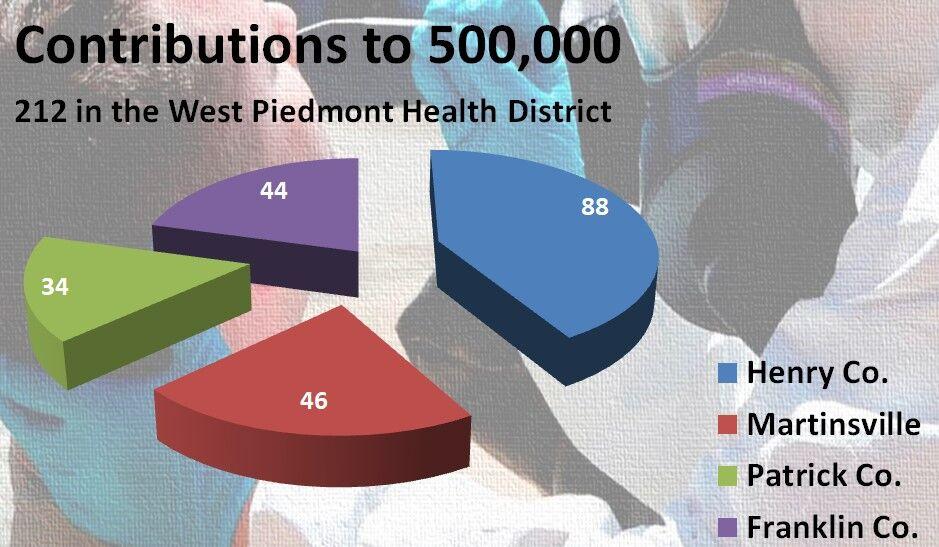 These numbers grew Monday morning, when the Virginia Department of Health reported a couple of remarkable statistics in the West Piedmont Health District: There were almost as many deaths (five) as there were new cases (seven). And the state added 155 deaths overall.
These most recent deaths, recorded as of 5 p.m. Sunday, could've happened anytime. VDH typically waits to confirm cause on death certificates, which can take weeks and has taken months.
We never know much about the individuals, but VDH tracks all data by a persons' residence. Three of these were residents of Henry County, and there was one each from Martinsville and Franklin County.
That's now 11 deaths reported in the past three days in the health district and 37 in February, following a record-setting January, when 42 lives were lost to the disease caused by the novel coronavirus.
We do know that these latest victims were three people in their 80s and two in their 70s. Three were men, and four of the five were white. The other was Black.
It's unclear, though, why there has been a surge in deaths in the past few days. The monthly total might be aligned with three ongoing outbreaks at long-term-care facilities in Martinsville and Henry County.
Health district spokesperson Nancy Bell has not replied to messages from Monday morning seeking comments about the trend and whether these latest deaths perhaps were associated with the outbreaks.
As of Friday's database update those outbreaks showed at least a 13 deaths from Mulberry Creek Nursing & Rehab (11 of them) and Martinsville Health & Rehab in the city and King's Grant Retirement Community in Henry County.
The death totals at the latter two facilities were given an asterisk in the database, which means there is at least one death and perhaps as many as four. VDH doesn't list the number until it reaches five in effort to protect privacy.
There are 225 cases associated with those three outbreaks as of Friday, with 151 of them from Mulberry Creek, 39 from King's Grant and 35 for Martinsville Health & Rehab.
Cases and tests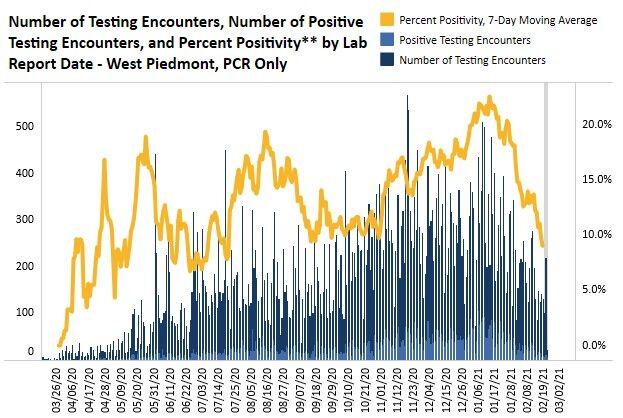 Meanwhile the daily number of new cases continues to plummet in the district, and the positivity rates among tests has dropped back into single digits for the first time in months.
The seven new cases is the lowest single-day total in the district since six were reported on Sept. 28.
The 7-day rolling average has dropped to 24 (its highest point was 111.6 on Jan. 10). The 7-day average for new cases per 100,000 population is 17.4, and the 14-day average per 100K is 352.2.
Henry County had three of the new cases, Franklin County had two, and Martinsville and Patrick County had one each.
Perhaps the sharp declines are because the positivity in tests has dropped to 9% on nearly 60,000 tests in the district. It was as high as 22% during the post-holiday peak of Jan. 14 and hasn't been in single digits since Halloween. The state average is 8.2%.
Latest comparative data from Virginia Department of Health
| Unknown field 1 | Cases | Hospitalizations | Deaths | Positivity rate | Vaccine doses | Fully vaccinated |
| --- | --- | --- | --- | --- | --- | --- |
| Henry County | 4,118 | 274 | 88 | | 8,824 | 1,683 |
| Martinsville | 1,485 | 125 | 46 | | 157 | 21 |
| Patrick County | 1,172 | 89 | 34 | | 1,863 | 330 |
| Franklin County | 3,656 | 125 | 44 | | 8,188 | 2,412 |
| West Piedmont total | 10,431 | 613 | 212 | 9.00% | 19,032 | 4,446 |
| Danville | 4,233 | 226 | 98 | | 9,860 | 2,385 |
| Pittsylvania County | 4,678 | 157 | 58 | 14.20% | 7,504 | 1,691 |
| Virginia | 565,270 | 23,530 | 7,486 | 8.30% | 1,101,433 | 440,339 |
Vaccine update
The latest vaccination figures in the district show that 13.9% of the population (19,032) has received at least one shot, which is better than state average of 13.1% (or 1,121,215).
The full-vaccination figure hasn't changed much, with 3.2% now having had both shots. That's 4,446 individuals out of the 481,287 statewide.
The vast number of those in the district who have received shots are residents of Henry and Franklin counties (almost 17,000 of the total).
Martinsville continues to have statistically the worst vaccination rate of any locality in the state, but after weeks it's unclear why that continues to be an issue.
VDH shows in its database that only 157 residents of the city had received a shot, and only 21 were fully vaccinated, a figure that hasn't changed since Friday and has risen only by nine people in the past 11 days.
Health district officials had said earlier that this was an issue of data lagging the database.
REGISTRATION LINKS: Go to www.vaccinate.virginia.gov and follow the process to get your appo…
COVID-19 rapid and antigen testing is available in many locations in the West Piedmont Healt…
Steven Doyle is editor of the Martinsville Bulletin and the Danville Register & Bee. He can be reached at 276-638-8801, ext. 245.