"I was reminded of the deliciousness of this dish when I visited Whistle Pig Korean owned by Emma Woods and Ross Franklin in Bozeman with chef Bill Baskin, culinary arts director at MSU Bozeman," says author and chef Stella Fong. She enjoys Korean beef with everything. "It can be sandwiched between a brioche bun, served on top of rice noodles, white rice or mounded onto mashed potatoes."
"I recommend using a wok because it's roomy, but a cast-iron skillet works just fine," Fong says. "Also, you can grill this meat. Just be sure to oil the grill racks. I basically sear the meat, as I love my beef on the medium-rare side."
Gochujang is a deep crimson-colored paste the consistency of thick peanut butter. Fong describes it as the everyday go-to seasoning in Korean cooking. If you cannot get the fermented paste made with red chile powder, glutinous rice, salt and fermented soybeans, puree canned chipotle peppers. However, keep in mind this will add smokiness and hotness to the meat. Otherwise, crushed red pepper flakes with soy sauce and a little sugar are adequate substitutes.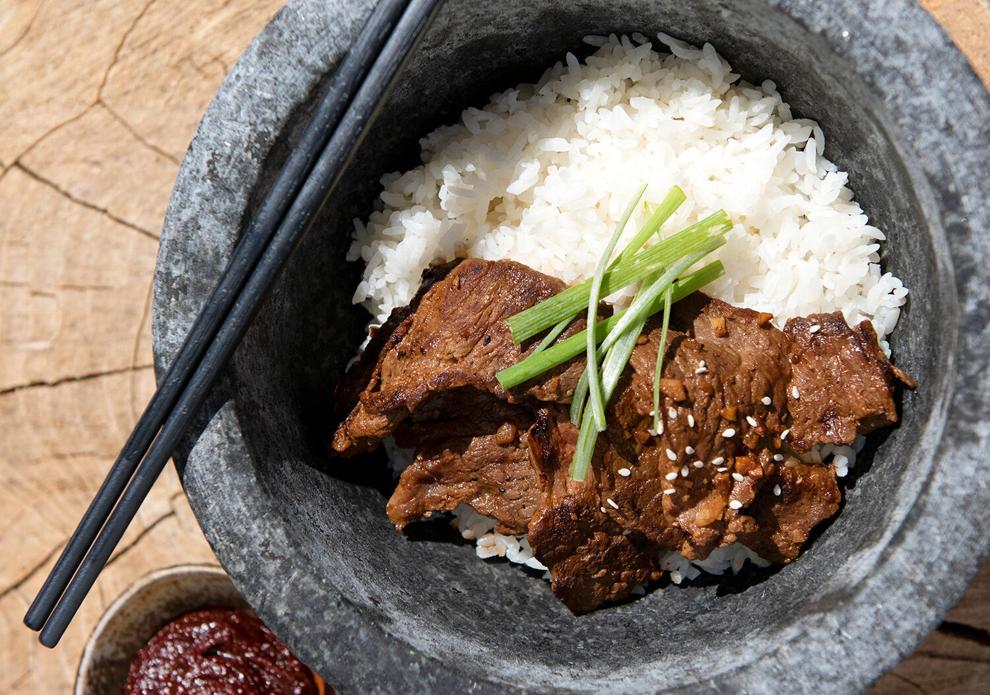 ---
Korean Beef
6 large garlic cloves, minced
½ Asian apple or pear, peeled, cored and finely chopped
⅓ cup soy sauce
3 Tbsp dark brown sugar
2 Tbsp gochujang paste
2 Tbsp minced peeled fresh ginger
1 Tbsp mirin
1 Tbsp sesame oil
1 beef chuck roast (about 3 lbs), thinly sliced
about 3 Tbsp canola oil
In large bowl, with whisk, stir together all ingredients except for beef and oil until well blended; add beef, stirring to coat. Cover and refrigerate at least 2 hours or preferably overnight. 
In wok or large cast-iron skillet, heat 1 tablespoon oil over medium-high heat until oil smokes slightly. Spread some beef slices in wok and cook 1 to 2 minutes or until browned. Turn beef and cook 1 to 2 minutes longer. Transfer beef to plate. Repeat with remaining beef and oil.