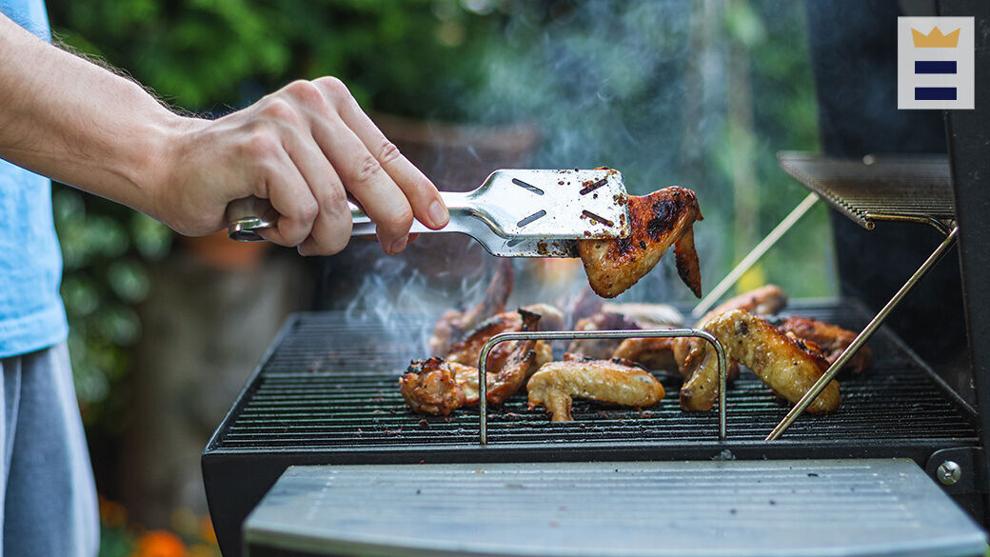 Making BBQ chicken at home
BBQ chicken is a quintessential summer dish. Whether it's cooked on the grill or in the oven, BBQ chicken is simple enough for nearly anyone to learn to make. You can whip up the sauce yourself or use a trusted pre-made sauce. Many dishes pair perfectly with BBQ chicken, too. Soon, you'll be able to make the dish so well that your friends and family will be raving and asking for your BBQ chicken recipe.
What is BBQ chicken?
BBQ chicken is smoked, grilled or barbecued. Its flavor comes from the sauce or spice rub you use while cooking. 
Cooking the chicken
Boneless vs. bone-in
Does it matter whether you use boneless or bone-in chicken? Yes, it does. 
Boneless chicken is great for dishes where the chicken is the star, like in soups, salads, rice dishes and stews. But for chicken that's being grilled, baked or fried, bone-in is a great option. 
Bone-in chicken takes longer because the heat has to radiate through the whole chicken, including the bone, but that also means it retains moisture better and will yield juicier meat. Many novice cooks may favor boneless chicken because it cooks faster, but it's more likely to dry out during the cooking process. Regardless, make sure you take chicken breasts off the grill as soon as they've reached the right temperature.
You can barbecue pretty much any part of the chicken. Chicken thighs are especially popular since it tends to be the juiciest and most tender part of the bird.
Choosing the BBQ sauce
Even if the chicken is the main star, the right BBQ sauce can take it to the next level. It's not difficult to make your own, but don't feel guilty if you'd rather opt for one from the store. There are a few flavor profiles to keep in mind as you choose your sauce, so keep your dinner guests in mind when picking one out.
Vinegar-based: Vinegar-based BBQ sauce is tangy and tends to cut through the fat of your meat. Some vinegar-based sauces are thin and allow the flavor of the meat to come through better.
Tomato-based: Tomato-based BBQ sauce is thick and sweet, and will complement any type of meat. Many tomato-based sauces include vinegar components, as well. Sugar and molasses are also common additions, which can make these sauces susceptible to overcooking.
Mustard-based: South Carolina is renowned for its mustard-based BBQ sauces. As with tomato and vinegar-based sauces, mustard-based sauces infuse other flavors such as ketchup, soy sauce and Worcestershire sauce. 
Oven vs. grill
Apartment dwellers rejoice — even if you don't have a grill, oven-baked BBQ chicken can taste just as good. The main difference will be in the smokiness of flavor. Either way, the steps to making BBQ chicken are straightforward.
Marinate the chicken. You have a lot of options for a marinade. Some people like to marinate chicken for 12 hours before, while others may opt for just 30 minutes. It's all a matter of taste. You can marinate with a simple brine of warm water and kosher salt, or with a dry rub instead. Aside from salt and pepper, seasonings like chili powder, cayenne, paprika, garlic powder, onion powder and brown sugar are excellent additions.
Season the chicken. You can skip this step if you opted for the spice rub marinade above. Otherwise, generously season the chicken with salt, pepper and additional spices of your choosing.
Place it on the grill or in the oven. First, make sure the oven is already pre-heated to 425 degrees or that the grill is already burning hot. If you're using a grill, set to a medium-low temperature, place the chicken above the coals and let it cook for 15 minutes, then turn it over every 5 minutes or so. About halfway through cooking, you can begin to apply the BBQ sauce with a brush. This Cuisinart Deluxe Grill Set has all the tools you need to handle not just chicken, but everything you cook on the grill all summer.
If you're using an oven, place the chicken skin-side down on a baking sheet. Let it cook for 25 minutes before you apply the BBQ sauce and flip over the chicken. 
Add the barbecue sauce. Whatever you do, do not apply the BBQ sauce before the chicken cooks. This is a sure way to get burned, charred BBQ chicken. Instead, you should start when the chicken is cooked through partway.
Finish cooking and serve. You can use a meat thermometer to ensure the chicken is done cooking. You can also make a small incision with a knife to check; if the juices run clear, the chicken is good to go. If you're cooking boneless chicken breasts rather than bone-in, note that it'll cook in half the time as bone-in thighs. 
Side dishes
Almost anything will pair well with BBQ chicken, but some dishes are best for summer get-togethers.
Salads: Add some greens to this heavy dish. Coleslaw is a classic BBQ combo, which adds some crunch to the tenderness of your chicken. Potato salad is another great choice for letting the sweet, tangy and salty flavors mesh together nicely.
Corn: Sweet corn also achieves that treasured balance of savory and sweet. You can grill whole cobs for some added smokiness, make a simple salsa with roasted corn kernels or make corn muffins for dessert.
Potatoes: Hand-cut fries, mashed potatoes with herbs, baked sweet potatoes or grilled fingerling potatoes — you can't go wrong with some kind of potato dish.
Fruit: Watermelon is a must-have, of course. Eat it right off the rind or make a quick salad with mint and feta cheese. Peaches and cherries are refreshing, as is any other in-season fruit. You can even blend them up for a summer drink, with or without alcohol.
Ola Faleti is a writer for BestReviews. BestReviews is a product review company with a singular mission: to help simplify your purchasing decisions and save you time and money.
BestReviews spends thousands of hours researching, analyzing and testing products to recommend the best picks for most consumers. BestReviews and its newspaper partners may earn a commission if you purchase a product through one of our links.
Distributed by Tribune Content Agency, LLC.