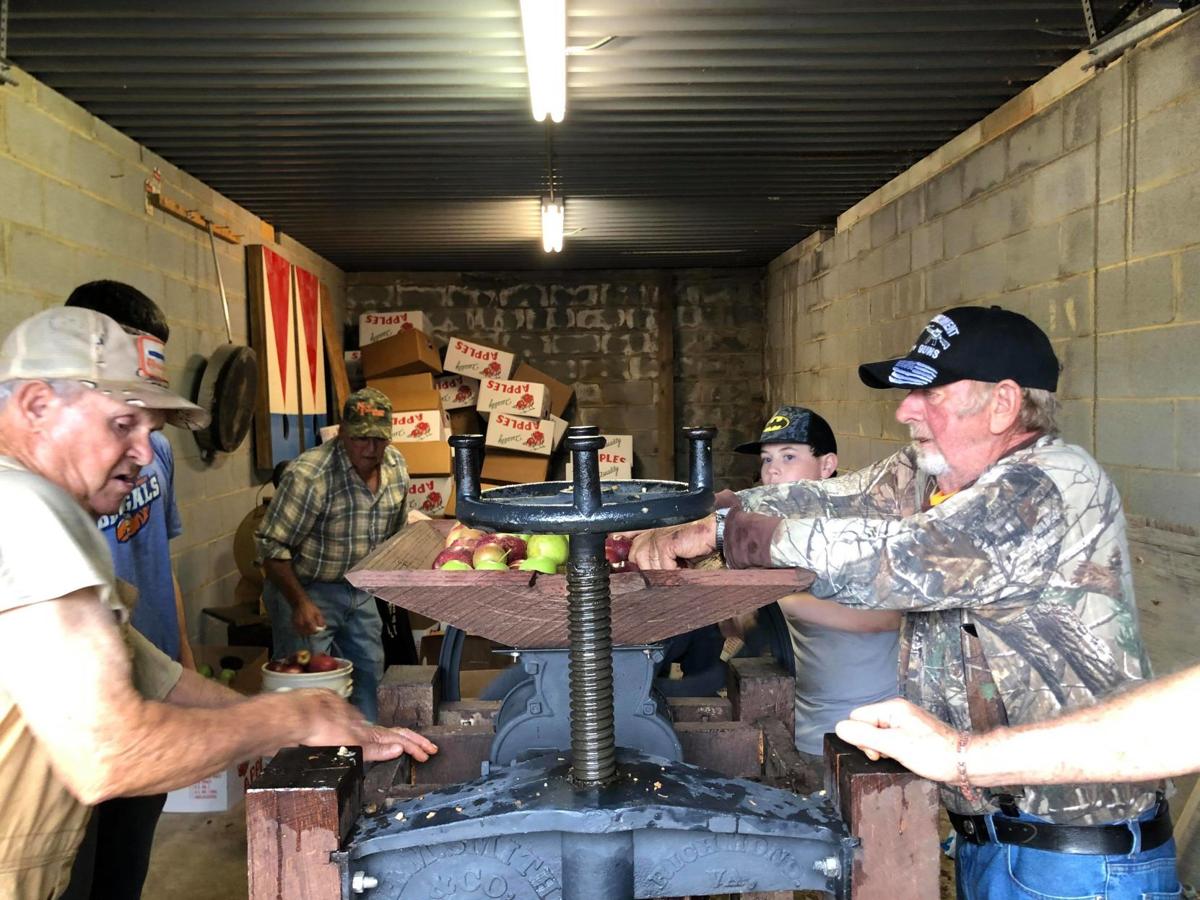 A gift from an uncle has turned into an annual tradition for a community.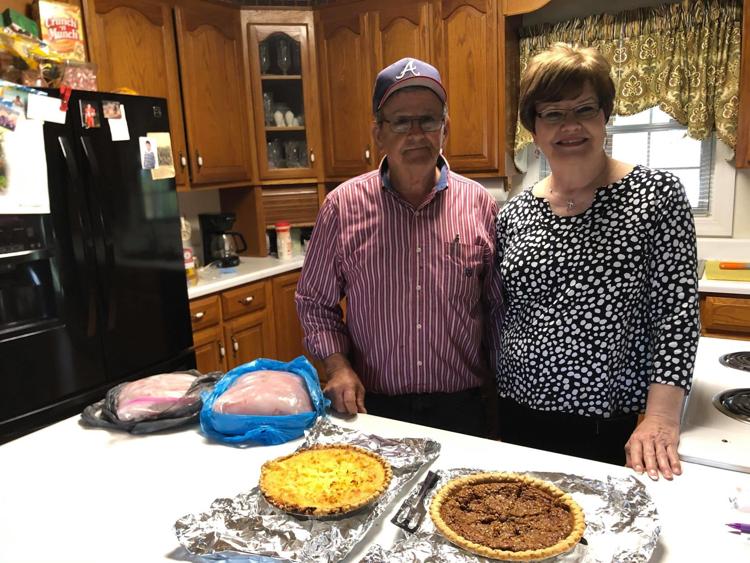 Noel "Carroll" Garrett of Mountain Valley has his uncle's old apple press that was made in the 1860s. It has been put to good use: For the past seven or eight years, men from the Mountain Valley community make cider together at his house, then indulge in a feast of a lunch afterward.
Before a recent Saturday's cider-making, Garrett picked up 50 bushels of apples from Wade's Orchard in Patrick County. Apple boxes lined the back of a garage, behind the apple press, which was surrounded by men.
All those apples would reduce down to just about 75 gallons of cider, and several barrels of apple scraps would go to feed area farm animals.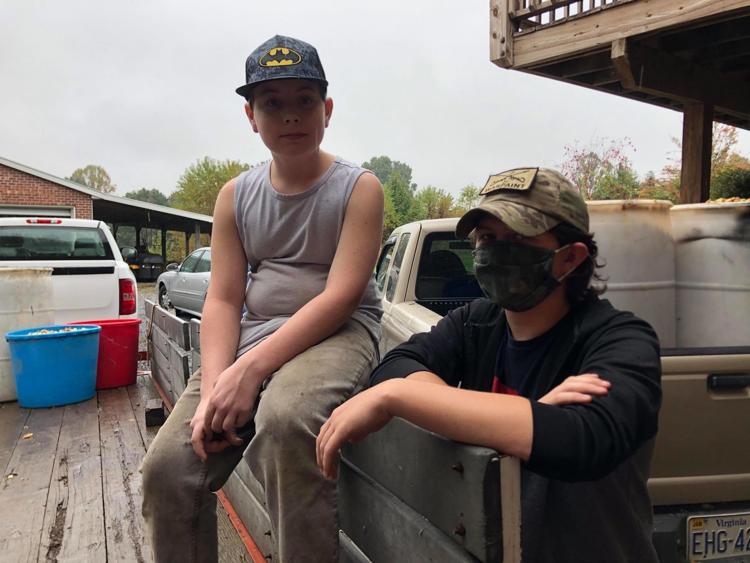 The large press fills about half the single-car garage. It has two wooden barrels with iron hoppers and wheels. Apples are dumped into a hopper on top, and turning a wheel activates the grinder.
After they are ground, the apple pieces fall into a barrel where they are pressed. The press is activated by a wheel controlled by four handles to which the men sometimes apply a wooden lever to create more force. Juice flows into a bowl below the press.
Outside the garage, sheltered from the drizzle under the roof made by the deck above, Rob Ashby and Ron Walker poured the cider from the bowls into gallon jugs.
If the cider isn't all drunk in a day or two, the men recommended, it can be preserved for drinking later by pouring amounts of it into smaller containers to freeze.
It was the first time Darrel Underwood, a sixth-grader at Laurel Park Middle School, had made apple cider, and he got a good lesson.
"I've done a little bit of everything," he said. At the apple press, he "turned the big wheel, and I turned the little wheel." He's also poured the cider into jugs, using a measuring cup and funnel.
Big lunch
A morning of labor will create an appetite, so a hearty lunch awaits the men afterward.
Its main dish is crappie caught by Dean Ashby, Lynn Reynolds and Bobby Ashby, who also fileted them, resulting in 166 pieces.
"We cook them and get together and have a good time," said Garrett, who is the head cook of the fish.
Meanwhile, his wife, Judy, had taken care of the side dishes and desserts, including coleslaw, baked beans, pineapple-coconut pie and pecan pie.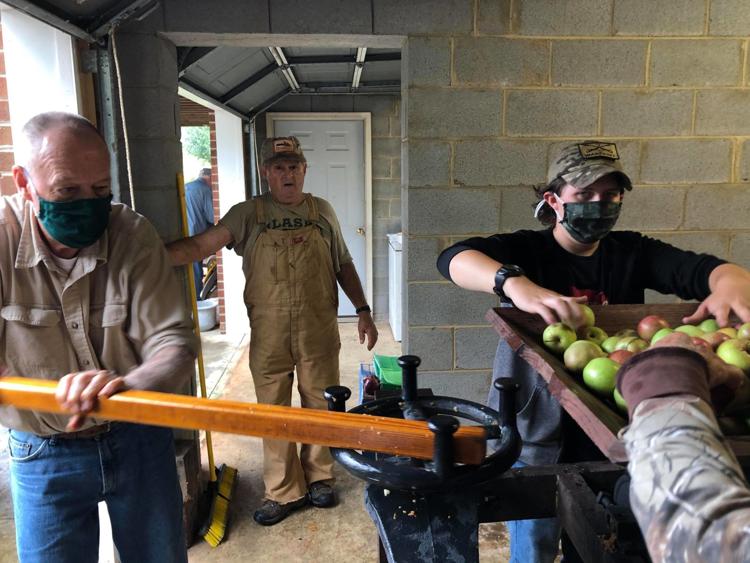 Raising money -- maybe
Despite the immense amount of apples, the drive to pick them up in Patrick County and all the labor involved, the cost of the cider is low: $5 a gallon.
"It's just to get the men of the community together," Garrett said, not with any other ultimate goal of fundraising or profit.
It used to be $4 a gallon, Garrett said, but this year the price of apples went up a dollar. He was able to get "deer apples" (those not pretty enough to be sold at top price) for $6 a bushel.
The $5 a gallon should be enough to cover the costs, and if there is any money left over, it goes to the cemetery fund at County Line Christian Church, Garrett said.
However, there isn't always money left over – "Last year I got by pretty good," Garrett said. "I didn't lose but $75."
Holly Kozelsky is a writer for the Martinsville Bulletin; contact her at 276-638-8801 ext. 243.
Satisfy your cravings
With our weekly newsletter packed with the latest in everything food.