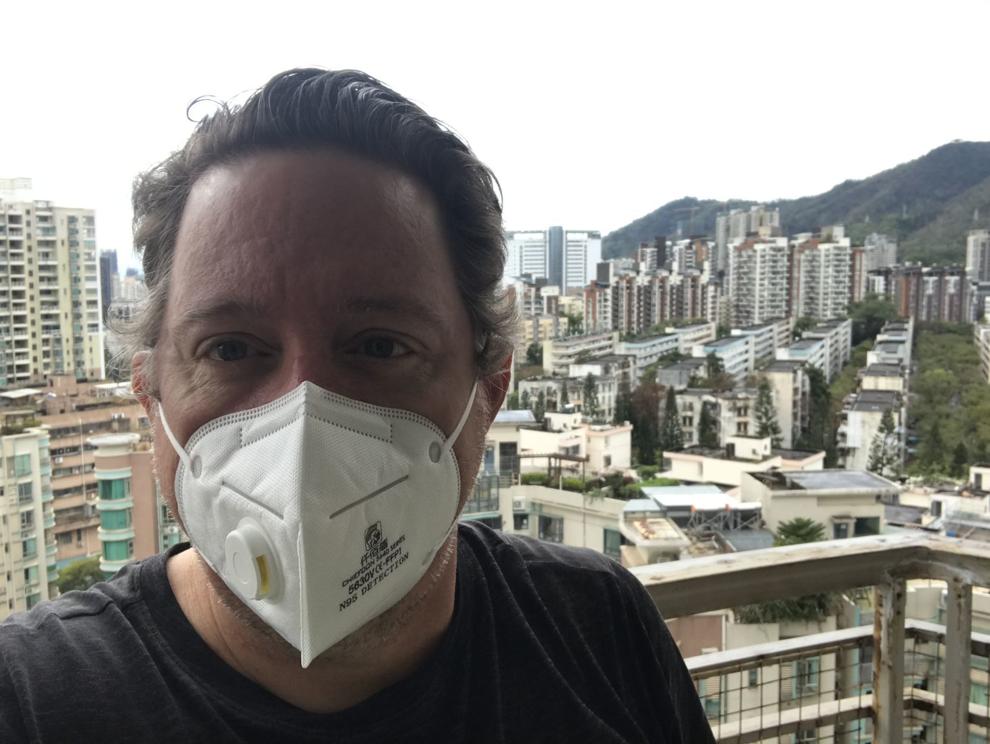 On Monday, Nate Fleming expects to go back to work at the international high school where he teaches English in Shenzhen, China – after more than three months of stay-at-home orders.
At first, the thought of going back would be unsettling, he said, but once he saw how things are being handled, "I'll walk in with a great deal of confidence about our situation."
Fleming is a frequent visitor to Martinsville and has deep connections to the community. His son lives a few hours away in Asheville, N.C., where he is dealing, like his parents and siblings half a globe away, with the coronavirus pandemic that has brought normal life to a halt.
Nate Fleming talked via email about what life is like on the other side of the world, where the coronavirus first emerged in Wuhan, a city nearly 700 miles due north of the coastal city of Shenzhen, where Fleming and his wife, Koolyash Kashkinbayeva, live with 17-year-old Asena and 6-year-old Noah. Son Josh, 19, is the one in Asheville, N.C.
He said Martinsville is the place of "lots of amazing memories" for the children.
His mother, Meralyn Jones, who passed away in 2018, lived in King's Grant. The Fleming family attended Forest Hills Presbyterian Church with her when they were in town.
"They were very kind to us – treated us like we were part of the family," he said. The church also allowed the Flemings to store their belongings in its basement for years.
They finally cleared that stuff out last year when they bought a house in Asheville, he wrote.
The pandemic hits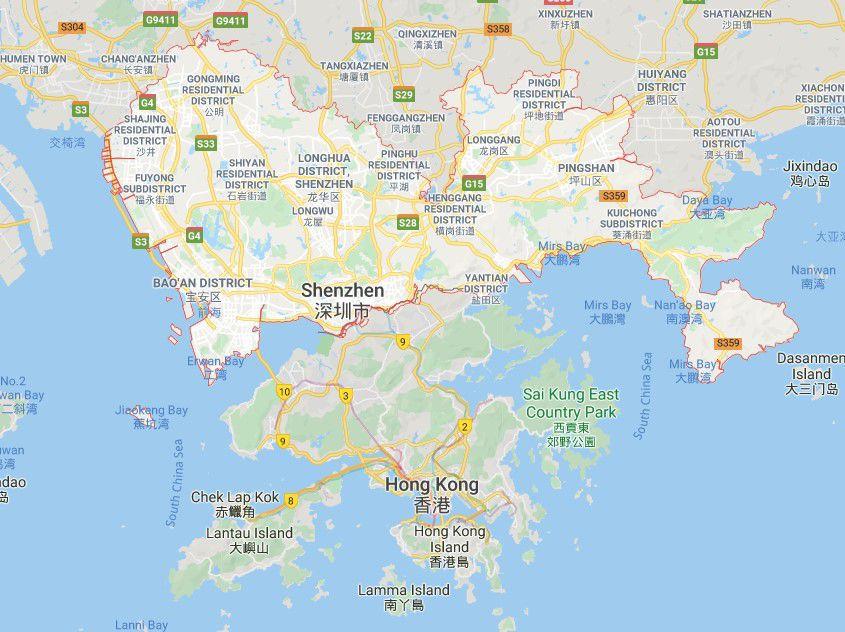 Shenzhen is a city of 12.5 million people, and if that isn't big enough for you, it's right next to Hong Kong, which has another 7.5 million. The Flemings don't have or need a car, because there are myriad ways for getting around, such as metro, taxis and a ride-sharing, Uber-type arrangement.
This pandemic started for them during a regular, 2-week school break during Chinese New Year, which began Jan. 23. Fleming said he remembers chatting with fellow teachers about the coronavirus "as a curiosity, and certainly not something that would affect us."
Just two days later, "things with the virus started heating up." People were "buying masks and sanitizer (but not toilet paper)," and a barbecue was canceled.
Then the country went into lockdown. He said in Shenzhen the lockdown came about quickly but never was as drastic as what he has heard about in other areas, where, for example, only one person per apartment could leave to go grocery shopping and only once every three days.
Everything in Shenzhen but the groceries and pharmacies closed.
The Flemings wore masks whenever they were out of their apartment, and while out, they sprayed everything "from the cart at Walmart, to the top of the seat in front of us on the bus" with a 75% alcohol spray.
Dealing with lockdown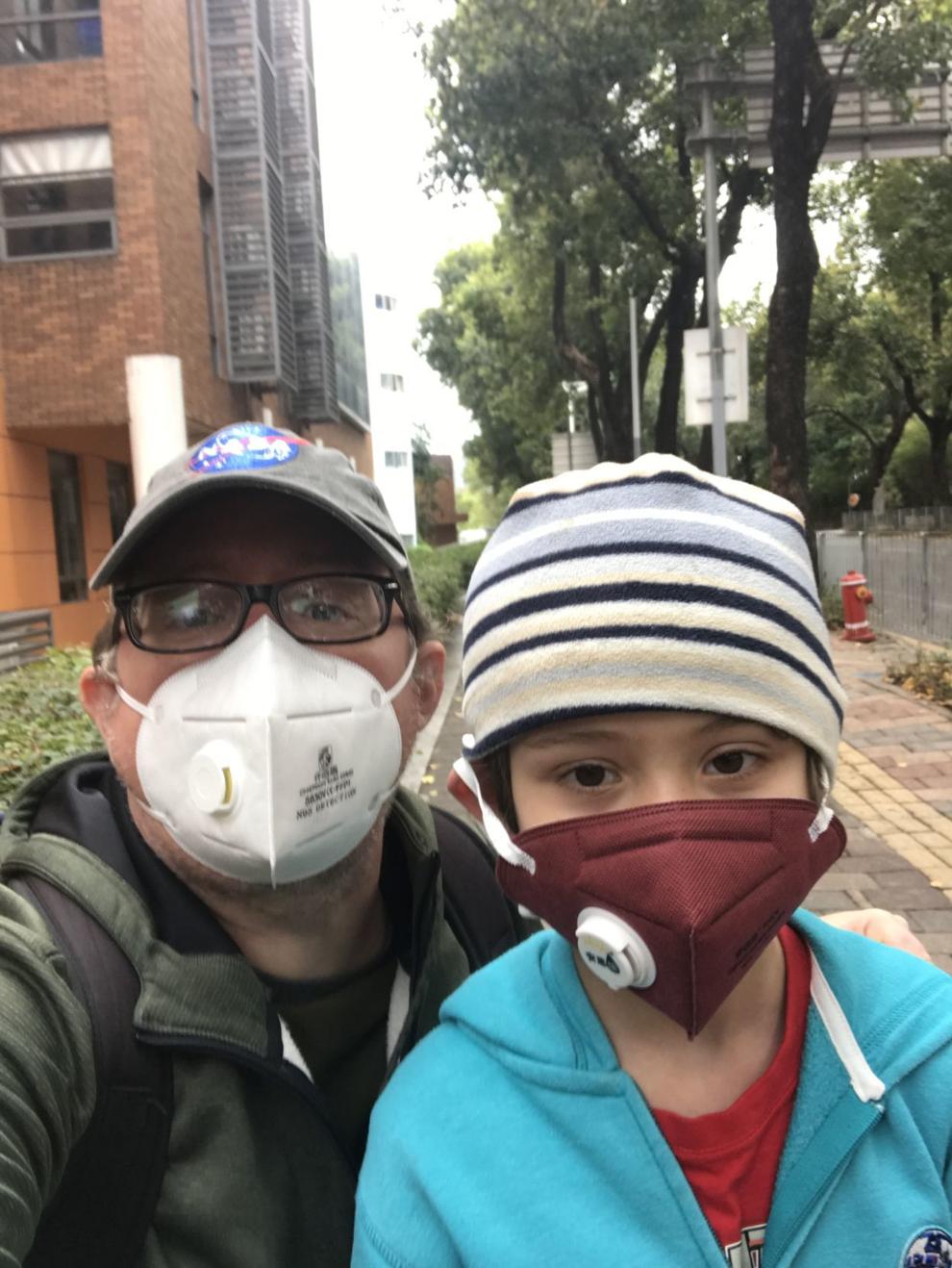 Each member of the family has dealt with being stuck at home differently.
His wife has been spending her time mountain-climbing, decluttering their apartment and keeping up with friends over WeChat, "the huge social media app in China." Neighbors who had left had offered the use of their apartments, so he has been meditating there in the peace and quiet. And he said he enjoys going for walks with a dog they are pet-sitting.
Their teenager Asena has loved not having a bedtime, which her parents haven't felt warranted oversight as long as she was getting her schoolwork completed.
Noah has liked staying in pajamas all day, and father and son have shared a lot of special time together over popcorn, orange soda and Xbox.
They all, however, are disappointed that they probably won't be able to visit Josh this summer.
School and shopping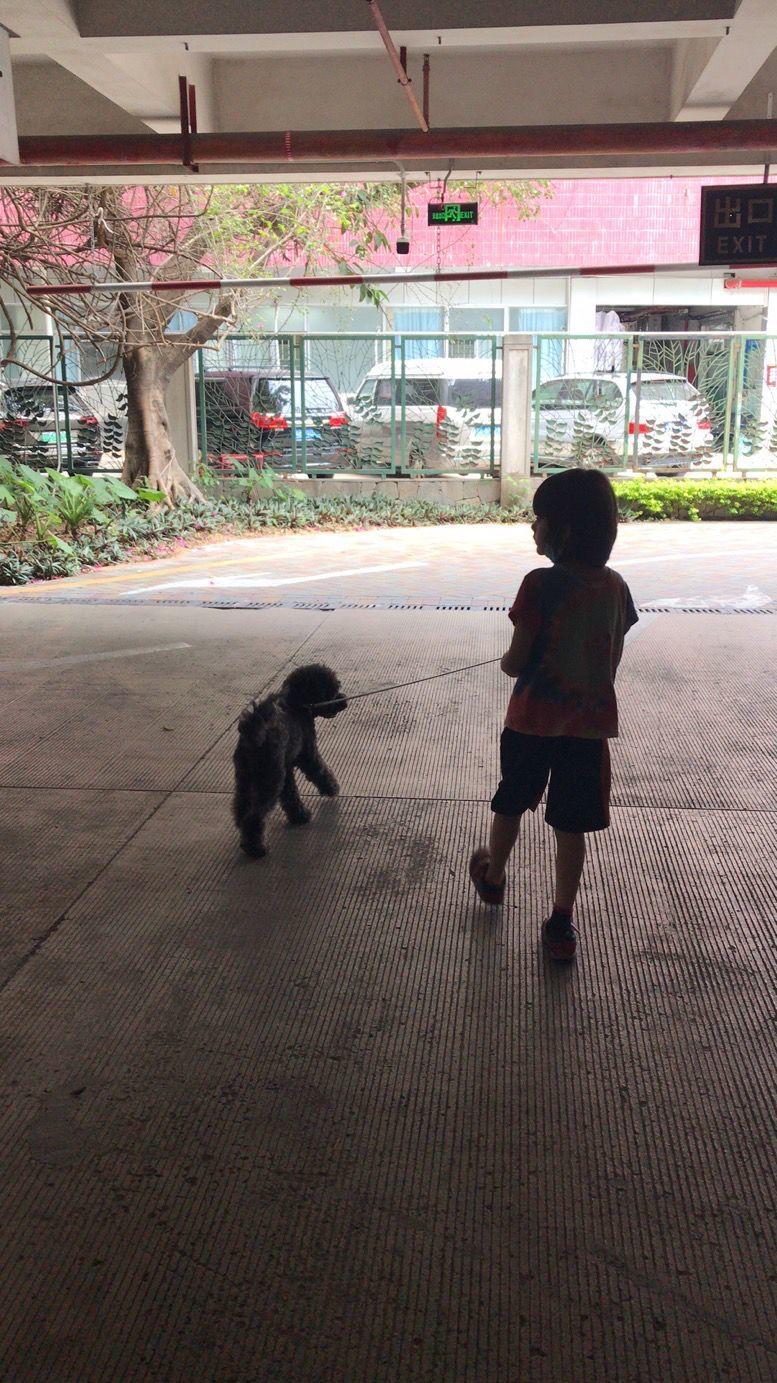 Getting used to online learning has been tough on both the students and the teachers, even him, he wrote.
"Some teachers tried to maintain the work load that they would have had if we were having face to face instruction, and that just doesn't work with distance learning," he wrote. "There was a steep learning curve going in, and we (as teachers) made a lot of initial mistakes."
For the rare moments of going out, the city "a system where we scanned a QR code that led to a health declaration that said that we weren't sick, hadn't been in touch with anyone who was sick or anyone from Hubei province. We still have to scan that code when we go to stores," he wrote.
Plus, stores have been limiting the number of people inside.
He used to be a pokey shopper, he said, but now he's "like a Seal Team member, finding my target and moving on to the next one as quick as possible."
The stores have done an impressive job keeping everything well-stocked, and people took advantage of "China's incredibly efficient home delivery system."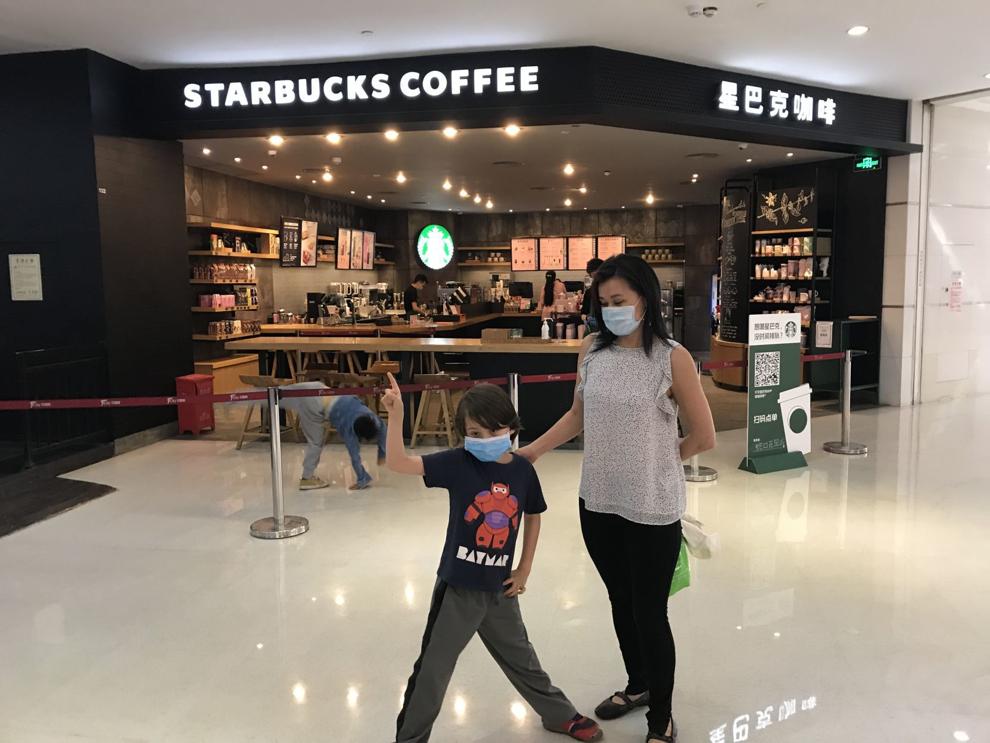 Coming together
Strangers and acquaintances alike have been courteous and helpful throughout the entire ordeal, Fleming said.
The apartment guards "were there day in and day out, taking temps, helping organize food and deliveries being brought to the gate, coming into contact with the massive amount of people who live in our complex, and always seeming cheerful and pleasant."
He and his daughter went to see someone who was in the hospital for pneumonia, and there, he said, "I was really impressed by the professionalism and courage shown by the medical staff as they went about their work, even with a mysterious and terrible virus ravaging the land."
People really came together during this strange time, he said, with the ultimate symbol of that unity being the mask.
"Wearing the mask demonstrated that you were a part of the fight, that you were concerned for the people around you, and you were willing to suffer this small inconvenience to prove it."
The return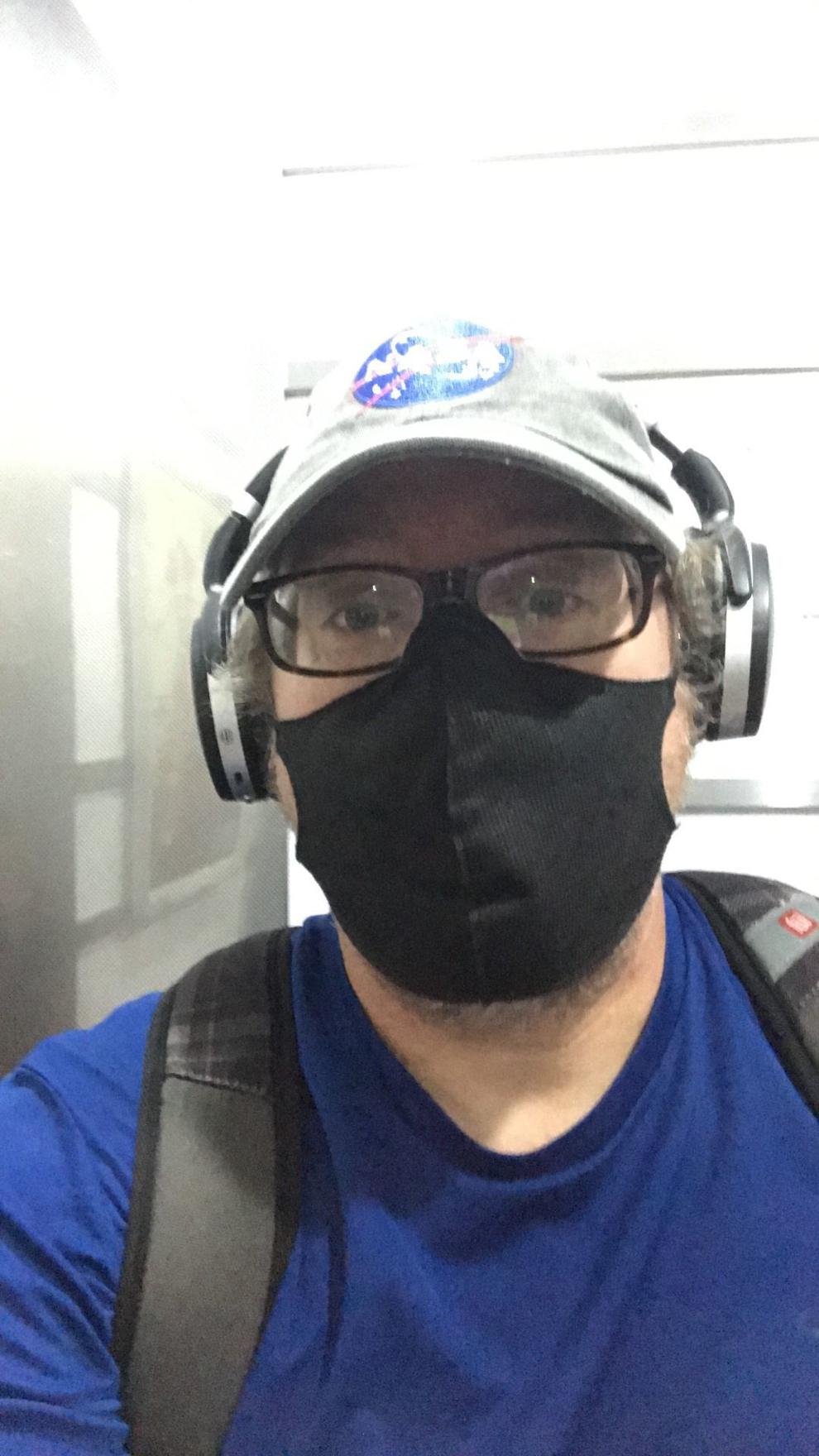 And now it's time to go back to a new reality, back to school. A lot will be different.
Teachers and staff have been going through drills of new procedures. The school's rules after reopening will include:
Mandatory COVID-19 test before entering the school building.
A mandatory 1 meter (roughly 3 feet) distance of all students at all times.
A quarantine tent staffed by a nurse in full biohazard suit for students who may become sick.
Checking students' temperatures several times a day.
Wearing two masks a day, one until lunch and then discarded, and the other after lunch.
No leaving homeroom except for individual bathroom breaks and lunch.
Lunch eaten alone, with chatter held to a minimum.
Constant sanitization of rooms.
Multiple hand-sanitizing opportunities.
"We had several drills to make sure we knew how to run the day once the students arrive, the final one being observed by officials from the education bureau and the health department," Fleming said in the email.
The students "are extremely respectful and well behaved," which will help matters considerably, he said.
Plus, returning to school is voluntary; students may continue distance learning from home if they wish.
The school already had "a big group testing on the school grounds" last Monday, he said. The cheek-swab test was "extremely efficient, and relatively painless." Every test came back negative. The students will be tested again before returning to school.
Lessons for America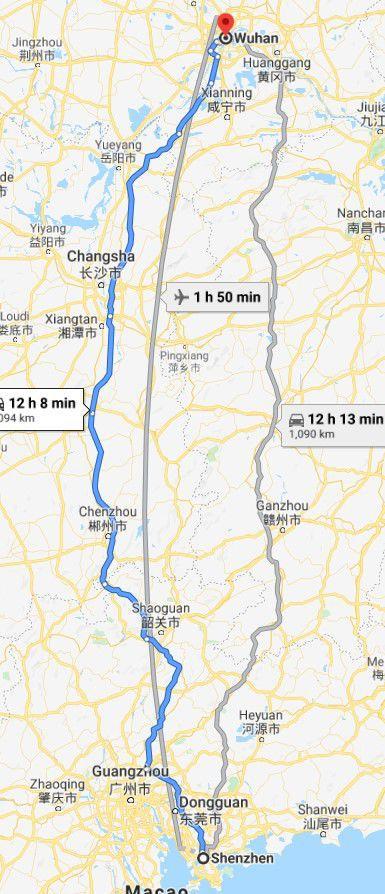 People in the U.S. can take comfort in seeing people in China taking steps to go back to normal life, but that reassurance was not there for the folks in China, who were chartering that unknown territory first, Fleming said.
Also, "reading all of the American armchair quarterbacks trying to show how they 'really knew what was going on' was making my anxiety levels go through the roof," he said.
He banned himself from the internet just so he did not have to deal with that.
He said he has been watching the situation in the U.S. through the news and social media and was really surprised Americans took so long to react to the pandemic.
"I suppose that is something for the historians to debate and discuss years from now, looking back on the spring of 2020," he said.
And for dealing with the pandemic, Fleming offers advice from what he has learned:
Stay isolated, and if you must see family and friends, do it outdoors, wearing masks, keeping up the 6-foot distance.
If you must go out, wear a mask and bring and use a disinfectant of more than 60% alcohol. Be obsessive about doing that if you must leave to go to work.
Have indoor clothes and outdoor clothes, and change outside if possible. Put the outside clothes directly into the dryer and tumble at as high a heat as possible. Don't wear shoes inside the house.
Keep the house open and ventilated.
Take care of yourself, with sleep and good nutrition. Go easy on your family and yourself, without high expectations.
"The idea is to get through this as whole people and connected families," he wrote. "That requires a lot of grace."
Holly Kozelsky is a writer for the Martinsville Bulletin; contact her at 276-638-8801 ext. 243.