AXTON-Natalie Hodge of Axton hopes to bring the atmosphere of her father's little country store in Leatherwood alive – in a television sitcom from New York City.
"Kelly's Korner" is a Smartphone-era hybrid of "Sanford and Son" and "Seinfeld." It stars comedian George Kelly and his adult son, Isaiah Kelly. She and her partners are pitching the show's pilot to networks.
Her father, the late Rufus Lee Hodge Jr., ran Rufus Hodge Grocery in Leatherwood until 2004. Growing up, she spent a lot of time there and at her grandmother's house next door. Her mother is Judy Harris Hodge of Axton.
Hodge, a 1997 graduate of Laurel Park High School, is a writer and entrepreneur. Her current projects include creating a documentary on the Paradise Restaurant/Club and a short film on Sandy Level. She is the author of "The Biggest BUT in the World."
She has a bachelor's degree in African-American studies from Guilford College and a master's degree in the same from Cornell University. She worked at universities before striking off to California to write and get involved in the entertainment industry.
She met Kelly a couple of years ago, she said, when he was on a season of "Last Comic Standing." He talked about wanting to create a "father and son comedy" with his now 25-year-old son, she said: "He wanted it to be a modern-day Sanford and Son."
She immediately thought of having the show set in a convenience store like her father's. Her father "was a really funny guy," she said, making it easy to envision the show.
Her father took over the store on Va. 57 from his father, the late Rufus Lee Hodge, in the late 1970s, she said – and he loved his work.
He never took a day off, not even for holidays, she said. In fact, "on Christmas I would come to the store and we would have our Christmas there, Thanksgiving there. … He was really excited because he knew nobody else was open so he'd get all the business."
It was more than a job to him. "It was his passion. Everybody knew him." The store was a real social center, complete with old men playing checkers. "It was a place that people enjoyed going and hanging out."
Her father also loved to turn a dollar, and she based the main character, named George Kelly like the actor, after him in that way.
"The main character is sort of a jack of all trades, and he has lots of different things going on. In each episode, he has some different gimmick trying to make money," she said.
She laughed as she remembered her father selling refurbished lawnmowers for a while, and having a pool table a few times. He even "had a really interesting machine before Redbox. He had a version of it that was VHS tapes. There was always something going on. He was trying to figure out how to make the next big bucks."
A neighborhood store in New York City "is not as different as you'd think" from one in the rural South, she said, "because people still come in and they socialize in the space. It's a hub for conversation and news, so that's very similar to what we do down here as well."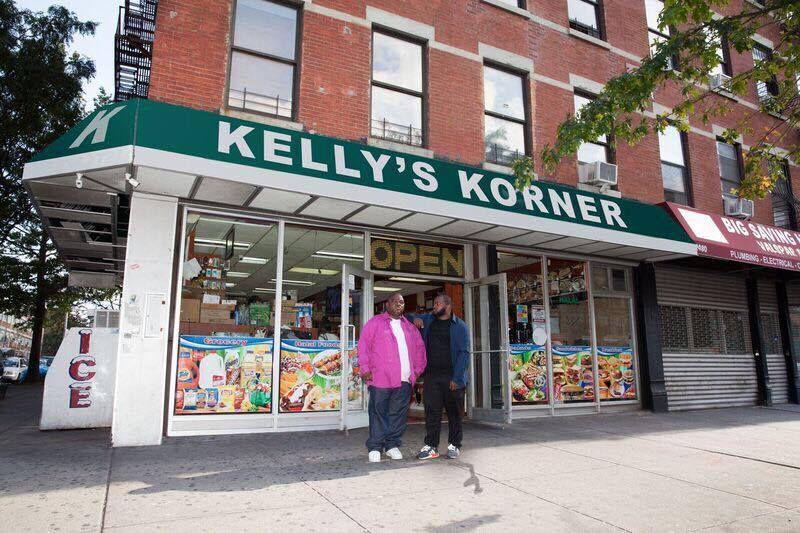 She and George Kelly began working on the show's premise in 2013.
"I knew him very well," she said, and knew his son, and "I wanted to make sure to capture their very interesting real-life relationship, so a lot of what's included in it as far as their dynamic is real for them. They are a father and son comedy team. They have their own generational battles … I think it's very funny."
She was the primary script writer, and "Gerald supported it with jokes."
Each episode would have a connection to Kelly's stand-up comedy work, she said. The test pilot opens with a scene from one of his actual comedy acts, then has the show with him portraying his character, à la Seinfeld.
They had their idea, but to turn it into a TV show would be an undertaking. They needed the time and money to create a sample of the show, called a pilot, to show to networks, called a pitch. It wouldn't become a real sitcom until a network agreed to support it.
Funding came through in September. "This budget was small," she laughed. "We were making a way out of no way."
To stay within budget, they did as much work as they could themselves rather than hire too many staff members.
"That's a blessing and a curse," she said. "I have learned so much about all aspects of a production so when I do have a larger budget" she'll know how to hire the right people. "On the other hand, there's a lot of running around and a lot of creating on-the-go that has to happen."
With financing in hand, Hodge, Gerald Kelly, who lives in Atlanta, and Isaiah Kelly, who lives in Los Angeles, went to New York City in October to make the pilot. They returned in December to do a little more filming.
They hired editor Frank Calo, with whom Hodge had worked before. "He was invaluable in helping me to put together the production team," she said.
Others involved include executive producer Drew Williams Sr. and writer and producer Joe Billups. Gerald Kelly's 9-year-old son, Joshua Kelly, plays his nephew on the show, and the actress Mugga, who is on the cast of the new season of "Orange Is the New Black," also plays a role.
Though the show is set in Harlem, they couldn't find a store to use there for filming. They found one to use in Queens, so they just shot separate iconic outdoor scenes in Harlem.
She and her partners paid an existing store to use their facility for three days. "The trick was they remained open for business during the filming process," she said. "Customers came in between scenes because we didn't have the budget to close the store completely. You can imagine what that was like."
That store was just for the pilot, however. "When we film the series, we're going to keep it true to form and do it all in studio or in an actual store in Harlem," she said.
They also had to hire the cast. Hodge herself played a role, as a radio station manager, "because we needed someone to be in that scene."
They returned in December to film a few more scenes for the show.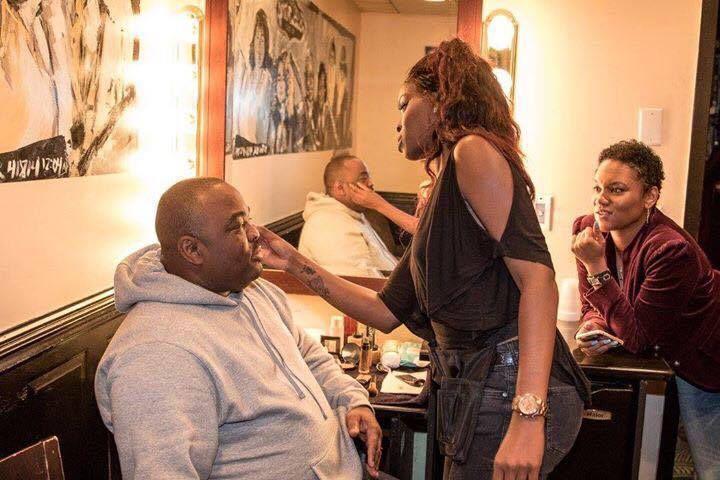 Editing has been finished, and the pilot is complete. It's a little more than 16 minutes long.
The show begins with a scene from one of George Kelly's real-life comedy routines, filmed in a club in New York. It then shows the character George Kelly in his shop, ready for its grand re-opening.
Kelly and his son bicker throughout the episode, most of it based on the generational divide. The father thinks the son spends too much time on his Smartphone as opposed to devoting himself to the business.
Throughout the program, the show cuts away to show brief scenes of either the father or the son talking publically about their issues. The father's comments are made as part of a stand-up routine. The son's are shown as clips of himself talking and broadcast over social media.
Supporting characters include an African-immigrant handyman, younger family members and an ex-sister-in-law who bickers with George.
A few networks are expressing interest in the show already, she said: "They were really excited about the idea."
A network's decision to accept a show depends on a lot of factors, and whether or not they like the show is only one of them.
Each network has in mind particular content it's wanting for the near future, and it looks for shows which fit that mold. If a network does want a show, then the network has to run it by the advertisers to see if it's what the advertisers are looking for.
The program is being shown to various networks now, she said, and she and the crew have their fingers crossed it will be picked up.