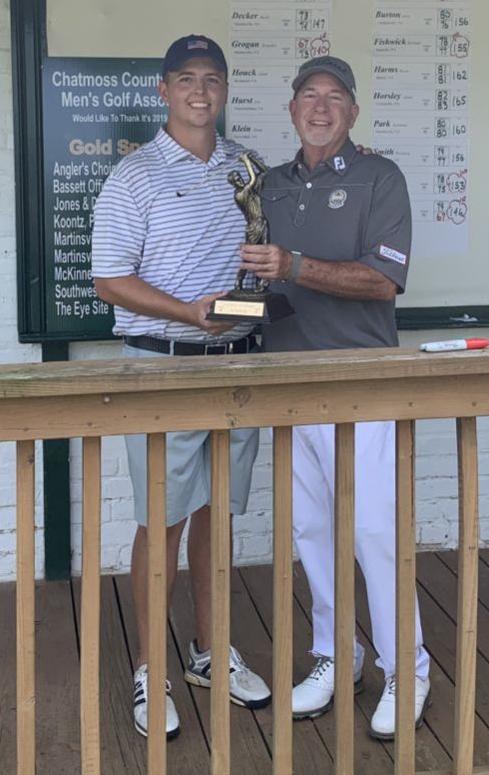 Martinsville Post 42 junior legion cruised through the District F tournament, but saw their streak come to an end Sunday in the championship game, falling by one run twice to Lynchburg Post 16, 7-6 and 8-7.
Martinsville defeated Lynchburg 5-3 Saturday. Post 42 was the No. 6 seed in the tournament, and Post 16 was the No. 1, coming into the tournament with an 11-5 record.
In Game 1, Lynchburg jumped out to a 5-1 lead through three innings. Martinsville counted that with one run in the fourth and three more in the fifth. Going into the seventh, Lynchburg led 6-5, when Martinsville's Yieson Sosa hit a double to score Luke Wilson and tie the contest.
But Lynchburg would get the last word in the bottom of the inning, winning on a walk-off single.
Sosa had two hits and four RBIs in the game. Elliott Underwood was 3-4 with an RBI and run scored, and Wilson was 2-3 with three runs scored.
In Game 2, Martinsville led 5-3 after scoring four runs in the third. Lynchburg answered with four runs of their own in the bottom of the fourth, and added another in the fifth.
Down 8-5 heading into the seventh, Conner Plaster doubled with two outs, and scored on a single by Drew Fisher. Fisher came around to score on a triple by Colby Cunningham to cut the lead to one, but Cunningham got caught in a rundown between third and home, and eventually was tagged out to end the game.
Plaster led Martinsville with two hits, and added a walk and two runs scored. Wilson and Fisher also each scored two runs and had a walk. Fisher, Colby Cunningham and Colin Cunningham had two RBIs each. 
Martinsville finishes in second place in the tournament, going 4-2. They'll now move on to the Virginia Legion state tournament in Lynchburg. Games are slated to begin on Wednesday. Game times for Martinsville will be announced later this week.
GOLF
Grogan wins Chatmoss Invitational, Leyes wins Senior Championship
Martinsville's Brandon Grogan shot 67 in the first round, and 73 in the second to win the Chatmoss Invitational by three strokes Sunday at Chatmoss Country Club.
Grogan's 140 bested Wesley Smith, of Arlington, and Adam Houck, of Richmond, who shot 143 and 144 each.
In the senior division, Frank Leyes, of Boones Mill, shot 70 and 77 in the two rounds for the championship. Gus Barber and David Swisher, both of Martinsville, were second and third, shooting 149 and 151.
Results from the tournament are listed below:
Chatmoss Invitational
Sunday Final Round at Chatmoss Country Club
Martinsville
Men's Championship
1st  Grogan, Brandon (Martinsville) -4     67-73-140
2nd Smith, Wesley (Arlington) -1     72-71-143
T-3rd Houck, Adam (Richmond) E     71-73-144
T-3rd Brittain, Buck (Tazewell) E     68-76-144
T-5th Hurst, Jon (Fredericksburg) +2     71-75-146
T-5th Carter, Blake (Martinsville) +2      72-74-146
T-5th Whiting, Jerel (Martinsville) +2     73-73-146
T-8th Decker, Keith (Martinsville) +3     73-74-147
T-8th Russell, Zack (Charlottesville) +3     76-71-147
10th Wood, Jerry (Martinsville) +6     76-74-150
11th Klein, Hank (Glen Allen) +10     76-78-154
12th Arnold, Jake (Ridgeway) +15 75-84-159
Senior Championship
1st Leyes, Frank (Boones Mill) +3     70-77-147
2nd Barber, Gus (Martinsville) +5     72-77-149
3rd Swisher, David (Martinsville) +7     78-73-151
T-4th Yates, Daniel (Marshall) +8     74-78-152
T-4th Partridge, David (Manakin-Sabot) +8     76-76-152
T-4th Mahone, Philip (Charlottesville) +8     76-76-152
T-4th Hankins, Donnie (Bristol) +8     78-74-152
8th Smith, Will (Martinsville) +9     78-75-153
T-9th Adkins, Jeff (Martinsville) +10     78-76-154
T-9th Angel, James (Midlothian) +10     77-77-154
11th Cadieux, Bobby (Ringgold) +11     75-80-155
12th Thomas, Harry (McLean) +16     77-83-160
Be the first to know
Get local news delivered to your inbox!