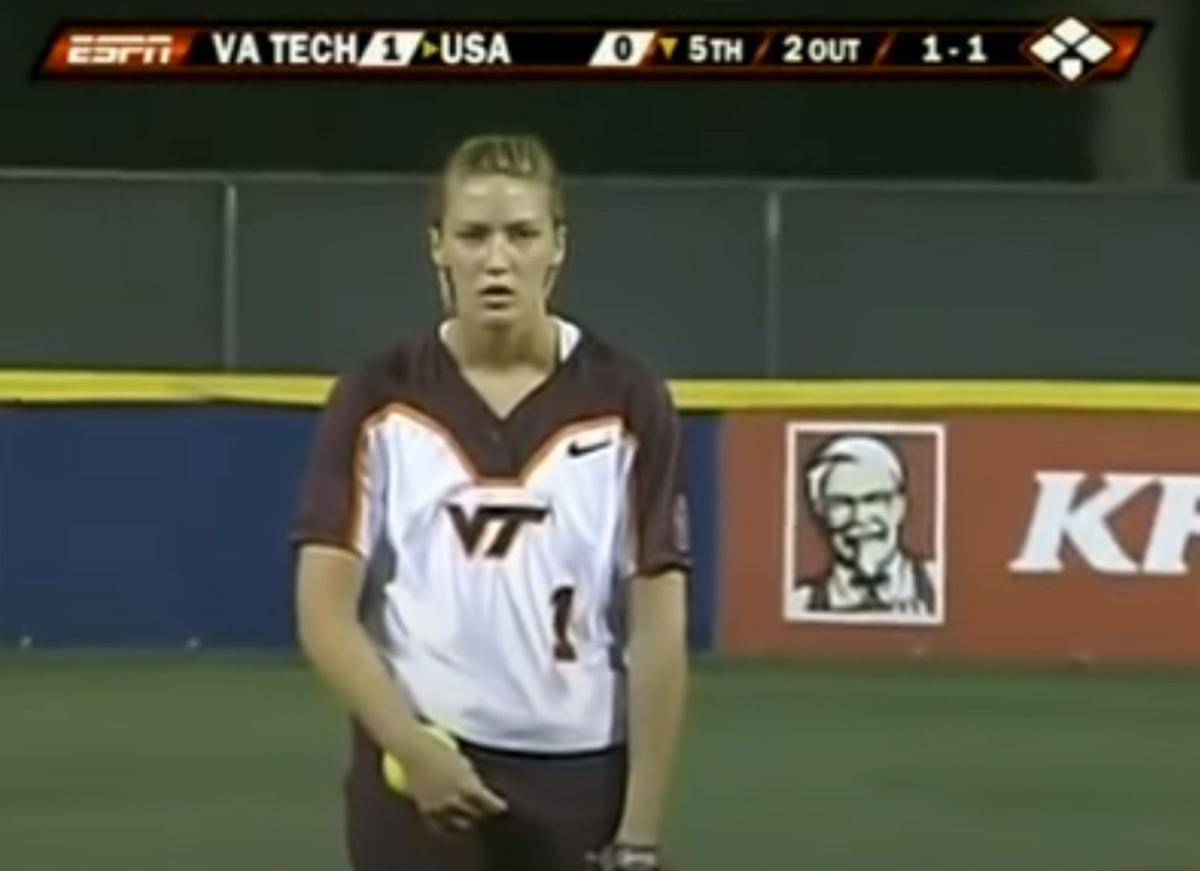 What if I told you the best team in the world was taken down a Hokie?
That's how I'd start the ESPN 30 For 30 documentary about one of the greatest softball games ever played.
Has the lack of sports the last two months made you more nostalgic? It's easy considering the only sports we can really watch — other than racing — are classic, old games. And there has been no shortage of them on all channels. It's got me thinking about some of the best games I can remember, but every time there's just one that comes to mind.
On March 26, 2008 the Virginia Tech softball team took on the U.S. women's national team in Oklahoma City as part of the "KFC Bound for Beijing" tour. Heading into the exhibition game, Team USA was considered by far the best team in world, having won Olympic gold in 1996, 2000, and 2004, and the previous six World Championships.
Prior to every Olympics the U.S. national team embarks in a nationwide exhibition game tour, taking on college and all-star teams as a warm-up, but also as a way to grow the game and drum up interest in softball among young players across the country.
Before that March game against the Hokies, Team USA had a 185-game pre-Olympic exhibition winning streak, a streak that dated back to 1996.
While the Hokies weren't a perennial softball powerhouse by any means, their pitcher, Angela Tincher, was one of the best collegiate pitchers in the country. She was named USA Softball Collegiate Player of the Year in 2008, and was twice named ACC Pitcher of the Year. She finished her career No. 3 on the NCAA's career strikeout list.
Tincher is from Eagle Rock, Virginia, and fun fact, she is a member of James River High School's Sports Hall of Fame, and so is my granddad. At the time, Tincher was also probably my favorite athlete on earth. If I were to make a list of my top 5 favorite athletes of all time, two of the five played in this game (the other being Team USA left fielder Jessica Mendoza). I copied the way Tincher wore her hair in the game against Team USA for every game of my senior softball season.
So, back to that game. The Hokies for sure had their hands full against Team USA, especially since the U.S. started Jennie Finch in the circle. Finch is a softball legend, but is more widely known for having made future MLB Hall of Famer Albert Pujols look absolutely silly in the batter's box with her punishing speed and insane riseball, which Pujols swung at and missed on three pitches. Finch was 6-foot tall and could get her fastball up to around 68 miles-per-hour from a 40-foot pitching rubber. In her international career to that point she had a 10-1 record and a 0.61 ERA, with 105 strikeouts to just five walks and 26 hits.
In the first inning, Finch sat each of first three Hokies down, but Virginia Tech put two balls in play, which had to add to their confidence.
In the bottom of the first, Tincher — who at 5-foot-7 was far less physically imposing in the circle — matched Finch, retiring the side.
"That is a rarity," said announcer Eric Collins during the ESPN2 live broadcast of the game.
It wouldn't be by the end of the night.
In the second, Virginia Tech's Kelsey Hoffman leads off with a double, the first hit ever for the Hokies against USA softball. She moved to third on an illegal pitch by Finch, and came around to score three batters later on a bloop single by Caroline Stolle that Mendoza just missed on a dive.
The Hokies had 3 hits in the inning, and led 1-0, the first time the entire tour that Team USA had trailed.
"Angela Tincher is awfully good. If for some reason she can keep it on this may be a difficult evening for… Team USA," Collins said.
Tincher walked Kelly Kretschman with one out in the second, but continued to mow down batters from there. By the end of the seventh inning, the Hokies' ace had 10 strikeouts, sat down 16 straight batters, and didn't let a single ball leave the infield.
Virginia Tech won 1-0 behind a no-hitter by Tincher.
In terms of underdog stories, Virginia Tech beating Team USA that day is like Appalachian State football defeating Michigan, or UMBC basketball beating UVa. Not only is there the upset aspect, but it's also a David and Goliath story too.
Tincher was not highly recruited out of high school, but was invited to try out for the 2008 US Olympic team.
She was cut. That was before the exhibition game. And with the Olympics dropping softball after 2008, Tincher didn't get a chance to try out again.
"I think Tincher is making a statement that, 'I could have been in that red, white, and blue uniform,'" said announcer Michele Smith in the sixth inning.
Team USA didn't lose another game the rest of the tour. Only four times in the following 42 games did they fail to score at least five runs.
The U.S. would go on to get upset by Japan in the 2008 Olympic gold medal game, settling for silver.
Virginia Tech went 50-19 in 2008, and reached the Women's College World Series round of 8 for the first, and only, time in school history.
I saved this particular game on my parent's DVR for years, and thankfully it's still on YouTube if you'd like to watch it yourself. Team USA's relief pitcher that day, lefty Monica Abbott, is still on the national team and will likely be one their top pitchers for next year's Olympics.
In the seventh inning, Natasha Watley, who popularized left-handed slap hitting, Mendoza, and Team USA cleanup hitter Crystal Bustos all sat down without Tincher even breaking a sweat.
"Angela Tincher has pitched tonight like she had something to prove," Smith said. "To throw a no-hitter against this offense is spectacular."
"It was fun, to say the least," Tincher said.
Cara Cooper is the sports editor of the Martinsville Bulletin. You can reach her at (276)638-8801 ext. 241.
Cara Cooper is the sports editor of the Martinsville Bulletin. You can reach her at (276)638-8801 ext. 241.