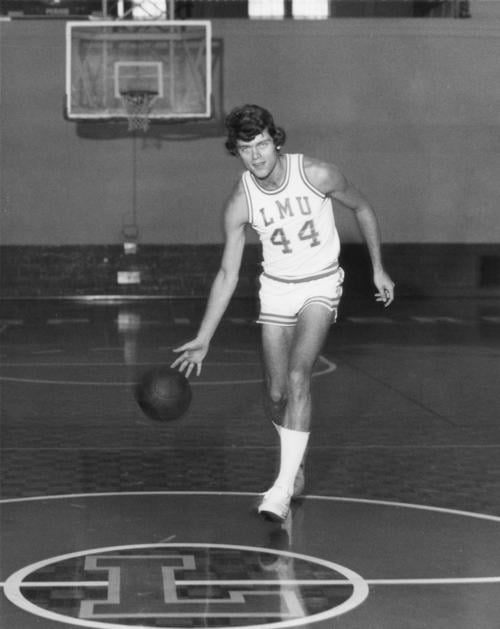 The Lincoln Memorial University 2019 Athletics Hall of Fame induction will feature a local standout.
Martinsville High School graduate Mark Cartwright received a letter last month telling him he was chosen for induction into the school's hall of fame, with the ceremony coming later this year. In two years as a starter for the Railsplitters, Cartwright scored 1,108 points, averaging 18.8 points per game, before the creation of the 3-point line. He also had 233 assists and 141 steals. He graduated in 1978.
At LMU, Cartwright played for head coach Jack Jackson and assistant coach L.J. Kilby, who was originally from Bassett.
Cartwright graduated from Martinsville in 1972, finishing his four year career with the Bulldogs as the school's first 1,000 point scorer. His father, Mel Cartwright Sr., started the Bulldogs' basketball program in 1956, and was head coach exclusively for six years, sharing the duties for another three years in the early '60s.
"I grew up in the gym basically," Mark Cartwright said by phone Saturday. "I spent a lot of time with dad. I went to a lot of the away games and travelled with the old Bulldogs so I knew them all. I would walk after school and walk up to the gym and ride home with dad. So I was always hanging out and playing ball. And I got to play ball with a lot of older folks which helped because I got whooped for a long time."
Mark Cartwright was a four year starter for the Bulldogs, and held the program's scoring record for 25 years. He was a freshman on the 1969 Martinsville team that made the VHSL AA state semifinals. He was named Virginia High School Basketball Player of the Year in 1972.
In addition to Cartwright's father, his older brother, Mel Cartwright Jr., started on Martinsville's 1966 state championship team, and is a member of the Washington & Lee University Basketball Hall of Fame. His younger brother, Mike Cartwright, was a member of the Bulldogs 1976 state championship team.
Being from a basketball family meant the sport was a love for Mark Cartwright from a young age.
"I loved to play ball. I loved to compete," he said. "So it was pretty much settled by the time I was in the sixth grade.
"Dad was a great coach. He was fundamentally sound and he liked to play ball. A lot of coaches, they want to play a bunch of defense and are not too concerned with the offense, but we played both. We played both defense and offense. Dad… for the most part he taught me how to play ball. I got to play against a lot of great players. My brother, Mel, was a great player. I played with Sonny Wade. I played with a lot of Martinsville basketball players, and they all have a lesson for you, especially when you're young."
While Cartwright never got a chance to play for his dad at Martinsville, the eldest Cartwright was involved with the sport and the Bulldogs' program throughout Mark Cartwright's time at the school. Mel Cartwright Sr. passed away in 2002.
Even in the 60s and 70s, basketball was a way of life in Martinsville.
"With dad, he always had a key to the gym so we could always get in and play," he said. "So in the winter time we'd watch the pro game and on Sunday's they'd have the Celtics or something on and then we'd go around 4 and play some ball every day. So I played ball a lot. I got to play a lot and got to play with a lot of good players. I was fortunate to have some good coaches. It makes a big difference.
"I enjoyed playing. We won 80-some games during my time. At least 20 games a year. It's fun being a winner. It's not fun losing. We didn't lose that many. It was a good career… I always had good coaches and they taught the fundamentals for playing high school ball. You've got to have some feeder programs to bring along the players and Martinsville did it right. It was set up for basketball."
Cartwright played for a season at Virginia Tech before transferring to Lincoln Memorial, in Cumberland Gap, Tennessee, which he said was a much better fit for him.
"It was nice… I scored another thousand points in a couple years. And we had a good team," he said. "It's nice to play for a coach that knows fundamentals and play for a team. We played unselfish and they could play ball. It was a lot better situation."
Cartwright now lives in Camden, North Carolina, about 50 minutes from Nags Head, where he has a heating and air license and an electrical license. He also taught at a community college for 12 years, and still does a little bit of teaching, but other than that he said he is basically retired.
He mainly stepped away from basketball in his adult life, other than helping as an assistant coach at a high school in Elizabeth City, North Carolina for a time.
Cartwright said the letter from LMU announcing his induction came "right on time," as he continues to heal from a recent knee surgery.
"I was really happy. It's a last hurrah but it's nice to be recognized," he said. "Especially by your own crew. I really liked Lincoln Memorial University. It was a good place for me. I graduated. I met a lot of good people and made a lot of life-long friends there so it was a good deal. A good place to be."
The induction ceremony into the LMU Hall of Fame will take place on October 12 in the school's Tex Turner Arena as part of homecoming weekend.
"It's just a nice, warm feeling. Actually at the time right now it's a great feeling," he said. "It's just great to be recognized by Lincoln Memorial. I love it."
Cara Cooper is the sports editor of the Martinsville Bulletin. You can reach her at (276)638-8801 ext. 241.
Cara Cooper is the sports editor of the Martinsville Bulletin. You can reach her at (276)638-8801 ext. 241.
Be the first to know
Get local news delivered to your inbox!