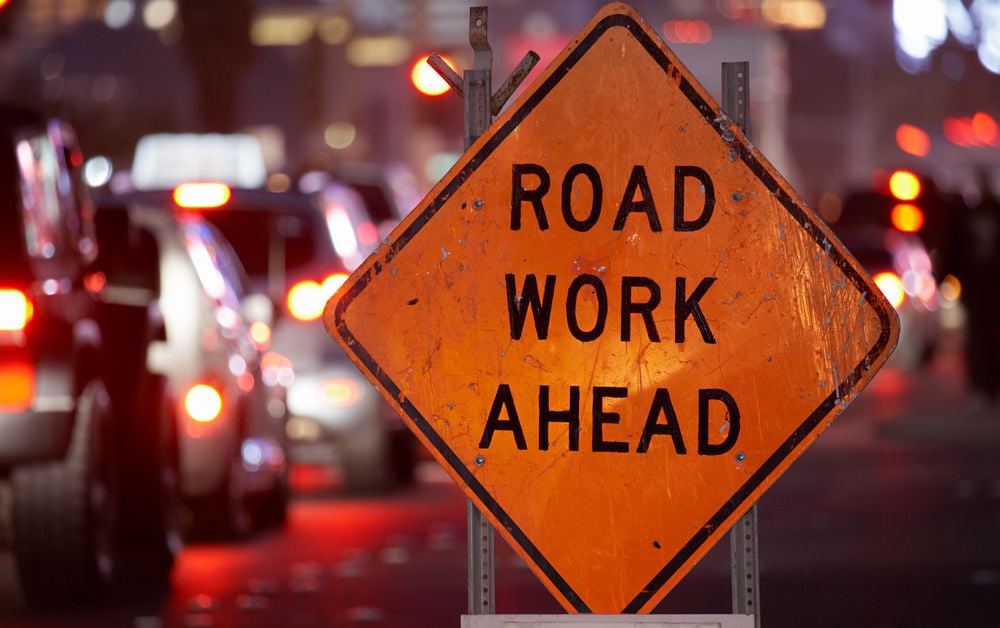 MARTINSVILLE-Right now, there's no money to move forward with Interstate 73. After a General Assembly vote earlier this month, that will change, but the money won't start coming in from that until 10 years from now at the earliest. With that in mind, state officials say, they can't plan, design or otherwise program for what the road might look like or the final route that it would take.
The question of what's next for the project came up on Tuesday, during the Martinsville City Council's meeting. During that session, the council members voted 4-1 to spend an estimated $12,000 to be part of the regional I-73 Coalition through the end of 2018. The coalition is comprised of Martinsville and Roanoke plus Henry, Franklin and Roanoke counties, as the Virginia stretch of the planned highway would run through or near each locality. Each city and county provides money for the coalition, which in turn goes to the lobbying firm of Alcalde and Fay. As per the contract, Martinsville pays $1,000 per month, while Franklin and Henry counties each pay $1,500. Roanoke and Roanoke County both pay $2,000 per month to the firm. In exchange, the lobbyists are asked to go to Richmond and Washington D.C. and convince lawmakers to help fund I-73.
But as there has been little movement on the funding front in recent years, Martinsville Councilwoman Sharon Brooks Hodge voted against the proposal on Tuesday. She questioned whether Martinsville has been getting its money's worth by participating in the coalition for the past several years.
Coalition Co-Executive Director John Stirrup from Alcalde and Fay told Hodge the coalition has made progress, such as helping to get the I-73 Corridor Development Fund established and renewing relations with federal transportation officials.
Stirrup said, though, he thinks that if Martinsville was to pull out of the coalition, "it would seem a negative sign" to the other localities that city officials "have no confidence in what we're doing."
Questions were also raised by council members about when construction could start. The answer, according to officials from the Virginia Department of Transportation and the U.S. Department of Transportation is decades, at best.
The reason, again, goes back to money. The project, just like any other, needs a permit from the U.S. Army Corps of Engineers before it can progress.
"Right now, they're saying they're not willing to permit it as is," said Jason Bond, communications director for VDOT's Western Virginia office. "The Corps has expressed some concerns over the extent of stream impacts and asked for some additional analysis, but we don't have the money to do that analysis yet."
The last Environmental Impact Statement on I-73 was done in November 2006. The Army Corps is asking for that to be updated, which would take an estimated $8 to $10 million and 4 to 5 years to complete, Bond said. That study would look at both the questions raised by the Corps and present any possible alternative routes, in order to see if a different plan would have less of an impact on the area.
Once the study is submitted, it has to be approved both by the Army Corps and the Federal Highway Administration. That has to be done before a final design can be created. Between the study and approval process, it takes between 5 to 8 years to finish.
After the permit has been approved, then VDOT will need the money to start the design process. That involves surveying the area and drawing up final plans, which typically takes more than a year once it's funded.
But there is a problem with moving to the design phase. In order to start that, Bond says, you need to have your funding lined up to move forward.
"Once you start spending money on design, there is an expectation to advance the project to construction within a decade," Bond said.
That means when design starts, VDOT officials have to show how they're going to fund construction. And in order to start construction, you must have the full amount needed. The last study done on the costs involved with I-73 estimated the total cost at more than $3 billion for the Virginia section.
Part of the funding puzzle will be addressed by the Virginia General Assembly. Earlier this month, the Virginia Senate approved a bill by Sen. Bill Stanley to provide at least $40 million annually for the I-73 corridor development fund. There is a catch, however. That money comes from tax stamps the state derives from the transfer of real property. It is currently allocated to the U.S. Route 58 corridor development fund. The money will not move over to I-73 until all of Route 58 becomes four lanes, which Stanley anticipates should be in about 10 years, in 2028.
The bill was approved once by the House and Senate in 2017, but because of legislative rules, it had to go back through for a second vote in this session.
Compared to last year, more senators voted for the bill this year, with mostly the Northern Virginia delegation voting against it, Stanley said. That indicates to him that more regions of Virginia are supporting the bill's idea.
"I don't know of any opposition (in the House of Delegates)," Stanley said, and he anticipates the bill will be passed in the House when the vote comes up later this month.
In addition to serving in the Senate, Stanley is also on the board of directors for the National I-73/I-74/I-75 Corridor Association. He acknowledged that the $40 million or more his bill will provide annually will not pay for all of the costs related to the project, but feels "it is an important piece of the funding structure."
Stanley said that the law will show Virginia's commitment to the project, which he feels is critical in order to try and get federal funding.
Passage of Stanley's bill, for example, would make it easier for Congressman Tom Garrett and Rep. Morgan Griffith to try to make sure federal funding for I-73 is part of President Donald Trump's infrastructure package.
On the federal side, there have been discussions about the proposed infrastructure plan, but nothing has been introduced to the House or Senate. Part of the reason is that the $1.5 trillion proposal is still in the very early stages. Griffith said he hopes to see funding for I-73 make it into any infrastructure bill passed by Congress.
"I am hopeful there will be funding for the project in any infrastructure package similar to what President Trump has talked about," Griffith said. "While there is not yet any specific bill introduced in the House or Senate, I believe I-73 belongs in any infrastructure bill."
According to a statement sent out by the White House, it's also questionable how much money would be made available for projects like I-73.
The 2018 Budget: Infrastructure Initiative statement, sent out by the White House Office of Management and Budget, says that the office will "reevaluate the role for the federal government in infrastructure investment. For example, in the interstate system, the federal government now acts as a complicated, costly middleman between the collection of revenue and the expenditure of those funds by states and localities," the statement says. "Put simply, the administration will be exploring whether this arrangement still makes sense or whether transferring additional responsibilities to the states is appropriate."
There is also the question if I-73 would be beneficial to Martinsville and Henry County. The last study done on the subject was "The Economic Impact Of Interstate 73 in Virginia," released by Chmura Economics in 2008 for the Harvest Foundation. Chmura then did a powerpoint presentation in 2014 using the same 2008 study, combining it with studies about the impact in West Virginia and South Carolina.
The 2008 study and 2014 powerpoint projected to 2020 and beyond, where it estimated I-73 could support approximately 141 service businesses, including "44 hotels, 43 gas stations, 32 fast food restaurants and 22 full-service restaurants." That was expected to bring 3,164 jobs to Virginia as of 2014, with an economic impact of $310 million. That's for the entire I-73 corridor, not just Martinsville or Henry County. In fact, Martinsville isn't factored in when it comes to service businesses. The report states that "the cities of Martinsville and Salem are not listed here because they have no [proposed] interchanges and thus would not be expected to see a direct benefit in terms of service businesses." Instead, the report says if Martinsville puts out roadside signs along I-73, it might bring in more people to the Martinsville Speedway and the Virginia Museum of Natural History.
So if the hotels, restaurants, gas stations and service industry jobs aren't coming to Martinsville, where are they going? According to the report, "the city of Roanoke is expected to land more than half of the jobs along I-73, followed by the counties of Henry, Franklin and Roanoke." By 2020, the study expected Henry County to get six hotels, eight gas stations, five fast food and two full-service restaurants. By comparison, it estimated Roanoke would get 30 hotels, 25 gas stations, 21 fast food and 16 full-service restaurants. That's based on the number of interchanges each area would have with I-73. Henry County has six planned interchanges, so Chmura estimated it would get six hotels, one for each.
As for the distribution centers, the study said
Franklin and Henry counties would most likely be considered for those. The report cautions however that "in light of the fact that I-73 in Virginia is much shorter than I-81 and further from mega-metropolitan areas, the region might not be able to attract a cluster of distribution centers like those on the northern end of Virginia's I-81." It's unlikely that some company will put their Atlantic Coast distribution hub here. However, "with proper targeting and incentives, there is potential for I-73 in Virginia to land a couple of distribution centers serving mid-sized metropolitan areas."
The report warns however that while traditionally, highways have been considered when companies look to relocate, "with the development of computer and communication technology as well as the declining roles of manufacturing in the national economy, its importance relative to other factors has diminished over time." Chmura couldn't promise that building I-73 would make any distribution center move to or even consider Henry County. The report did say that I-73 would increase access to Smith Mountain Lake and possibly drive some residential development to Franklin County, however.
Those projections are 10 years old at this point, however. The Bulletin reached out to three different analytics groups this week, asking how long a study like this would be good for. While all three declined to comment on the record, each said they wouldn't be comfortable moving forward on a project based on data that was a decade old. As of Friday, there was no new economic studies being done on the project by anyone currently involved with the project and no one knew of any plans to move forward with one.
Regardless of the economic impact, until funding comes from the state or federal sources, Bond said the project is sitting still.
"The bottom line is that right now, there's no money," Bond said. "Without funding for I-73, we can't schedule any of this."
Brian Carlton, Mickey Powell and Paul Collins report for the Martinsville Bulletin
Be the first to know
Get local news delivered to your inbox!