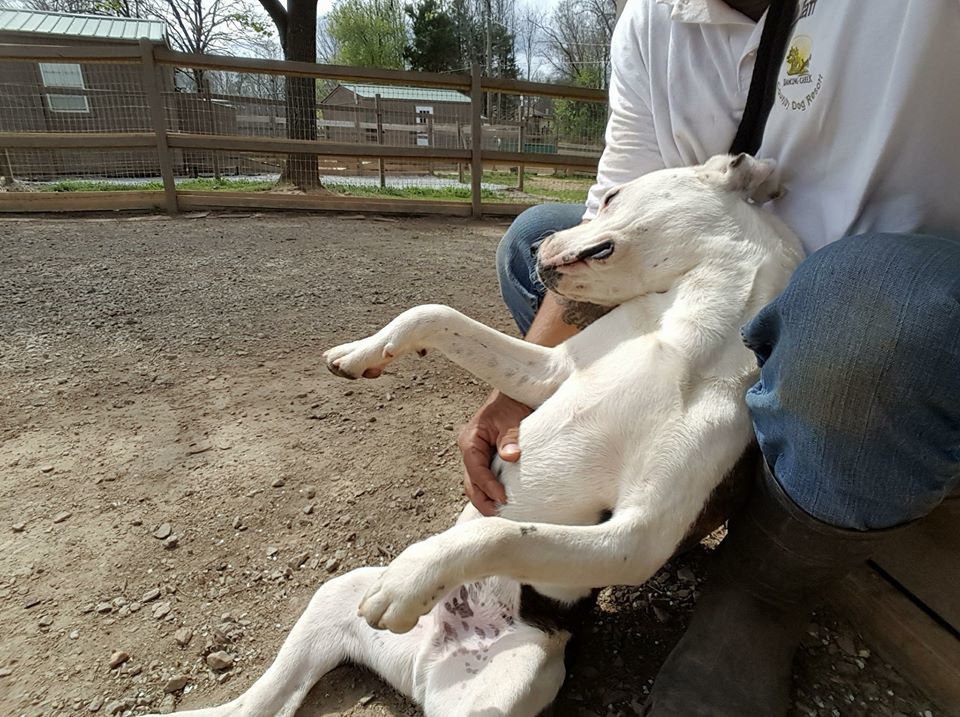 CASCADE – It's a doggone happy ending – or beginning – for Dash of Dancing Creek Farm.
Formerly named Aragorn, Dash first came to the SPCA of Martinsville-Henry County in rough shape.
At 20-pounds underweight upon intake last July, staff at the local shelter first wondered whether or not the then-five-month-old pup would make it through the night.
Staff immediately rushed Dash and his recently adopted companion Winnie – formerly named Eowyn – to an emergency veterinarian. The vet determined that both dogs were in the late stages of starvation.
Showing resilience, both canines improved after continuous doses of intravenous fluids. Before long, they started eating and putting on weight.
Barely able to put one foot in front of the other, Dash and Winnie began water therapy, which helped strengthen their muscles without straining them.
When they could stand on their own, the dogs started basic obedience training.
While that was going on, the Henry County Sheriff's Office also had started an investigation.
When Dash and Winnie were brought to the SPCA, the story was that they were found near the local landfill. Dubbed the "dumpster dogs" or the "landfill dogs," local residents raised the money to pay for their medical bills.
It turns out, however, the landfill story was false. The dogs' former owner, Martinsville resident Kayla Sharee Dalton, was arrested and charged with two counts of misdemeanor animal cruelty in Henry County.
Dalton's case came to an end last month, when she was convicted of both charges. During the trial, she told the judge she kept offering the dogs food, but they had refused to eat and she didn't have the money to pay to take them to the veterinarian.
Dalton was sentenced to 60 days in jail, but it was all suspended on conditions of 12 months of good behavior and payment of $2,572.03 in restitution for such things as treatment, therapy and care of the dogs after they were turned into the local SPCA.
While the court case was going on, the dogs were each finding new homes. Winnie was adopted by a local family, who didn't want to be interviewed and asked that their names not be released as part of this story, as they didn't want the publicity.
Dash meanwhile found residence as a foster at Dancing Creek Farm in Cascade, a long-term boarding facility specializing in dog training and military pet caretaking during deployment.
Tamara Burton, Dancing Creek Farm president, said she didn't plan to adopt Dash when she first offered to foster and train the American Staffordshire Terrier mix and his purebred companion, Winnie.
"I reached out to the SPCA to foster both dogs with the intention of training them to make them more adoptable," Burton said. "I fostered to train him to find him a home."
Unbeknownst to Burton, the second Dash arrived at Dancing Creek Farm, he'd already found his forever home.
As weeks of training ensued, Dash became more comfortable with Burton and staff.
"When you know a dog has been abused, you of course can expect to see fearful behaviors," Burton said.
Dash improved quickly under Burton's care and his unique personality emerged.
"I take care of a lot of dogs. You love them all, but there was just something special about Dash," Burton said. "He had a certain way about him and was just grateful and loving and special."
The foster dog's sweet, playful spirit made him irresistible.
"I got close to him and decided to adopt," Burton said.
Now, Dash helps other dogs at the boarding and training facility by making them feel more comfortable during their stay and demonstrating how to do various tasks.
"At first it was sit, stay," Burton said about Dash's training. "Now he can do tricks, crawl on his belly and place his paws over his eyes."
Dash also heels on command and walks off leash.
Going from the brink of starvation to a happy, normal life, the dog's story of resilience could teach humans a thing or two.
"His story shows that nothing can ever be so bad that there's not a light at the end of the tunnel," Burton said. "People give up on dogs too easily. With time, love and patience, any dog can be a Dash."
An ambassador for mistreated dogs everywhere, Dash's story triumphs with hope in spite of what at first seemed to be a hopeless situation.
"I hope he lives a long, happy life with me and my partner," Burton said. "We love him and want to give him a happy life."
While he had a rough start, the landfill dog has now found a land full of opportunity.
Be the first to know
Get local news delivered to your inbox!