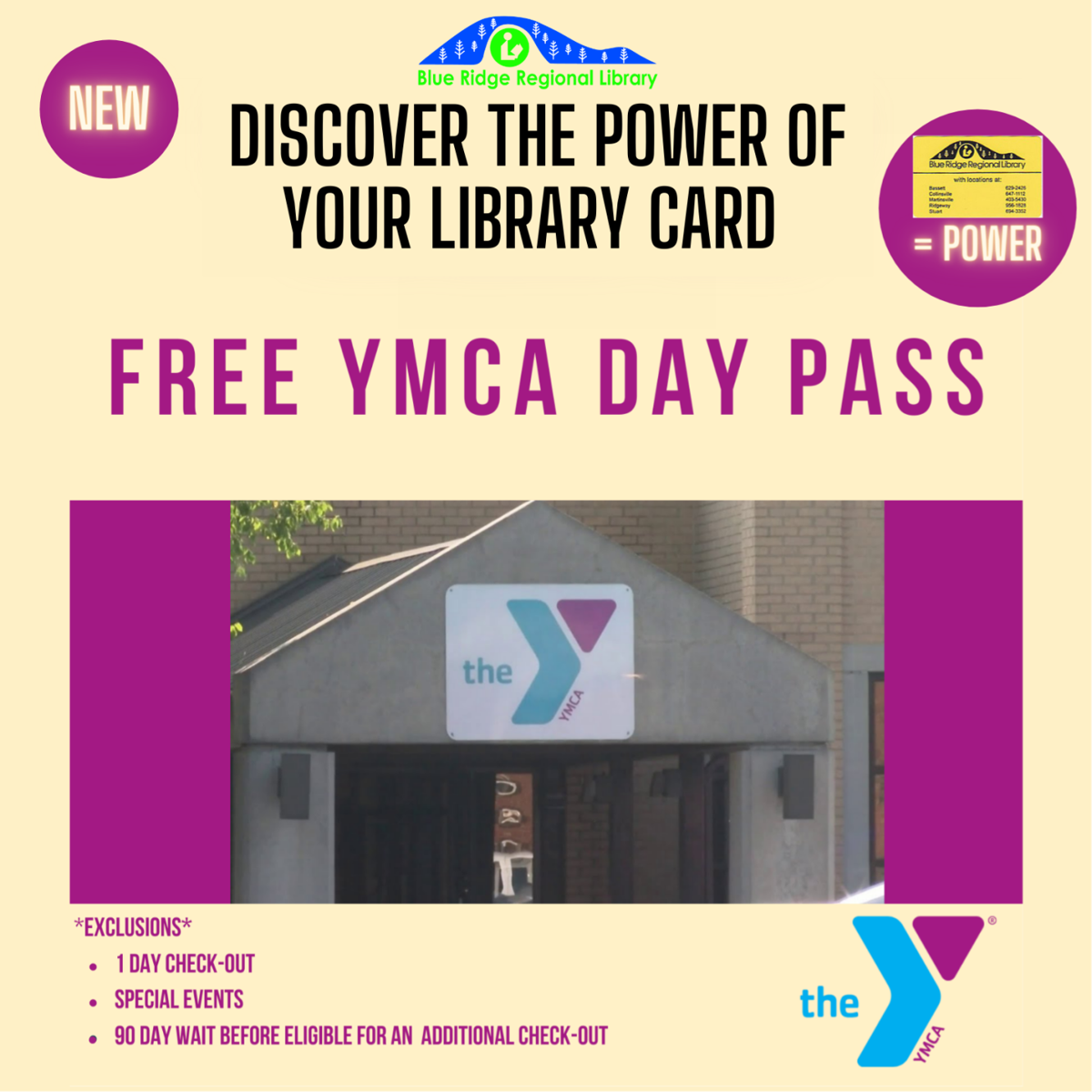 Thanks to your library card, you now can work out at the Y or take the family to see the exhibits at the Virginia Museum of Natural History (VMNH).
That's in addition to all sorts of other surprising possibilities offered by the Blue Ridge Regional Library (BRRL), such as borrowing fishing poles and a stocked tackle box.
The library's latest additions to its collections that go beyond books – those are updates weekly — are one free day pass each for the Y and the VMNH. You check out a pass with your library card, just like you check out a book.
"We have multiple one-day passes within our system," said BRRL Program Coordinator Leandio Gravely, "so patrons can place a hold on a pass if none are available for check-out" at the time requested.
The hold process can be done in person at any BRRL branch, online at brrl.lib.va.us or by phone (Bassett, 629-2426; Collinsville, 647-1112; Martinsville, 403-5430; Patrick County, 694-3352; or Ridgeway, 956-1828).
The VMNH pass is sponsored by the VMNH. It is good for a family of up to five people, and requires a 30-day wait for subsequent check-outs by the user.
The Y pass, which is sponsored by the Martinsville & Henry County Y, requires a 90-wait for subsequent check-outs by the user.
Once the pass is returned, the library will notify the next person on the reserve list about when it will be available for pick-up.
Other unusual and perhaps unexpected things that can be checked out from local library branches include:
Fishing rods and a stocked tackle box
(must show proof of fishing license to check out) (Sponsored by the U.S. Army Corps of Engineers)
Storytime Literacy Backpacks:
for children ages 3-6, with activities, toys and books. Each backpack, which can be checked out for a week at a time, comes in a theme: Winter, Spring, Summer, Fall, Transportation, Science, Dinosaurs, Nursery Rhymes and Fairy Tales. To reserve, call the children's desk at 403-5444. (Sponsored by Martinsville Rotary Club and United Way Success By 6)
"I Love Virginia State Parks" Nature Backpack:
Free parking/entrance pass to all Virginia state parks, books, nature guides, Port-a-bug field observation container, dip net, magnifying lens and activity pages (Sponsored by the Institute of Museum and Library Services, Library of Virginia, Science Museum of Virginia, and I love Virginia State Parks)
A collection of developmental bags each of which represents 3 months of a child's development, from ages birth to 5 years. The bags contain age-appropriate books and learning activities. (Sponsored by Smart Beginnings Martinsville & Henry County)
Parent-Teacher Collection:
A collection of books targeting the special interests and needs of teachers and parents.
Ellison Die Cutting Machine:
A manual machine that cuts shapes and letters precisely, safely and easily. The machine cuts through construction paper, cardstock, foam sheets and wallpaper. It is available for use in the library. A list of dies is available upon request.
The library system also has 24-hour access streaming services:
The Libby app by Overdrive allows patrons to access ebooks, audiobooks and magazines for free. There are no late fees; late items are automatically removed from download but may be checked out again. A new feature is that patrons can access Libby and listen to an audiobook using Apple Carplay and Android Auto.
Hoopla: Hoopla is a web and mobile library media streaming platform for audio books, comics, e-books, movies, music and TV. With Hoopla, there is no need for holds, no wait time and no late fees. As a new feature, patrons can access Hoopla and listen to audiobooks and music with Alexa. (Institute of Museum and Library Services and Library of Virginia are the sponsors.)