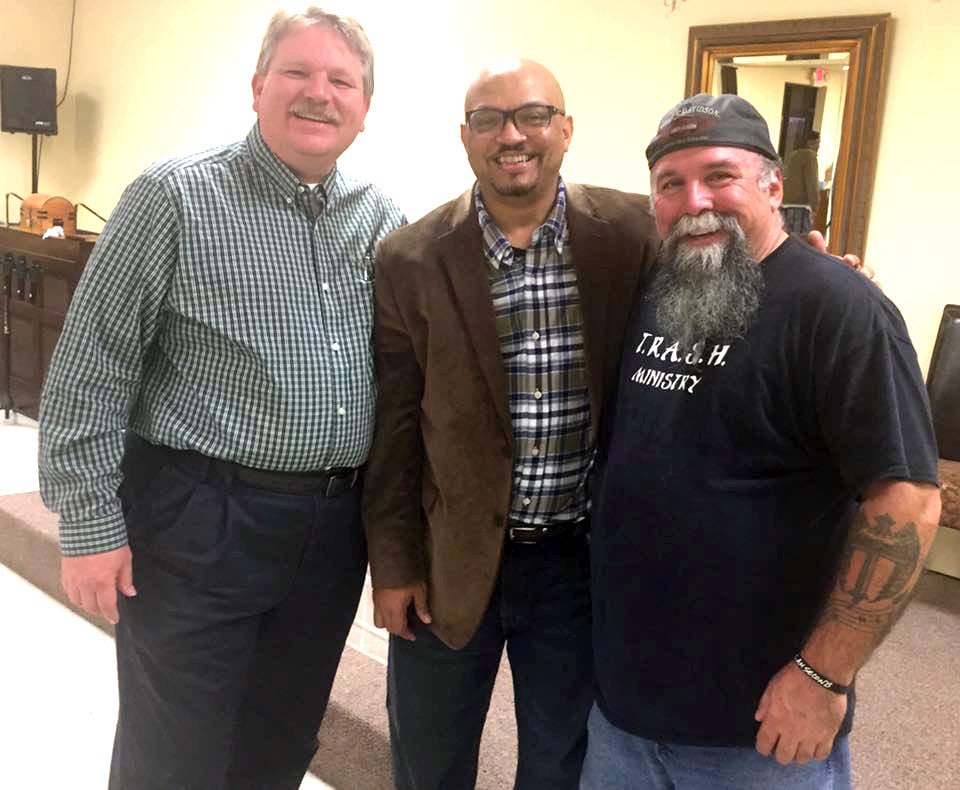 MARTINSVILLE–Two months after his brother died, J.T. Clark walked into a courthouse. He wasn't there to testify or sit in the gallery. Instead, he was there to pay the fine of the man charged in the traffic accident that killed his family members.
J.T. Clark first met C.J. Martin Jr. in October 2015, as Martin stood in court to face reckless driving charges in the Aug. 21 traffic crash that killed Clark's brother and sister-in-law, Bobby and Pam Clark of Floyd.
The Clarks were on a motorcycle at the time, leaving a service at T.R.A.S.H. (Totally Redeemed Anointed Servants of the Most High) Ministry in Collinsville. Martin had been driving along Va. 57A but was rerouted behind CVS because of an ambulance fire on Riverside Drive, according to Bulletin reports. Martin had accidentally gotten into the wrong lane and tried to correct that when the two vehicles collided.
Two months after the accident, "The Holy Spirit moved me" to go to court and pay Martin's fine, Clark said, adding that he was not a church-going man at the time of the accident or court case. Now he and his wife, Terri Lee Clark, head the worship group My Brothers' Crossing, which honors his brother and sister-in-law.
"My brother was a pastor," said Clark, who lives in Boones Mill. "I didn't live the way my brother did in that regard," but he does now.
Clark was the executive director of the Regional Health Care Coordination Center for the Near Southwest Preparedness Alliance (NSPA) out of Roanoke. The federally funded NSPA serves 16 counties and seven cities in southwest Virginia, including Martinsville and the counties of Henry and Franklin.
Martin is an electrician and the pastor of House of Purpose Ministry in Collinsville.
On the day of the trial, Clark said, he was at work in Roanoke at 10 a.m. when "the feeling that I had to be in that courtroom was so strong I just had to go. As I got south of Rocky Mount, a message came across my spirit and said 'I need you to pay the fine.' I was like, 'This could be thousands of dollars.' 'You don't worry about a thing. You show up to pay the fine and I'll pave the way,'" the voice replied.
Clark arrived to the courtroom two hours before the case was due to be heard, he said. He talked with a state trooper, J.D. Byrd, and told him of his intentions.
When it was time for Martin's trial, the trooper stood with Clark for his explanation.
"Essentially the judge heard what I was there for, and the judge reduced the charges to improper driving," Clark said. "Instead of being fined thousands of dollars, he was fined five dollars."
In a 2015 interview with the Bulletin, Byrd had said that during his "37 years with the Virginia State Police, 'I've never seen a case like that … In all my years, I've never seen forgiveness like that.'"
"To me it was overwhelming," said Martin, who added that before then, the Clarks' daughter, Robin Clark-Quisenberry, had "reached out to me and told me that what we went through – she loved me, that it wasn't my fault, that she had forgiven me, and that helped save my sanity."
When Clark stood up for Martin during the trial, Martin said, "It was another blessing from God. I was just blown away how God would allow us, someone, to feel that way about somebody. That's what you preach and teach everyone else. It's different when you experience it. That day was just something I'll never forget."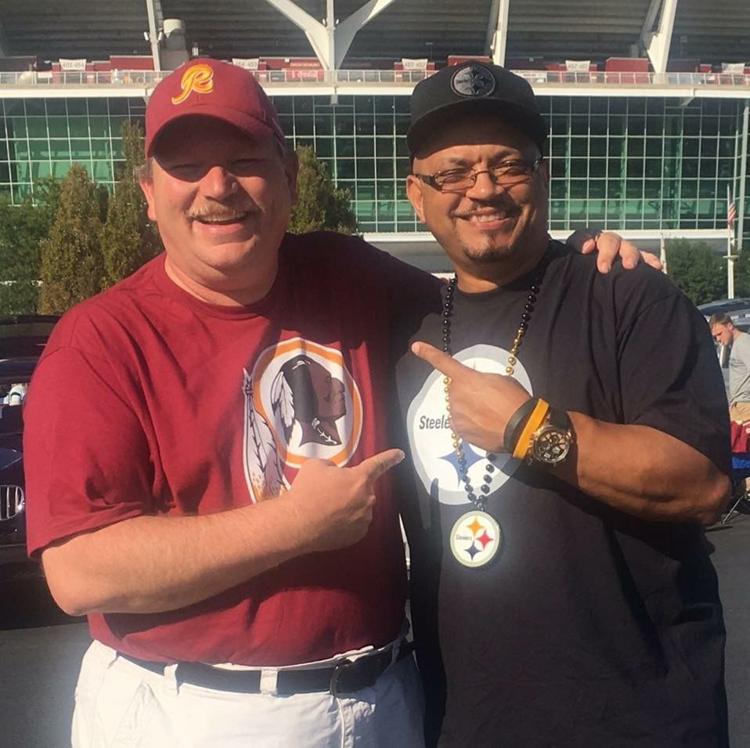 Martin invited Clark to his church and Clark went on Nov. 8, 2015, but he was uneasy about going in, he said. Thoughts in his mind told him he didn't belong there, and that he should let the Martins get on with their lives and he should get on with his.
He had arrived early, so he drove around, then went to the scene of the accident – for the first time – and went back to the church.
When Martin took his place at the altar, he attempted to introduce Clark, but couldn't because of strong emotions, Clark said.
Then, Clark said, "I got out of my seat, walked up to the altar and I gave him a hug. I told him, 'I've got you, brother. Everything is going to be alright.' As I turned to go back to my seat, I saw a line of people that had formed down the center aisle of the church. The people of his church stood to give me a hug before they would let me sit back down. It was unbelievable. They had an expression that they live by this church. I was introduced to it that morning, Love God. Love People. And boy do they ever live it out."
When the service was over, "I went up to CJ and I told him quietly, 'I cannot explain it to you right now, but I have been prepared my whole life for this moment," Martin said.
Barely a week later – Nov. 13, 2015 – Clark came up with the idea of his new ministry, My Brothers' Crossing. Before long, he reduced his capacity at work from executive director to manager, to be able to devote more time to his ministry, he said.
The first time he shared his story outside from just the parties involved was on Nov. 29, 2015, at The Community Fellowship. In March 2015, he spoke at two out-of-town churches, and it just grew from there.
Now, he is invited to speak nearly every weekend at different churches, business functions and other gatherings. At the one-year anniversary of the accident, My Brothers' Crossing, T.R.A.S.H. and House of Purpose, with other local churches, hosted a free cookout in Collinsville. That November, they went back and served 250 Thanksgiving dinners.
On Saturday evening, the Clarks and the Martins and their friends will celebrate their love for one another and for all people with "An Evening of Praise and Worship." The service is to celebrate people who serve the greater good.
Now, Clark said, he and Martin talk every day, if not by phone call then at least through text messaging. They, and Mike Price, the pastor of T.R.A.S.H., have held Bible study and worship services together. Just two weeks ago, Martin and Price held a joint service to benefit Piedmont Community Service's Recovery Program.
A year ago Father's Day, both Martin and Clark said, Martin baptized Bobby and Pam Clark's two grandchildren.
"He's been to our church, we've been to his," Martin said. The trio are "very successful spreading the message of love. We show how God has made us brothers, joined together as brothers. We have had a tremendous outpouring of love."
"Me and Mike and J.T.," Martin said, "whenever we go anywhere, we just say we're brothers. We don't even explain it. We are joined together through Christ, so it doesn't matter what you look like."
Martin will be one of the speakers at Saturday's program, which will be held from 5:30-8 p.m. at CrossPoint Church, 3951 Greensboro Road, Ridgeway. The program is sponsored by My Brothers' Crossing, Matt Tatum, Kevin and Sandra Kemp, Soul Purpose Ministry, New Life Today and House of Purpose.
The other speakers will be Neal Turner, pastor of Soul Purpose Ministry and the Emergency Services Coordinator for Montgomery County, on "What if God Took a Time Out?" and Andrew Columbia of Florida, an evangelist who was a police officer in New York City for 10 years, on "Honoring the Call to Protect and Serve."
Music will be by Kevin Kemp, a school resource officer in Carroll County; his wife, Sandra Kemp, a special education teacher in Carroll County; and the singers of House of Purpose Ministry.
Terri Lee Clark is an EMT volunteer with Red Valley Rescue Squad in Franklin County, and J.T. Clark recently was named to the Franklin County Public Safety Chaplain's Corps program. He is one of several chaplains who minister to the needs of citizens and first responders.
For Saturday's service, "we tried to pull together people who live lives which demonstrate that sacrifice for the greater good. These folks will be sharing messages and music that are intended to encourage, uplift and celebrate people along those lines," Clark said.
Be the first to know
Get local news delivered to your inbox!