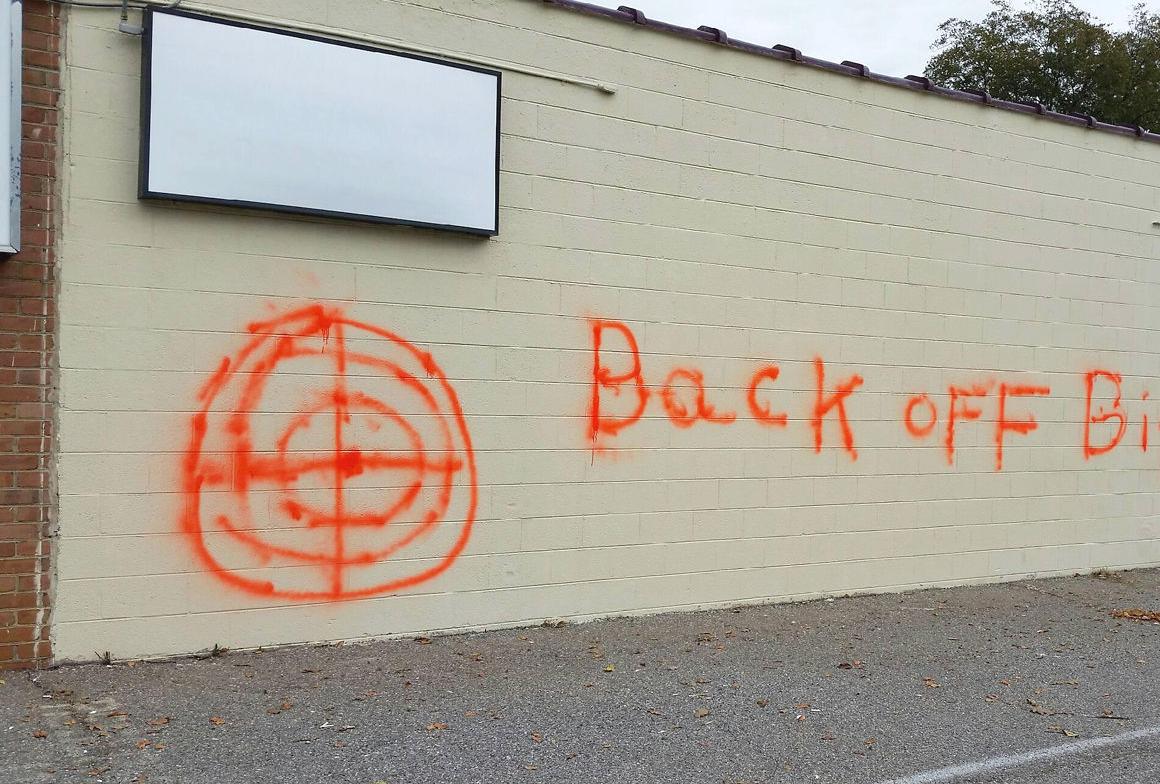 Days before the election for the 20th District seat in the Virginia Senate, Democrat candidate Kim Adkins received a startling message on Saturday morning.
On Saturday, staffers with Adkins' campaign discovered an act of vandalism had been perpetrated on her Martinsville campaign headquarters, a building located at the corner of Cleveland Avenue and Market Street. The graffiti, written in orange paint, read: "Back off, Bi—-" and also featured a crudely drawn target symbol.
Adkins, the former mayor of Martinsville who is challenging incumbent Bill Stanley, was taken aback.
"I was in Danville this morning knocking on doors, and I did not know about it until I returned to my car and saw the text messages," said Adkins. "Obviously we find this completely unacceptable. I do not see this as an attack on myself or my campaign; instead I view this as an attack on our core beliefs as Southern Virginians.
The graffiti was believed to have been written sometime between late Friday night and early Saturday morning, as it was not present when staffers vacated the building Friday afternoon. As soon as the message was discovered, a call was made the Martinsville Police Department, which dispatched officers immediately.
While no one had been arrested for the act of vandalism by press time, Don Draper, Adkins' campaign manager, did note that Martinsville Police were increasing their surveillance of the building and planned to up police presence around the facility.
"It is campaign time and things like this have been known to happen, but at the same time, we take any perceived threat seriously," said Draper on a phone call with the Bulletin Saturday afternoon."
For her part, Adkins vowed to continue campaigning as vigorously as possible ahead of Tuesday's election.
"We are comfortable going forward," said Adkins. "We trust the Martinsville Police Department completely and we know they are doing a thorough investigation. I've spoken to my staff and we plan to keep doing everything we've been doing.
"I've been a public figure for a while. I've had eggs thrown at my house, had my tires slashed. It's not going to stop me from fighting to make a change in Virginia."
Late Saturday afternoon, volunteers had arrived to scrub the graffiti from the building using spray paint remover provided by the Martinsville Police Department.
Stanley, R-Glade Hill, on Saturday condemned the act, saying it has no place in the political process.
"I decry any destruction of property or vandalism, (and) reject any act of threatening a candidate with the courage to run for office … It's completely unnecessary."
Stanley wouldn't comment on what the intended meaning of the message, arguing that it was out of place regardless of the content.
"There's no way to tell what that person's intent was or what the reason was," he said. "Even the symbol itself could mean several things."
Either way, "It's a threat to somebody who's running for office and that's unacceptable," he added.
Stanley didn't think the threat would have any bearing on the last days of the campaign, despite recent hard feelings over gun control issues. But he said candidates have to be mindful of how impassioned voters can get over an issue.
"We live in a different world now, so we must always be careful," he said. "There are those who may be angry with you because you don't agree on an issue, and that anger may be to the degree where they would do you harm. I've certainly experienced this recently myself."
Earlier this week, Stanley filed a complaint with the Franklin County Sheriff's Office over an alleged threatening message he received from former Henry County Supervisor and gun-control advocate Andy Parker. Stanley also said he had applied for concealed-carry permits for himself and his wife. He noted, however, that he still had been knocking on doors Saturday and had been campaigning as usual.
Stanley didn't speculate on the culprit's motive, though he noted that Adkins – herself a former NRA staffer – had supported an executive order recently signed by Gov. Terry McAuliffe barring guns in certain state offices and closing some purchasing loopholes.
"My opponent, despite her working for the NRA, has certainly supported gun control measures in the past," he said. Adkins has said publicly that she was a Second Amendment supporter.
When hard feelings come up during a campaign, he said, "it becomes that way based on the type of campaign a candidate runs. My opponent has sent out negative and false attack (materials,) so if the candidate chooses to be negative, then that negativity can harbor negative feelings on both sides.
"I think if we can just run positive campaigns, then it allows the civil discourse to be of a good nature, not of an angry nature," he said.