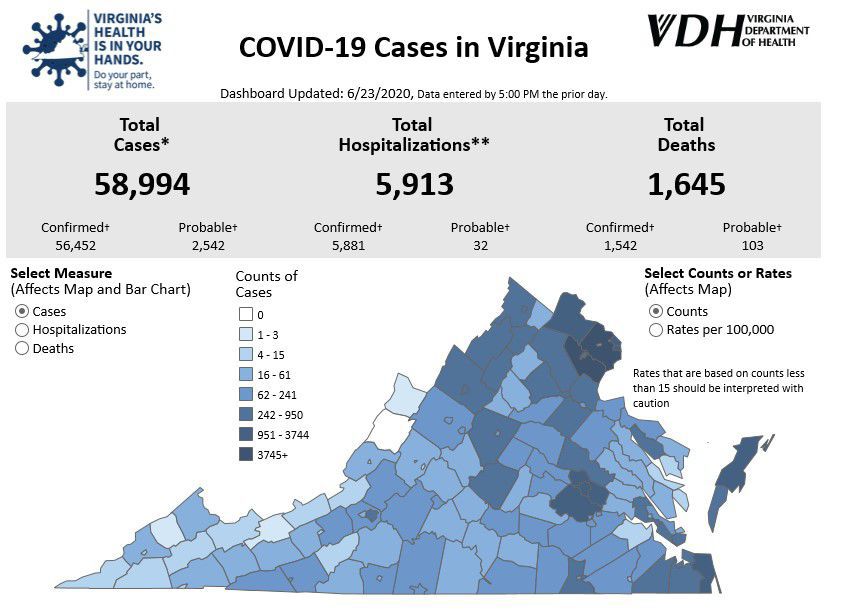 There has been a fourth death of a Henry County resident because of COVID-19.
That death was revealed in the data release Tuesday morning by the Virginia Department of Health.
A couple of hours later Nancy Bell, spokesperson for VDH's West Piedmont Health District, confirmed the death but offered little else.
"All I can do is confirm that there was one [death] in Henry County yesterday [Monday]," Bell wrote in an email.
State privacy laws prevent much information from being reported.
So it's not known if the victim was young or old, male or female or how he/she might have contracted the coronavirus, which potentially are important data for the public to understand the spread of COVID-19, the illness caused by the virus.
Paige Pearson, a public information spokesperson who is on assignment with VDH's joint command center, responded to questions from the Bulletin by reinforcing state policy.
"The demographics are shared at the health district level, not the locality to respect and protect the privacy of the family of the deceased person," Pearson wrote in an email. "This is especially important in smaller communities with fewer fatalities where an individual might easily identifiable from obituaries if more information were given.
"We can certainly understand your need for specific age but cannot give out that info."
Henry County's large surge of cases in the past six to seven weeks have revealed infected persons who have ranged in ages from toddler to the 90s.
VDH lists cases -- and hospitalizations and deaths -- by the area in which the person resides, so this is a Henry County resident who may not have died in the county.
Kelly Fitzgerald, a spokesperson for Sovah Health-Martinsville, confirmed that that a patient who tested positive for COVID-19 recently died at he hospital.
"But - as always - due to HIPAA, we cannot provide specifics. VDH may be able to provide more details, including age and gender," she said.
VDH reported Tuesday morning that there have been 228 positive cases in Henry County -- all but two of those since May 1 -- including 22 who were hospitalized and the four deaths.
The most recent cases announced by Bell since Friday were two males in their 40s and 50s and two females in their 30s and 50s.
Martinsville has 61 cases, with seven hospitalized and one death, and Patrick County has 40 cases, with two persons hospitalized.
Martinsville since the weekend has five new cases: four females and a male. They range in age from 1-5, teens (a female) and 40s, 50s and 70.
Patrick County had a female in her 60s.
Franklin County, which also is part of the West Piedmont district, has had 52 cases, with five hospitalized and one death.
Statewide the numbers have been slowing down significantly. VDH reported 58,994 cases, with 1,645 deaths and 5,913 hospitalizations.
Johns Hopkins University's real-time map showed Thursday that there are 9,124,193 cases worldwide.
and 472,737 deaths. In the U.S. there are 2,312,302 cases and 120,402 deaths.
Concerned about COVID-19?
Sign up now to get the most recent coronavirus headlines and other important local and national news sent to your email inbox daily.