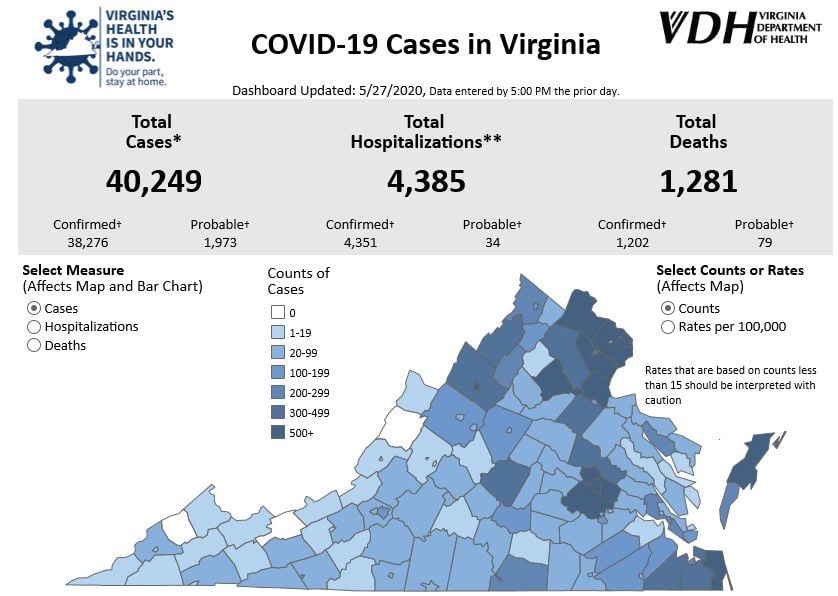 On the day the death toll from COVID-19 reached 100,000 in the United States, there is another person dead in Henry County.
The Virginia Department of Health reported this third death as a simple statistic in its data report Wednesday morning.
That's all there is: no name, no age, no location of the death -- just a Henry County resident overcome by the coronavirus.
One resident of Martinsville has died as well. So have two people from Franklin County, which also is part of the West Piedmont Health District.
All Nancy Bell, the spokesperson for the district can say is, "I can confirm the death."
And there are more new cases Bell announced Wednesday, several new individuals hospitalized, more people caught up in a dynamic surge of new cases that has more than quadrupled this month in Henry County.
Today, the count could reach 100. On May 1, there were 16.
Here are those statistics from the VDH:
Henry County: 95 cases, with eight people currently hospitalized and three dead.
Martinsville: 31 cases, with six hospitalized and one dead.
Patrick County: 17 cases, with no one hospitalized and no deaths.
Franklin County: 35 cases, with four hospitalized and two dead.
Bell reported that in Henry County cases there were one female and two males, in their teens and 50s
Patrick County had two new cases, a man and woman, in their 40s and 50s
Martinsville's two new cases were teenage boys. A child 1 to 5 years old and another between 5 and 10 had been on the list on Tuesday night.
Bell said that the numbers shown for hospitalization indicate how many people are hospitalized for COVID-19 currently, not how many have been hospitalized altogether. A message left at Sovah Health-Martinsville about how many might be in treatment there received no immediate response.
The number of cases indicates how many people have tested positive for the coronavirus, and that figure lists both people who are sick with it currently and how many have had it and either recovered or died.
There are no statistics to measure how many people are considered to have recuperated from COVID-19, she said. It is "not tracked because the definition is too loose" – basically, a person who has had COVID-19 is considered to be recuperated when they've had no fever for 48 hours and no longer feels symptoms.
Some people have had symptoms for a month, and some only for a day, she said: "This crazy virus is all over the place."
VDH says there are 40,249 positive cases in Virginia, with 4,385 people in the hospital for COVID-19 and 1,281 dead.
And some of that data is broken down by zip code.
An analysis using VDH's report from Wednesday morning (the web site only updates its data each morning, so the evening's new cases were not available by zip code), shows the most positive cases were in 24112 (55 cases). There are between 15 and 18 cases each in 24078, 25054 and 24055.
Holly Kozelsky is a writer for the Martinsville Bulletin; contact her at 276-638-8801 ext. 243.
Concerned about COVID-19?
Sign up now to get the most recent coronavirus headlines and other important local and national news sent to your email inbox daily.