It has been more than a month since public schools in Martinsville and Henry County started the school year virtually, and many students and their families still are adjusting to the demands of learning through a screen.
The good news? Area child care providers have been making adjustments of their own to support working parents while school buildings are closed. This has meant stepping up services to elementary and middle school students who suddenly found themselves without adult supervision during the remote school day.
In addition, a local child care task force launched a website and new pot of funding last month to help the families of school-aged children find and pay for care. ChildcareMHC.org features a comprehensive list of child care facilities in Martinsville and Henry County, along with frequent updates about which ones have available slots. The website also includes information on how to apply for the Emergency Childcare Scholarship Fund.
In August, the governments of Henry County and Martinsville donated a combined $160,000 from their federal coronavirus relief funds to the local United Way to provide child care aid to parents who meet certain income requirements. Families needing care for children ages 4 to 12 can apply for subsidies of up to $50 per week per child, payable to the child care provider of the family's choice.
United Way Executive Director Philip Wenkstern said the scholarship attracted a lot of interest from the beginning. The program was announced on a Wednesday afternoon, Aug. 12; by noon the following Monday, they had received more than 60 applications, which he called "phenomenal."
Now, more than 120 children are receiving the subsidy, Wenkstern said Friday.
"Obviously, this program is needed if we've gotten that level of response," he said. "There are a lot of families that are hurting right now and certainly did not plan on incorporating monthly child care fees into their household budget. Our goal is just to make sure children have a safe place to be and learn safely in the community."
Eligibility for this emergency scholarship depends on household size and income, in contrast to an earlier aid program that was limited to essential workers in certain fields.
Back in March, The Harvest Foundation gave $150,000 to the United Way and Smart Beginnings of Martinsville-Henry County for emergency child care relief. Their original goal was to make sure medical personnel and first responders had access to child care during school closures, so they could continue showing up to work.
At that time, "we were triaging what we thought the community needed from a public health perspective," Wenkstern said.
As the economy has opened up and more people are back at work, the task force's focus has shifted — especially with schools still holding remote classes. Smart Beginnings has been surveying local parents to learn about the child care challenges they're facing as a result of COVID-19.
"The number one challenge that parents indicated on the survey was the cost of child care," said Ruth Anne Collins, early education and family resource coordinator for Smart Beginnings. "Especially for parents whose children have traditionally been in school and now they're having to pay for all-day care, I can see how that would be a challenge."
Pandemic hits industry
Even before the pandemic, affordable child care was difficult to find in many parts of the country. In Martinsville and Henry County, a group of community partners convened by The Harvest Foundation had been studying the issue for several months before the virus hit Virginia.
Then, COVID-19 made the nationwide shortage worse.
Gov. Ralph Northam's executive order shutting down schools and non-essential businesses in mid-March did not require private child care centers to close; rather, state officials encouraged providers to stay open for emergency child care if they could meet social distancing guidelines and other health precautions.
However, financial challenges forced thousands of centers to close anyway. With much of the child care industry operating on "razor-thin margins" long before the pandemic, many could not afford to stay open due to limited enrollment and increased expenses, according to the National Association for the Education of Young Children.
An April news release from the governor's office reported that 2,672 child care centers — nearly 45% of providers in Virginia — had closed, eliminating slots for 200,000 children.
At the national level, 370,600 child care workers lost jobs between February and April, the National Women's Law Center reported. Although some of these losses were temporary, the industry has still not fully recovered months later; as of July, the U.S. child care workforce was at 79% of its normal size before the pandemic.
Defying that trend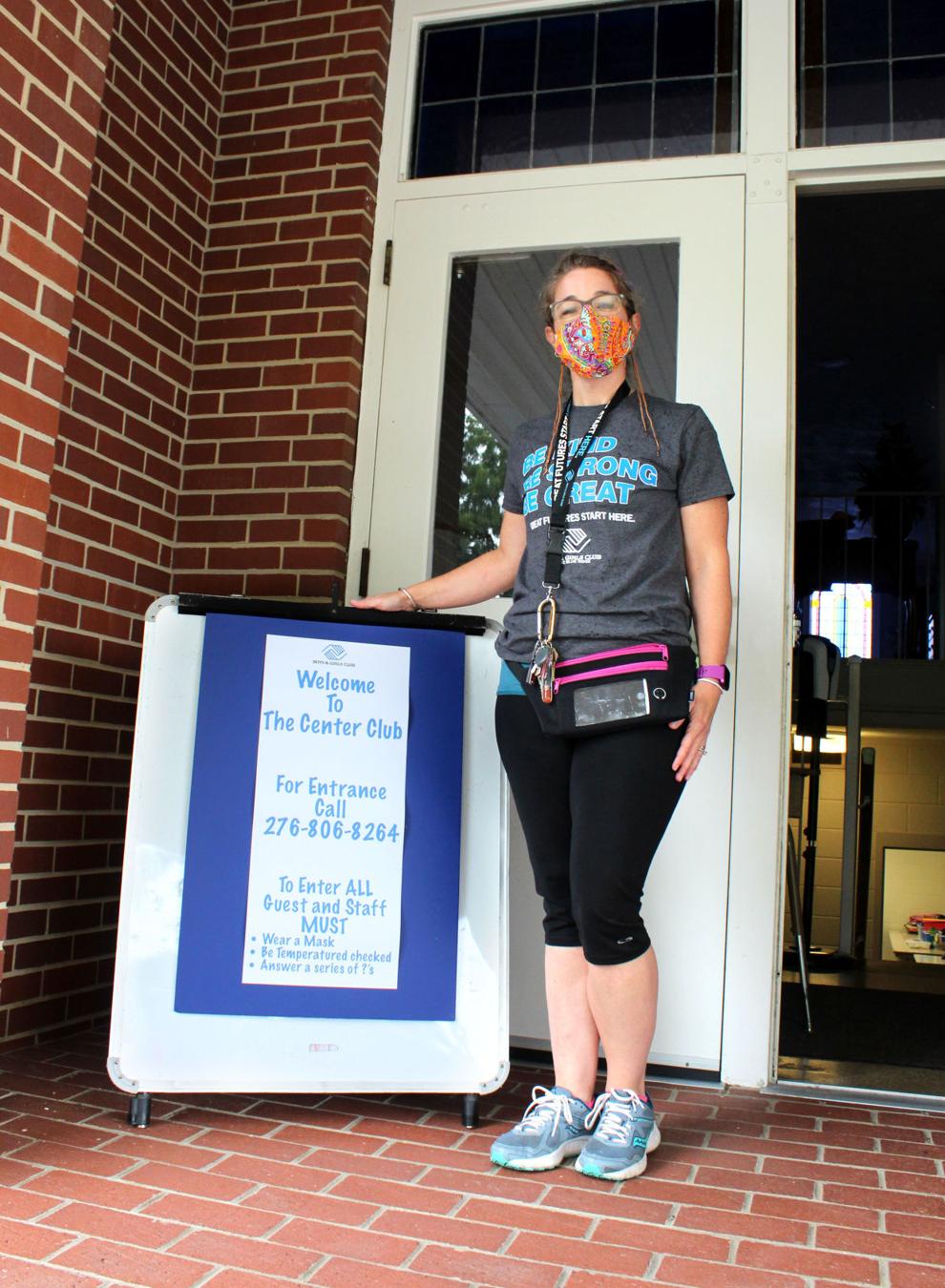 Fortunately, Martinsville and Henry County seem to be defying the negative national trends. Area child care providers saw an initial drop in enrollment and capacity during the stay-at-home orders, but the industry has mostly bounced back.
"We were very fortunate in our community in terms of how few closures we had, compared to other places," Wenkstern said. "We really appreciate providers continuing to step up to the plate."
Among the 18 child care sites in Martinsville and Henry County, "We had three programs close temporarily for a couple weeks for cleaning or just to give the staff some protection," Collins said. "But we only had one program close permanently, and they had announced they were closing before this hit."
And instead of cutting jobs, local providers are having the opposite problem: They desperately need more staff. That includes the area's largest centers, the YMCA and Boys & Girls Clubs of the Blue Ridge, which are both hiring.
"With the smaller class sizes, they need more teachers," Collins said. "I've heard from quite a few that need either part-time or full-time workers."
The total number of child care slots in the community is back to "normal or near-normal, and in some cases programs have increased numbers," she said. "Right now, there are some available slots if parents are looking for school-aged care."
Collins stays in frequent contact with local providers to track the number of openings and keep the listing on ChildcareMHC.org updated. Currently, the website shows three child care facilities with a total of about 17 available spaces for school-aged children, Collins said
Smart Beginnings also has a phone hotline for parents who have questions or need help finding child care at 276-403-5528.
Shifting the risk
After the decision to start the school year remotely sent some parents into panic mode, local child care facilities began working to step up services to elementary and middle school students.
But setting up spaces to accommodate virtual learning and adhering to health guidelines during a pandemic has been a complicated process.
Some organizations, such as the Martinsville-Henry County YMCA and the Boys & Girls Clubs of the Blue Ridge, pivoted with only a few weeks' notice from afterschool programming to offering full-day care for schoolchildren.
This has required an array of changes like extending hours of operation, installing more electrical outlets for students to charge devices, adding internet bandwidth to classroom spaces, hiring more staff, or even moving to a new location.
The Martinsville-Henry County Family YMCA has stayed open to provide emergency child care to essential workers since March, but Executive Director Brad Kinkema said he has seen a surge in demand with schools starting.
"We currently have a wait list. Part of that is because we're only putting so many kids in a classroom" to allow for social distancing, Kinkema said. "Normally we would have 125 at our Collinsville site. Now we have 70."
Kinkema also said the YMCA still needs more staff. They are hiring child care workers for both preschool and school-aged children.
Students who spend their school days at the Collinsville YMCA are divided into small groups that stay together as a "pod," avoiding mingling with other groups as much as possible. In areas where students might line up, such as outside of restrooms, there are distancing marks 6 feet apart showing them where to stand.
"We're trying to do the best of our ability to space kids out in the classrooms," Kinkema said. "We're getting acrylic desk dividers so the kids will have their own little area."
Older students tend to adjust better to the social distancing rules, he added. "The younger the kid, obviously the harder it is. At the preschool, you walk in and they kids want to hug you. It's hard to explain, no, you can't hug."
In addition to distancing, the Y takes everyone's temperature and screens for symptoms before entering. Adults must wear masks. Parents and visitors are asked not to venture beyond the front desk to limit potential exposure.
"We've been very fortunate and very diligent about putting in protocols and keeping kids safe," Kinkema said.
However, he added, while public school classrooms are closed, "the risk hasn't gone away. The risk has just shifted to the child care providers.
"There's a lot of talk about the fear of sending kids back to school because of COVID, and I understand that. But understand that the kids are going somewhere, to the Y or other child care providers," Kinkema said. "Just because you've closed schools doesn't mean every kid is at home."
One of the biggest challenges staff members face with remote schooling is learning to navigate different software and virtual classroom spaces, Kinkema said. Staff and teachers have been learning how to use Canvas, the platform used in Henry County Schools, in order to help students with their work.
"If we have 12 kids in a classroom, most likely they're from different schools and different teachers, so you have to navigate 12 different systems," he said. Staff have to figure out "how do you pull the page up? What password does the child have? Where is their homework located on the website?"
Kinkema's message to families is "to just be patient with us. This is new for everybody. We're trying to do the best that we can to learn and meet the needs of the parents and the kids. We're happy to provide this care."
Clubs find new home
The Boys & Girls Clubs of the Blue Ridge normally operate afterschool programming onsite at various schools in the city and county. So when school buildings shut down in March, the clubs did, too — temporarily.
Closing five sites impacted more than 300 local youth and required cutting more than one-third of the club staff, according to BGCBR Executive Director Joanie Petty. The organization kept a skeleton crew in place as they worked to set up emergency care for the children of medical personnel and other essential workers.
Two weeks later, the club was back in business, but serving a much smaller group. Space constraints and social distancing meant they could serve 36 youth at the BGCBR Teen Center site on East Church Street.
Out of 98 Boys & Girls Clubs organizations in Virginia, BGCBR ended up being one of only two clubs to reopen and stay open through the summer, Petty said.
"It was so important for this organization to stay open because we knew that 74% of our children are from single-parent homes," she said. "Those are working parents. If we closed, with 360 club members, that's a lot of kids who will not have a place to go."
When news came in late July that school buildings would remain closed for an indefinite period of time, club leaders had to get creative to serve more students during the school day.
"Our capacity and our entire operating model have changed," Petty said. "The pandemic has pushed us to creatively think about our program design and operational framework and innovate those models into an all-day club experience."
That required finding additional locations. With a few weeks to go before local schools started on Aug. 10, club leaders were on the hunt for a new home. They ended up finding two: the Uptown Ministry Center on East Main Street and McCabe Memorial Baptist Church on Clearview Drive.
Between these new sites and the Teen Center, BGCBR is serving 110 students— about one-third of its normal capacity. However, Petty said, the club is continuing to hire new staff and can enroll more students once that happens.
Meanwhile, Smart Beginnings and the rest of the child care task force are continuing to monitor the situation locally and see how they can help providers and families.
"We're just waiting to see from week to week how the COVID situation is in our area so we can start preparing for schools to start some version of in-person classes again," Collins said. "We're just trying to listen to parents and families in the community and see how we can support them. It's just so important that the children are getting what they need in terms of continuing with their education."
Kim Barto Meeks is a reporter for the Martinsville Bulletin. She can be reached at 276-638-8801.