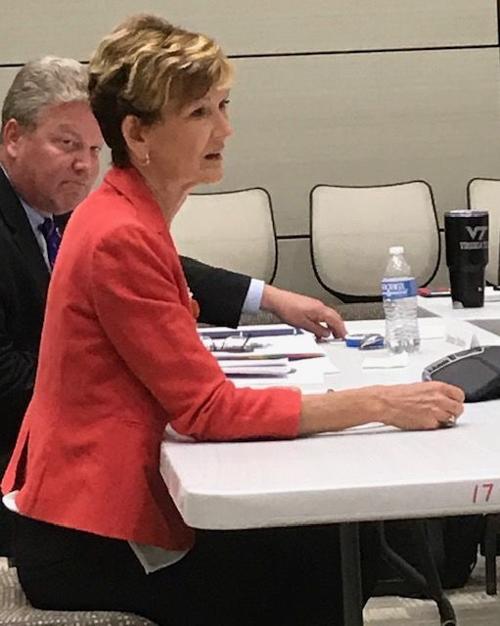 NCI's Jackson to chair unmanned group
New College Institute Interim Executive Director Karen Jackson has been elected as board chair of the Unmanned Systems Association of Virginia, a nonprofit coalition that promotes a legal and regulatory framework that supports innovation, collaboration and growth in the unmanned systems industry.
"NCI is excited about growing Virginia's unmanned industry, and I am excited to continue my work in autonomy and join forces with USAV to ensure a robust future for all segments of the unmanned industry," Jackson said in a release announcing her appointment. "This industry is rapidly expanding in Virginia, even though the pandemic, and at NCI we want to make sure the community can access this exciting career opportunity."
Virginia has the eighth-largest concentration of unmanned systems firms in the country and is rapidly expanding. The mission of the USAV is to foster the growth of the industry through advocacy efforts focused on economic and workforce development, financial incentives and a business-friendly regulatory environment, the release said.
Before joining NCI, Jackson served as Virginia Secretary of Technology from January 2014 through January 2018 under then-Gov. Terry McAuliffe.
Sovah introduces COVID-19 updates
Sovah Health has established a regular update to share information with the public related to COVID-19, including the status of hospital operations and the safety measures being taken to protect patients, staff and community, the hospital said in a release.
These updates will be delivered every two weeks by various physician leaders and will be available on the hospitals' social media channels and website.
As of this week, Sovah Health is treating fewer than 30 patients who have tested positive for COVID-19 at both Martinsville and Danville hospitals, the release said.
Sovah Health said in the release that it continues to take all the necessary precautions to protect our patients and staff from COVID-19, including limiting entry points to the facility, screening all individuals for symptoms of COVID-19, universal masking, and maintain a strict limited visitor protocol.
Eastman honored for recycling program
Eastman Chemical's carbon renewal technology, a recycling innovation that can process almost any kind of waste plastic, has earned for a Top Project of the Year in the Environment + Energy Leader Awards.
These awards recognize projects that deliver environmental benefits or contribute to energy management. Winners were chosen by a panel of experts in the fields of sustainability and energy management, the company said in a release.
Carbon renewal technology is one of two molecular recycling innovations that Eastman, which has facilities in Henry County, launched to give almost any kind of plastic infinite life.
Citywide flushing continues
Martinsville's citywide flushing of fire hydrants as part of an annual maintenance program that will continue through September.
The Water Resources Department and Fire Department will continue flushing between 4 a.m. and 5 p.m., Sunday through Saturday. There could be repairs on individual hydrants after flushing is completed.
Monday-Friday: The old Liberty Fair Mall and Commonwealth Boulevard to Memorial Boulevard, all of Chatham Road and adjacent streets and continuing outside the city to Woodhaven Road, plus streets in the Bethel Lane area.
Aug. 3-7: Uptown areas of Memorial Boulevard, Starling Avenue and including Church, Main, Fayette, and Market and adjacent streets.
Officials say flushing may loosen sediment and leave some dingy water that should clear up in a short time. Any persistent cloudiness can usually be cleared by briefly opening all faucets in the building simultaneously. Residents are cautioned to avoid clothes washing if they are aware of hydrants being flushed nearby. The dinginess could stain clothes.
Future schedules will be forthcoming, and questions can be directed to 276-403-5157.
AEP donates
to United Way
Henry County and Martinsville will benefit from American Electric Power Foundation's donation of $120,000 to United Way organizations in West Virginia, Virginia and Tennessee to provide facemasks and other personal protective equipment to staff, volunteers and clients of United Way agencies.
"We know there are many needs during this pandemic, and this is another way we can provide support to the people who need it most in our communities." Chris Beam, Appalachian Power president and COO, said in a release announcing the program.
AEP said funding for will go to United Way serving Henry County and Martinsville among the markets across the three states.
Each of the United Way organizations will purchase and distribute the masks and related PPE to the agencies they work with in their communities.
AEP Foundation also had donated $288,000 to food pantries and similar organizations across the three-state area and granted $73,000 to create free WiFi hotspots at schools and community centers across Appalachian Power's service area, which included Henry and Patrick counties.
Appalachian Power has 1 million customers in Virginia, West Virginia and Tennessee.
Road projects
Spot paving is underway at various locations on Route 57. Flagging operations will be in place. This project is expected to be completed by Nov. 20.
Parts of U.S. 220 Business in Martinsville, at its intersection with Church Street, will be closed starting this week to allow for construction of traffic islands that prevent left turns and to add a U-turn lane south of the intersection. The crossover and median on U.S. 220 at this intersection will be closed during daytime hours. There will be no left turns out of Church Street onto U.S. 220 and no left turns towards southbound U.S 220. This work could be completed any day.
HCPSA will be installing new water line and service along Dale Avenue that can require periodic road closures. Detours will be in place during daytime hours only. The work is expected to be completed in early September.
Installation continues for two emergency pipe replacements on U.S. 220 Business, at three hundredths of a mile north Speedway Road and on U.S. 58/220 at Greensboro Road and William F. Stone Highway. Drivers can expect lane closures at both locations. The completion date is scheduled for August.
Work continues in the turn lane for U.S. 220 South/U.S. 58 East Bypass began work, and drivers may experience brief periods of flagging on Route 877 to unload equipment and materials. A temporary right lane will be in place during the working hours of 7 a.m. and 5:30 p.m. Monday through Friday. Estimated completion is August.
Work is underway on U.S. 220 East to include trench widening and the addition of rumble strips and guardrails from Dyer Street to the Franklin County Line. Work is scheduled to be completed by Oct. 23.
Beginning July 27 Pleasant Valley Drive in Patrick County will close between Pole Bridge Road and Egg Farm Road to allow for pipe replacement. A detour and directional signs will be in place. Weather permitting the road will reopen on July 31.
Belcher Mountain Road in Patrick County are closed until further notice because of a slide from the recent rainfall and flooding. VDOT is currently assessing for repairs and more information will be forthcoming. A date to reopen the road is not yet available. Drivers will need to seek alternate routes. Do NOT go around barricades.
Paving is underway on both lanes of Route 661 between mile markers 5 and 10 in Patrick County. There will be lanes closed and flag operations in the work zone. The expected completion is Nov. 20.