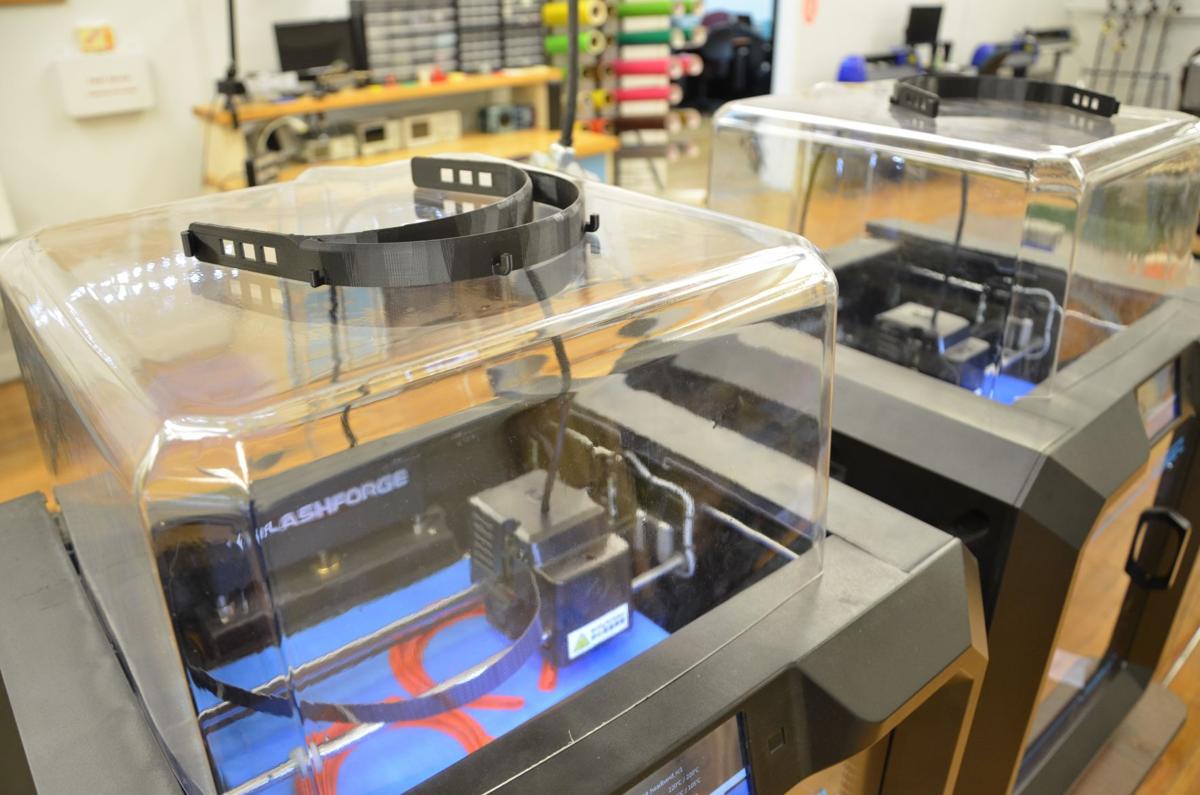 Patrick Henry Community College is one of 52 organizations nationally that will split $35 million from the U.S. Economic Development Administration's Build to Scale grants, which are presented annually to projects that support entrepreneurship and accelerate economic growth.
PHCC's grant, chosen from a pool of more than 600 applicants, is $300,474, which will be used to add capacity to the Dalton IDEA Center, the school's hub for innovation and entrepreneurship, and to expand similar programming to Patrick County.
Established in 2016, the center serves as a technology accelerator for innovation-based economic development and houses multiple resources and programs, including the Fab Lab, Big IDEA Challenge, Startup and Grow Martinsville and the Verizon Innovative Learning STEM camp.
"The fact that we could secure a grant like this underscores the strength of our programs, the skill of our team, and the positive economic impact that our initiatives are having in our community," Rhonda Hodges, PHCC's vice president of workforce economic and community development, said in a release announcing the grant. " We are really looking forward to expanding the strong programs that we already have in place to serve even more people."
HCPS meals at no charge
Henry County Public Schools will be serving meals at no charge to children 18 and under, the school district announced this week
The U.S. Department of Agriculture has approved waivers for local school divisions and other federal meal program sponsors to implement the Summer Food Service Program to provide meals to children in the community free of charge through Dec. 31.
The waivers support access to nutritious meals while minimizing exposure to COVID-19 and begin again in September 2020.
Because Henry County operates the Community Eligibility Provision, families are not required to fill out an annual Free/Reduced application to receive free meals, which will available to all children including those learning in-person or virtually.
Meals will be provided, on a first-come, first-served basis on bus routes, at curb-side pickups and eventually through classroom service.
Griffith's rep in Stuart
A representative of the staff of U.S. Rep. Morgan Griffith (R-Salem) will stop in the conference room at the Patrick County Administration Building in Stuart at 11:30 a.m.-1 p.m. Wednesday for traveling office hours. For questions, call 276-525-1405.
Appalachian Power seeks reduction
Appalachian Power has filed its annual fuel factor update with the Virginia State Corporation Commission and is requesting a reduction in the fuel rate for its Virginia customers.
Fuel costs are about 20% of a customer's electric bill and cover the costs of natural gas and coal. The SCC reviews the company's fuel rate each year to determine whether it should be increased or lowered.
The company said in a release that the request ensures approximately $40 million in savings that is passed along to our customers.
The current fuel factor is 2.3 cents per kilowatt-hour would drop to 1.999 cents, or a savings of $3.01 for a customer using 1,000 kWh/month.
If approved, the reduction will go into effect in November.
Road projects
The city of Martinsville began installation of a new water main, starting at the intersection of Cherokee Court and Cherokee Trail and ending at the intersection of Cherokee Trail and Root Trail. Traffic signs will be in place along the route, and residents in the area should expect some traffic delays. For further information, call Director of Water Resources Mike Kahle at 276-403-5157.
Spot paving is underway at various locations on Route 57. Flagging operations will be in place. This project is expected to be completed by Nov. 20.
HCPSA will be installing new water line and service along Dale Avenue that can require periodic road closures. Detours will be in place during daytime hours only. The work is expected to be completed in early September.
Installation continues for two emergency pipe replacements on U.S. 220 Business, at three hundredths of a mile north Speedway Road and on U.S. 58/220 at Greensboro Road and William F. Stone Highway. Drivers can expect lane closures at both locations. The completion date is scheduled for August.
Work continues in the turn lane for U.S. 220 South/U.S. 58 East Bypass began work, and drivers may experience brief periods of flagging on Route 877 to unload equipment and materials. A temporary right lane will be in place during the working hours of 7 a.m. and 5:30 p.m. Monday through Friday. Estimated completion is August.
Work is underway on U.S. 220 East to include trench widening and the addition of rumble strips and guardrails from Dyer Street to the Franklin County Line. Work is scheduled to be completed by Oct. 23.
Beginning Monday Pond Road in Patrick County will be closed between Raven Rock Road and Squirrel Spur Road for pipe replacement. Detours and directional signs will be in place. Weather permitting, the road will reopen Friday.
Pleasant View Drive in Patrick County has reopened to traffic, but drivers should be cautious of rough roads until the asphalt is replaced. This is between Pole Bridge Road and Egg Farm Road, where a pipe was replaced.
Paving is underway on both lanes of Route 661 between mile markers 5 and 10 in Patrick County. There will be lanes closed and flag operations in the work zone. The expected completion is Nov. 20.
Get local news delivered to your inbox!
Subscribe to our Daily Headlines newsletter.