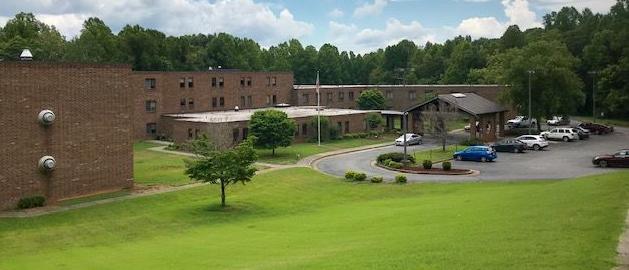 The receiver appointed by a judge to oversee the operations of the struggling Blue Ridge care facilities in Martinsville is going back to court because she says the facilities' owners aren't cooperating.
And in court filings she describes significant issues — even inadequate cooling during a heat wave — and recurrences of the sorts of problems that court documents had said forced the facility into receivership.
There will be a hearing Tuesday in Martinsville Circuit Court on a motion by court-appointed receiver Suzanne Roski, who alleges that she is being denied requested information in her effort to help keep open the financially struggling Blue Ridge Rehab Center skilled nursing facility and Blue Ridge Manor assisted living facility.
The order identifies OHI Asset SNF Martinsville LLC and OHI Asset Martinsville ALF LLC as the landlords of the 26-acre property at 300 and 400 Blue Ridge Street in Martinsville. BRVA Properties was named as the tenant and BRNURSCO and BRALFCO LLC as the "defendant operators."
After being appointed Roski entered into a management agreement with Kissito Healthcare of Roanoke for the day-to-day operations of the properties.
Roski's lawyer alleges in court filings that in her role as receiver she has worked diligently to assume control of assets in accordance with the court order, but that defendants have continued to deny her access to data, records, accounts and other relevant information. Roski also is seeking emails.
"Access to the emails is critical to help determine why certain actions were taken on behalf of the defendants," a motion by Roski's lawyer stated.
Roski contends that the defendants' failure to provide the information she has requested violates Judge Greer's order appointing her as receiver that spelled out her duties and powers.
Roski's motion asks the court to hold the defendants in contempt; to order the defendants to provide the information Roski requested; and to impose a sanction of $1,000 for each day the defendants do not produce the information requested.
The court file contained no response on behalf of the defendants. The hearing will be at 10 a.m. in Martinsville Circuit Court.
In a report in July, the Martinsville Bulletin described how, in addition to the facilities' financial problems, the state has cited dozens of deficiencies and violations during recent years, ranging from tending to patients' specific needs, to levels of staffing, to maintenance of the facilities, to making sure that temperatures aren't too hot for the hundreds of aging, fragile and infirmed who live there or visit there for treatment.
Roski filed her second interim receivership report, this one for the month of July, in which she describes her dealings with Sovran Management LLC, an affiliate of the defendants that deals with the receiver, in terms similar to the newspaper's report.
Among other things, she said, during the area's historic heat wave, "the skilled nursing facility's air conditioning system was inadequate due to the significant level of deferred maintenance, and the facility reached temperatures that exceeded Survey acceptable levels.
"The Receiver and Kissito negotiated diligently with an HVAC contractor to make emergency repairs but were unable to get expedited service due to Sovran's history of delinquent payments. Medicare surveyors visited the facility during the heatwave and assessed it with violations for the high temperature."
Roski's report also said that Sovran continued to be delinquent with many vendors and that she continued to spend significant time negotiating terms and contracts with vendors, addressing cut-off and delinquency notices and reestablishing service and deliveries.
She reported that this has caused delays in needed services and "added expense to the cost of the Receivership."
As for employee benefits, the report said Sovran maintained benefit policies with some third-party providers but failed to pay premiums for certain periods, which resulted in a large, national health care provider canceling coverage for employees, leaving certain employees to pay out-of-pocket for large (otherwise covered) items.
"Absent policy information and contact information at the provider, the Receiver expended significant time attempting to reinstate coverage, during which time employees continued to experience lapses in coverage. The Receiver was able to get the coverage reinstated upon paying premiums relating to September 2018," Roski's report stated.
Paul Collins is a reporter for the Martinsville Bulletin. Contact him at 276-638-8801, ext. 236.
Paul Collins is a reporter for the Martinsville Bulletin. Contact him at 276-638-8801, ext. 236.
Get local news delivered to your inbox!
Subscribe to our Daily Headlines newsletter.