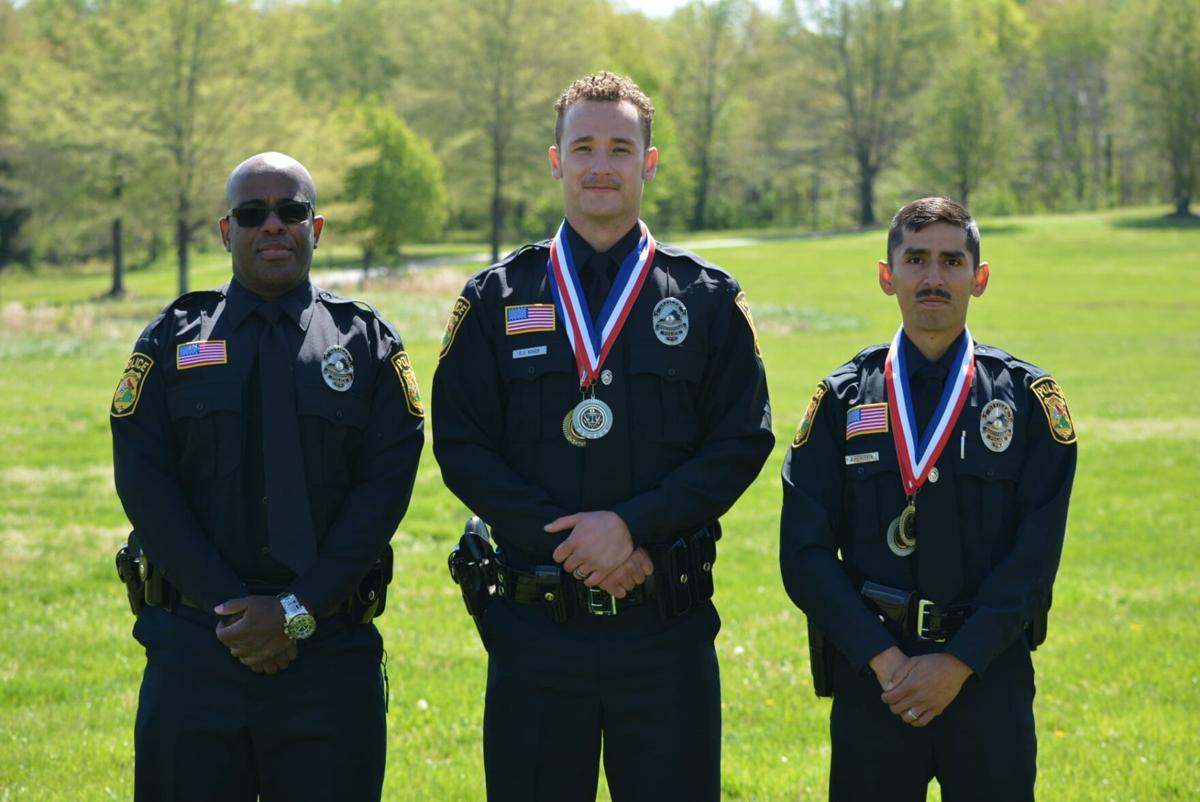 New York City. Rural Mexico. Hometown Henry County.
Three new Martinsville police officers come from starkly different backgrounds but with one shared, stated mission: to serve the community that also is their home.
Matteu Harper, Alfredo Huerta and David Koger are in their first weeks of field officer training. They are sworn officers with full police authority but will spend these first 12 weeks of their careers working alongside other officers.
They spent six months together learning the ropes at the Piedmont Regional Criminal Justice Training Academy on DuPont Road in Martinsville and were graduated on April 9.
And each brings a different perspective.
Harper said growing up and then living in Brooklyn, N.Y., he interacted with all sorts of people.
His age — "I saw the first-run episode of 'The Six Million Dollar Man'" – gives him "a different perspective" as well, he said. "I just learned how to deal with different people. In New York all you do is deal with people who are different than you are, every day, every minute. You get a feel or understanding of what a person is trying to say or trying to do and learn how to … reason with people."
Harper began his working years in high end electronic sales and then automobile sales.
He and Dr. Makunda Abdul-Mbacke, who now is his wife, moved to the Martinsville area about 11 years ago, when she opened a medical practice in Ridgeway. He took the change as an opportunity to get into firefighting, which had interested him.
"I wanted to do something different," he said. "I wanted to be of service. I wanted to be something the kids could look up to always." The couple's sons are Khadim, 19; Isaiah, 11; and Gabriel, 7.
As a new arrival to the area, he went through a 17-week training period, and volunteered with the Dyer's Store Volunteer Fire Department, until he became a professional firefighter in Fayetteville, N.C.
However, after his youngest child was born, the commute became too much, so he worked at Eastman for a few years.
Then, once again, Harper decided to get back into public service — this time, for policing.
Fortunately for that decision, he has been a lifelong exerciser, working out at least four or five times a week. Even so, "the academy was a little bit tough," challenged alongside people half his age – "several people in the academy went to high school with Khadim," he said.
As an officer of the law, Harper said, "I look forward to the service. I look forward to every interaction, whether it's good, bad or indifferent."
He aims to "make a change in people's perception of law enforcement, and inspire more African-Americans to get into law enforcement in this town. There are only five or six in this department." By "just being out there and interacting," hopefully he'll get across the idea that "if I can do it, they can do it."
Comparing systems
There's not likely to be a criminal who could outrun Huerta. He and his wife, Elizabeth, who works for Piedmont Community Services, are known locally as "Mr. and Mrs. Miles."
Alfredo Huerta, 31, has been running "big time" since after high school, he said. He averages out about 40 miles a week.
Huerta has run about 25 marathons, but the 26.1 miles of a marathon is not the longest distance he has run at a time – that was an ultramarathon in Rocky Mount, The Crooked Road Ultra, in which he ran 103 miles over a 24-hour period, in November 2018.
The day after his academy graduation – April 17—he ran the Blue Ridge Marathon in Roanoke, "labeled as America's toughest road marathon, because it's up and down mountains," he said. "I got to go and celebrate my career the next day there. That was stress in a different" manner.
He finished in third place.
Huerta said he loves meeting new people at running events just as he does "everywhere I go," an attitude that should be good in his new career.
Before police officer training, he worked at a running store in Danville and was a tutor in Henry County's English Language Learners program.
That job put him on the opposite side of an experience he had growing up – because "I went through that program when I was in school," he said.
Huerta spent his first years in the state of Michoacan, Mexico, initially in a rural area and later on the outskirts of a city. The family moved to Bassett when he was 8, but still "I have quite many memories of Mexico," he said.
Those memories encompass "the good and the bad. Unfortunately, the government for the most part can be pretty corrupt," he said. "Knowing that it's a big difference here is eye-opening."
It's also inspiring, to see that "actual justice is upheld here as compared to there."
He said he's not aware of any bilingual officers now, and not in the past few years. As a Mexican native, not only can he communicate with people who speak more Spanish than English, but "I think I have a better perspective on what people are going through and also what they're feeling, when, one, they get pulled over by a police officer and, two, when they need help and don't know how to reach out." He wants to get across the idea that "I'm not the enemy" but rather there to help.
Foreign nationals who are undocumented tend to be afraid that law enforcement officers "are going to potentially put you in jail or deport you or split you up from your family," he said. "They think we can't do anything to help them, when in reality, everybody has rights. They just don't realize they have them."
Overall, he said he hopes people in the community will see "that we are all in it together, no matter who you are – Black, Hispanic, white – we are all here to make our community better. I think we forget that."
Keeping clean
Tuesday afternoon, right before he talked about his new career as a police officer, Koger had mowed his mother's lawn, and, before that, his grandmother's, both in Henry County. In fact, his grandmother now lives in the house in Fieldale his parents were living in when he was born.
He enjoys working outdoors and in fact is trying to start a little mowing business on the side, he said. He also likes remodeling his house, which is off North Fork Road, and working on things in general.
Koger, 28, is the son of Susan Daniel and the late Barry Koger and the grandson of Alice Dunn and Betty Koger. His sister, Kara Gilley, lives in Martinsville, and his brother, Zachary Koger, lives in Eden, N.C., and between them there are four children, and he has a half brother, Jonathan Frazier.
David Koger is married to social worker Casey Koger of Franklin County Schools.
Although he's new with the police, Koger has experience in law enforcement.
He would have liked to had gone into the military, serving the country as his father did, in the Air Force, but titanium rods in a shoulder prevented his acceptance, he said. He saw police work as "the next option to serving the community and helping people out."
"I started in the jail like everybody does," he said.
Through that experience, he said he saw firsthand the bad effects of drug addictions, overdoses and withdrawals.
"Working the jail, you see it a lot more because you're watching them detox. They're screaming, crying, having cramps" and otherwise suffering, he said.
Overdoses are common among people recently released from jail, he said, because "they're trying to use that same amount they used" before their time in jail off drugs, but their body is no longer accustomed to it.
He moved up in rank to sergeant while in the jail, and when a civil position opened up, he took advantage.
"I wanted to be on the road, and civil would have put me in a car," he said. He split his time between serving papers and on duty as a courtroom bailiff.
In that role, "I got to know all the police officers pretty well."
Now that he is a police officer himself, he said, he hopes to "deter young people away from criminal activity and drug use that's going to get them in jail. Once they're in jail, keep them from going back."
His experiences in the jail have shown him that "drugs are really bad everywhere, and that's what's killing people. I'm hoping my presence on children, young adults, me being clean" will help encourage them to remain on the up and up themselves.