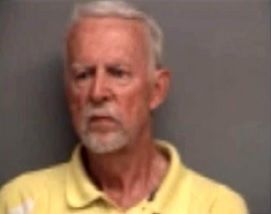 A retired Martinsville attorney has been released after spending five days in jail after he was arrested for beating his wife with a whip and strangling her.
Roy Reid Young III, 73, of 250 Terry's Mountain Road in Martinsville was arrested July 16 at his home by Henry County Deputy J.M. Robertson on charges of unlawful wounding and strangulation of Gail Young, his wife.
Reid Young appeared the next day before Henry County Juvenile and Domestic Relations Judge Susan Deatherage, who remanded him to jail for five days.
According to Robertson's report on file with the Henry County Juvenile and Domestic Relations clerk's office, the deputy responded to the home in reference to an assault.
When he arrived, Gail Young told him she had left home, and, when she returned, "her husband began yelling and fussing," Robertson wrote.
"He hit her with an 'Asia whip' on both legs numerous times and choked her until she couldn't breathe."
Robertson said Reid Young provided him with the whip, and Robertson noted that it was about four feet long.
"There were red marks on her neck, and large marks on her [Gail Young's] legs that brought blood to the skin," the report stated.
Reid Young was jailed on July 16 without bond, and then Deatherage released him at 9:48 a.m. on July 21 on the conditions he not commit any further acts and that he would not have any contact with his wife.
There was no indication that Young, who was represented by attorney Fred D. Smith Jr. of Martinsville, was required to post bond.
Reid Young is scheduled to return to court on Jan. 5 for a hearing on those charges and also for the court to hear arguments about a possible full protective order against him.
In Virginia, a full protective order can be issued when a family member has suffered "family abuse." It is not necessary to show the court that the person faces "immediate and present danger."
A full protective order can remain in effect for two years. If convicted on the wounding and strangulation charges, Reid Young faces the possibility of 1 to 5 years in prison, as well as a fine of up to $2,500.
Gail Young has legal problems of her own.
She is due in Martinsville General District Court in October on charges of driving while intoxicated and refusing a blood or breath test on March 15.
She has been convicted of driving under the influence in Emporia on June 13, 2015, where she was sentenced to 30 days in jail with 20 days suspended. Her license was suspended for 12 months, and she was required to enter in the VASAP program and pay $481 in fines and court costs.
There is a mandatory 10-day jail sentence with the potential for up to 1 year, a loss of license for three years and the required use of an ignition interlock for two convictions within 5 years of each other.