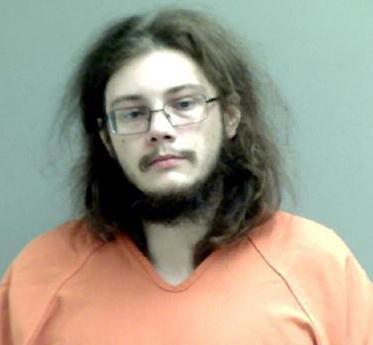 A Ridgeway man was found guilty after pleading no contest in Henry County Circuit Court to the rape of a juvenile under the age of 13.
Jeremy Allen Willis, 26, also faced two charges of carnal knowledge of a child in Henry County, but a long list of additional sex charges in Martinsville await Willis later this month in Martinsville Circuit Court involving his relationship with a girl that started when she was 12 years old.
According to records on file in the Henry County Circuit Court Clerk's Office, a woman moved to Martinsville with her grandchildren, including a 12-year-old granddaughter, in October 2018. The Martinsville Bulletin does not name minors in criminal proceedings and does not name alleged victims in cases involving sexual assault or similar elements.
The grandmother told police that she woke up on the morning of Dec. 28, 2019, and found her granddaughter missing. She contacted her granddaughter's friends and, failing to find anyone who knew where she was, called the police.
Between 4 and 5 that afternoon the girl arrived home while officers were there completing a missing persons report.
The girl then went to the Martinsville Police Department with her grandmother, where she told police she had sex with Willis earlier that day and on two occasions in October 2018, the same month she moved to Martinsville.
The report states the girl began talking to Willis using the phone app "kik." They began communicating in a chat room called "Martinsville" that was limited to 50 people. She said she told Willis she was 18-years-old but eventually disclosed her real age.
She told police when she moved to Martinsville, she met Willis when she was 12-years-old at her residence in the city on Oct. 3, 2018, where they had sex and then again at his house in Ridgeway two days later.
The report also states that Willis told police he had sex with her at his residence in Ridgeway between December 2018 and January 2019 while the girl was 13-years-old.
But that statement contradicted one given by the girl who said she didn't see Willis in person between Oct. 5, 2018, and Dec 28, 2019.
She said they did send each other text messages and emails in which they "discussed having sex and what they would do to each other."
The report states Willis proposed they get engaged in February 2019, and "she said yes."
The girl surrendered her phone to police where they discovered she listed Willis as "husband" among her contacts.
But by October 2019, Willis indicated he wanted the relationship to be over, and the girl threatened to report him to police if he did.
The report indicated there was evidence on the phone of the girl's explaining to Willis that he was an adult, and she wasn't and that she couldn't leave her house anytime she wanted to be with him.
Then the report — which is quoted with the spelling and sentence structure that was included — states that on Oct. 3, 2019, the girl asked Willis "if he wants to go to jail (he's breaking up with her) and then she says 'stop calling me all these names cuz I'm not on here calling u a pedo [pedophile].'"
And then she adds: "Buh your basically a pedo."
On Oct. 14, 2019, Willis texts back: "So this is what's gona happen okay you got me but by the time your 15 it won't mater and I'll have left you."
On Dec. 7, 2019, Willis asks the girl how old she was then.
"Still be 14 for a few, turning 15," she responded.
The report states that on Dec. 28, 2019, Willis picked the girl up that morning at her grandmother's house and took her back to his house.
"There were several text messages about him picking her up," the report stated. Willis "encouraged her to leave the house even when she was texting that she was scared.
"He even told her how to leave."
The girl told police she and Willis had sex five times that day before he took her back to her house.
Willis' grandfather answered the door when police arrived at the Ridgeway residence looking for Willis.
Willis agreed to go to the Martinsville Police Station and be interviewed, where the report states Willis told them he thought the girl was 16-years-old and then admitted they had sex at his house in Henry County and at the girl's house in Martinsville.
Willis is scheduled to appear in Martinsville Circuit Court on Sept. 15 for his arraignment on two charges of raping a juvenile under the age of 13, proposing a sex act by a communications system to a juvenile under the age of 15 in which the offender is at least 7 years older than the victim and 20 charges of possessing child pornography.
The punishment for the rape conviction in Henry County ranges from 5 years in prison to life.
The two carnal knowledge convictions each range from 2 to 10 years in prison.
Willis is due back in Henry County Circuit Court on Dec. 16 after a psychological and sexual evaluation has been conducted.
Bill Wyatt is a reporter for the Martinsville Bulletin. He can be reached at 276-638-8801, Ext. 236. Follow him @billdwyatt
Sign up for our Crime & Courts newsletter
Get the latest in local public safety news with this weekly email.