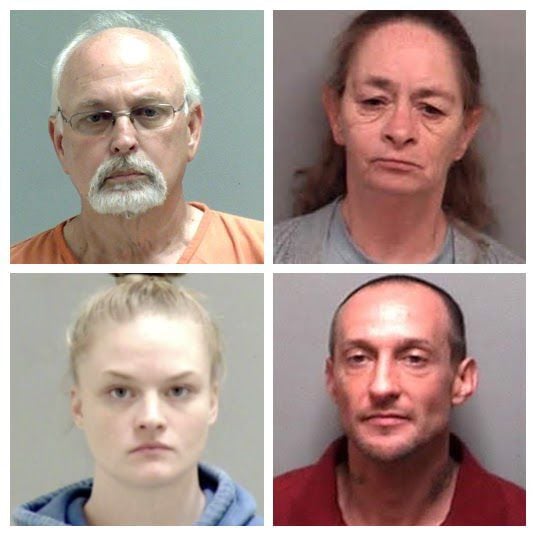 More details follow the shooting death of Pamela Morse, 63, of 1385 Wingfield Orchard Road in Henry County and the subsequent arrest of her husband, David Lee Morse, 66, a retired Henry County Sheriff's investigator, along with three others.
A criminal complaint by Virginia State Police Investigator Matthew T. Wade on file with the Henry County Clerk's Office states that David Morse reported finding his wife dead of an apparent gunshot wound and that a 2010 red Jeep Compass was missing when he arrived home at 7:52 a.m. on May 13.
The Medical Examiner's Office in Roanoke reports that Pamela Morse, whose body was found in a bedroom, died of a gunshot wound.
"Upon further investigation, the Virginia State Police learned that David Lee Morse, Tanna Shelton Fitzgerald, Casey Lynn Rogers and Collin Joshua Russel conspired and devised a plan between May 11 and May 13 to kill Pamela Morse in the early morning hours of May 13," Wade stated. "The plan was to carry out this crime while David Lee Morse was out of the home.
"Agents of the Virginia State Police were able to locate and recover the 2010 Jeep Compass in the backyard of a home located on Holley Ridge Road in Franklin County.
"While on the premises of the Holley Ridge Road address, State Police officers were directed by a person on the property that the Jeep they were looking for was in the backyard of the home.
"When officers looked in the backyard they located Collin Joshua Russell."
The complaint states that police found the Jeep and "several firearms and other items belonging to David Lee Morse and Pamela Morse" in Russell's possession.
"In addition, multiple items belonging to Mr. and Mrs. Morse were later located inside the Jeep and scattered throughout the property of Holley Ridge Road," stated Wade.
David Morse was arrested May 20 on charges of first-degree murder and conspiracy to commit murder. He is being held without bond in the Martinsville City Jail. A court date has not yet been filed for Morse.
Russell, 37, of Stuart, was already being held in the Franklin County jail on a charge of violating parole from Patrick County when he was charged May 21 with first-degree murder and related firearms and larceny counts. He was transferred to the Patrick County jail where he remains without bond.
Fitzgerald, 54, of Fieldale, was arrested on May 20 and charged with first-degree murder and use of a firearm in the commission of a felony. She is being held without bond in the Henry County jail.
Rogers, 27, of Meadows of Dan, was charged May 21 with first-degree murder and related firearms and larceny counts. She is being held without bond in the Martinsville City jail.
Fitzgerald, Rogers and Russell all have hearings in Henry County General District Court on Aug. 17 at 2 p.m.
David Morse retired from the Henry County Sheriff's Department more than a decade ago. He was among the investigators assigned to the still-unsolved shooting deaths of Michael, Mary and Jennifer Short in 2002.
Bill Wyatt is a reporter for the Martinsville Bulletin. He can be reached at 276-638-8801, Ext. 236. Follow him @billdwyatt
Bill Wyatt is a reporter for the Martinsville Bulletin. He can be reached at 276-638-8801, Ext. 236. Follow him @billdwyatt