February's toll of deaths from COVID-19 in the West Piedmont Health District continues to escalate.
Through 5 p.m. Saturday, six more victims of the virus were reported in the district by the Virginia Department of Health.
They make 21 deaths recorded in the past three days, 71 in the first 27 days of February (or 2.6 per day) and 114 (46% of all deaths in the district) since Jan. 1.
That overall total is 248 after VDH updated its database on Sunday morning, but these deaths could have occurred just about any time. The verification process can take weeks.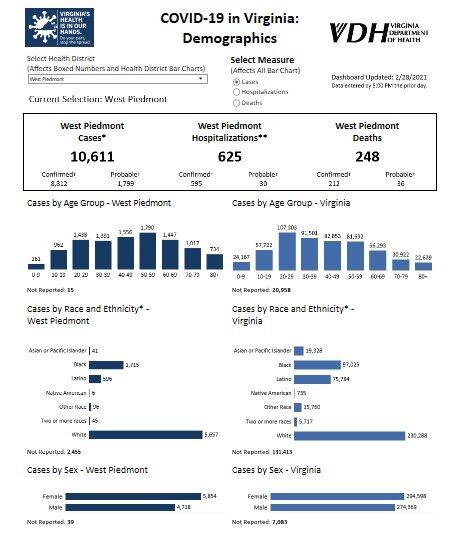 VDH checks cause through death certificates before adding the data, and officials said last week they just now are starting to compare death certificates from 2021, which includes the huge post-holiday surge in January, when 2,723 new cases were recorded in the district.
We know that VDH tracks data by residence, and four of these six resided in Henry County, making 105 who have died from the disease caused by the novel coronavirus.
One each was a resident of Martinsville (56 overall) and Franklin County (52).
We know that three of these were in the 80-and-older age bracket that now has accounted for 129 (52%) of all deaths districtwide. Two victims were in their 70s, and one in his or her 50s.
Three were men and three were women, but the data points about race changed, making it difficult to specify these six. Among all deaths, 173 victims have been white, 59 Black, four Latino and the rest a variety of demographics or unreported.
The 7-day rolling average of deaths in the West Piedmont Health District remains at 6, and the 7-day rate per 100,000 population rose to 4.3. Both are record highs.
Health officials have not responded to questions about these specific trends other than at various times to cite the backlog of cases, outbreaks at long-term-care facilities and, during the surge in cases that predated these deaths, gatherings at which masks were not worn and social distancing was not observed.
There were 23 new cases reported Sunday in the district, and the 7-day average has risen slightly, to 27. But the rate per 100,000 population is 19.4.
Patrick County and Franklin County each reported eight of the new cases. Henry County reported six, and Martinsville had one. There were no new hospitalizations.
Since the first case in the district was reported on March 20, there have been 10,611 cases, 625 hospitalizations and those 248 deaths. This is how they break down by locality:
Henry County: 4,195 cases, 281 hospitalizations, 105 deaths.
Martinsville: 1,507, 128, 56.
Patrick County: 1,198, 90, 35.
Franklin County: 3,711, 126, 52.
By comparison, Danville has reported 4,317 cases (103 deaths), and Pittsylvania County has had 4,761 (64 deaths).
VDH reported there have been 576,050 cases, 8,552 deaths — up by 170 since Saturday – and 24,115 hospitalizations statewide.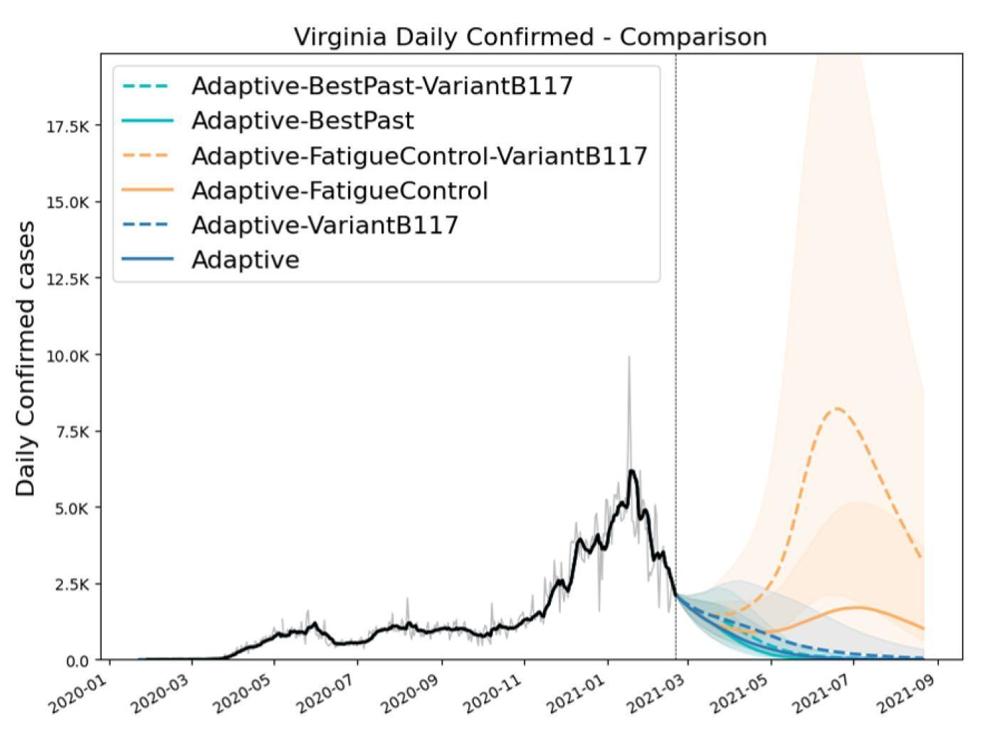 A new variant — specifically called B.1.1.7 — has been found in three adults in the Southwest Virginia region, the health department announced Saturday. The entire West Piedmont Health District falls into that broad region, which stretches north to Lynchburg and west to the borders of Tennessee and Kentucky.
The department's news release did not specify the exact location of those three adults. It did, however, note that all three had no history of travel during their exposure periods.
This is the variant that emerged late last year in the United Kingdom and is known for an increased person-to-person spread of COVID-19. The Centers for Disease Control and Prevention suggests it's possible this variant could become the dominant strain as early as March.
With cases on a steep decline, variants are becoming the focus of concern among health experts, including the University of Virginia.
The University of Virginia's Biocomplexity institute, which each Friday provides a report on the pandemic, said that a combination of variants and Virginia residents' abandoning safety precautions could lead to another spike in cases by summer, with a peak in June higher than the one experienced in January.
"When coupled with relaxed prevention, the model suggests even small increases can lead to large projected surges," researchers wrote in the latest report.

Friday's report from UVa mirrored others with a jolt of positivity. Even with daily caseloads across the state still high, the figures are down from the January post-holiday peak. In addition, the number of people hospitalized for COVID-19 continues to drop.
If those highly contagious variants do become the main strain, that scenario suggests that in the West Piedmont Health District cases would peak at 1,944 for the week ending June 27. That's a significantly higher total than was reached in January's surge.
"To avoid another peak, we must give vaccines time to have an impact, especially as new variants become more prevalent across the nation," researchers wrote in Friday's report.
REGISTRATION LINKS: Go to www.vaccinate.virginia.gov and follow the process to get your appo…
COVID-19 rapid and antigen testing is available in many locations in the West Piedmont Healt…
Charles Wilborn of the Danville Register & Bee contributed to this report.
Steven Doyle is editor of the Martinsville Bulletin and the Danville Register & Bee. He can be reached at 276-638-8801, ext. 245.