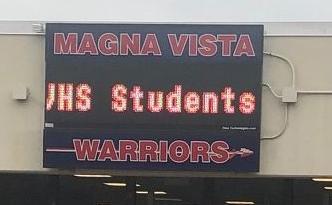 Henry County Public Schools has reported its first positive cases of COVID-19 in students, with one at Magna Vista High School and one at Fieldale-Collinsville Middle School.
Both schools remain open, except for part of one grade level at the middle school that is learning virtually as a precaution, according to schools spokesperson Monica Hatchett.
Emails from schools Superintendent Sandy Strayer state both students were last on campus on Oct. 20 and "did have direct exposure with other members of our community."
The district has been operating on a hybrid schedule since Oct. 12, meaning most students are only in school buildings two days a week.
School officials were notified of the Magna Vista student's diagnosis on Saturday and the Fieldale-Collinsville student's diagnosis Monday.
Another email sent last week to families at Sanville Elementary School revealed one staff member there was diagnosed with COVID-19 on Wednesday. The person was on school premises that day, according to the email.
There is also one staff member in the school transportation department who has tested positive for COVID-19, Hatchett confirmed Monday.
In all four cases, officials said they believe the virus was contracted outside of the school setting.
"We do not currently have evidence of any of these positive cases being school transmission," Hatchett said. "They are all considered public/out of school transmission."
Areas of the school where the infected persons visited were deep cleaned and sanitized. School buses are also deep cleaned and sanitized regularly and receive extra sanitizing in the event of an identified case, Hatchett said.
Whenever a school staff member or student tests positive, the district works with the West Piedmont Health District to conduct contact tracing to identify people who had close contact and may have been exposed to the virus. Anyone with direct exposure already has been notified by either the school or the Virginia Department of Health and asked to quarantine for 14 days, according to the notification emails.
As of Monday, HCPS had about 91 employees out of 1,186, or 7.6% of its workforce, out in isolation or in quarantine. Those exposures were not all related to COVID-19 cases in the schools, Hatchett said, "but also include employees who are quarantined due to community exposure."
She added that eight staff members were set to return to work Tuesday.
A little more than 300 county students have shifted from attending school in person to fully virtual learning since classrooms reopened on the hybrid schedule two weeks ago.
As of Friday, the district had 4,165 students registered for in-person classes, down from 4,480 as of Oct. 12, according to numbers supplied by Hatchett. During the same period, the number of virtual learners grew from 2,683 to 2,985 as of Monday.
These figures include preschool students, but they do not include students who are learning virtually because of potential exposure or quarantine, according to Hatchett.