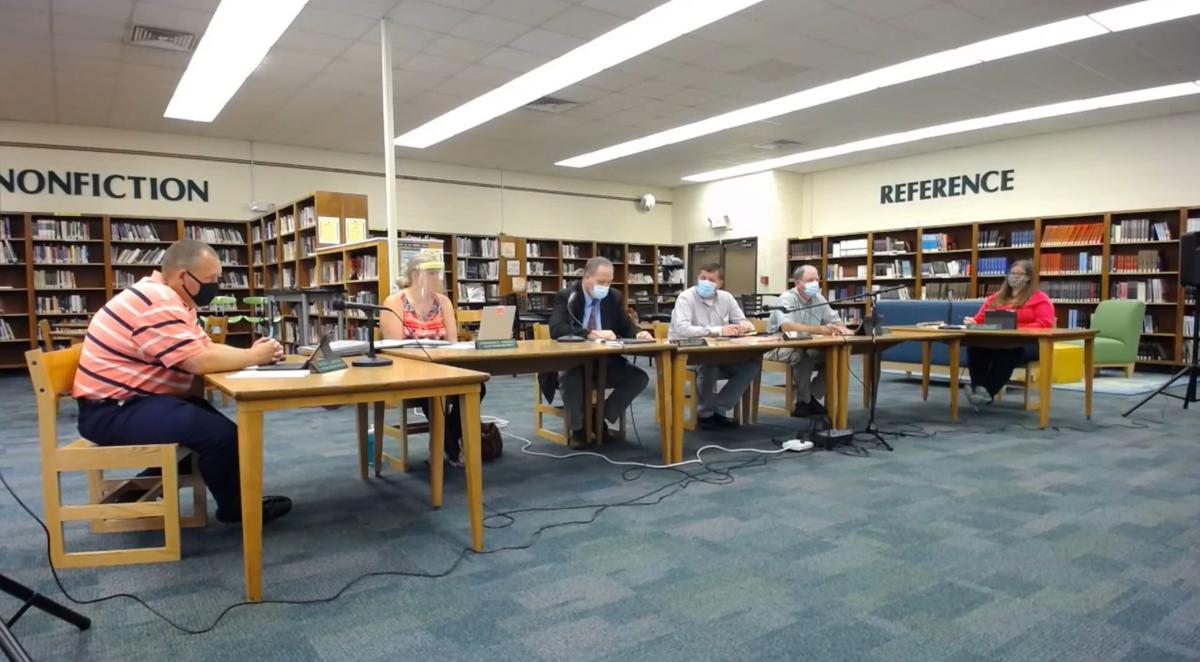 The first three weeks of school in Patrick County will be all internet-based.
That decision was made Friday during an emergency called meeting of the Patrick County School Board, which voted, 3-2, to start school virtually for the first three weeks.
The first day of school will remain Tuesday. All instruction will be virtual until Aug. 27, at which point the board would reconvene for another vote.
Discussion about how to start the school year lasted for more than an hour and a half before the vote was taken. The 11 a.m. meeting was in the library of Patrick County High School and broadcast over Facebook Live. About 360 people were noted as having watched it at any given time.
Superintendent Dean Gilbert had recommended a virtual start because, among other reasons, it looks like the schools may not have enough staff to open because of coronavirus quarantines.
Twelve Patrick County Public Schools staff members are on 14-day quarantine, most because of exposure to someone who had tested positive to the coronavirus, Gilbert and a woman in the library but off screen said. Four members of the "schools community" have tested positive for COVID-19, Gilbert has announced.
Some students also are on quarantine, it was noted.
Some people said that as soon as the dozen people's quarantine ended the school year would be able to continue as planned, with in-person instruction unfettered, but Gilbert pointed out that at any time, more people could face quarantine or any of those in quarantine may end up sick and have to be out for longer.
Patrick County Schools do not have enough substitute teachers normally, he said, and even fewer are available this year during the pandemic.
Gilbert said last week a school building had to close because of the coronavirus. He did not say which building it was.
"If we bring students in, it's very possible we would go a week or two and have an outbreak, and go back to virtual … until everything can be traced, everything can be sanitized, then open back up," and the process would be repeated over and over, Gilbert said.
When a building has been exposed to the coronavirus, it has to be closed for two to five days, he said: "Let the building sit for 24 hours, then go in and clean it all. After that" the building can be opened back up, but that doesn't necessarily mean students could come back right away.
He defined exposure as being within 6 feet of someone who tested positive with the coronavirus for 15 consecutive minutes or longer.
"Teachers are stressed out because they don't have enough time to prepare class for virtual learning," a woman in the audience who did not identify herself said.
A woman in the audience who did not identify herself said that all teachers have had training in Google Classroom and "were supposed to do Canvas lessons." Canvas is an online learning program being used by school systems, including Henry County Public Schools.
Some people argued for delaying the date when students would return to school.
A delayed start in instruction would not be possible, Gilbert said, because of the numbers of days the staff work contractually. "No question is simple … everything is interconnected," he said.
"Given the fact that we were closed in the spring … we need to try to get 180 days in this year," he said.
Gilbert suggested offering summer school in 2021 to help "close the learning gap" for students. The last time Patrick County offered summer school was 2015 or 2016.
Bus drivers could deliver meals to students, Gilbert said.
As the meeting went on, people watching it made comments on Facebook.
"Please don't delay the start. The virus will still be here in 1 month, but kids will be further behind & have to make that time up," wrote Donna Hall in a comment that received several reactions. "Starting virtual would be better than nothing for 1 month."
Several commented on the low rate of connectivity to the internet in Patrick County.
"How are kids going to get to the hot spots when parents have to work????" wrote Lisa Anne Williams Goins.
"Exactly," Mary Anne Hopkins replied.
"I just want to say thank you guys for working so hard. I know all of the teachers/staff/parents/students are stressed. We are all doing the best we can with this & making the best choices we can," wrote Crystal Roman.
Holly Kozelsky is a writer for the Martinsville Bulletin; contact her at 276-638-8801 ext. 243.
Holly Kozelsky is a writer for the Martinsville Bulletin; contact her at 276-638-8801 ext. 243.
Concerned about COVID-19?
Sign up now to get the most recent coronavirus headlines and other important local and national news sent to your email inbox daily.