Bassett student wins essay contest



Elyssa Kancherla of Bassett High School is one of the 10 winners statewide in the 10th annual STEM (Science, Technology, Engineering, and Math) Essay Contest, the governor's office announced. Gov. Ralph Northam and his wife will host a virtual reception later this month to honor the winners.
"This annual contest is one important way that we are working to encourage more girls to pursue their interests in STEM careers and increase representation in science, technology, mathematics, and engineering professions," Northam said in the release.
Kancherla is one of two winners from the Southwest/Southside region from among female students in their junior and senior years. The Virginia Council on Women established this contest in 2012 to award scholarships to high school junior and senior girls planning to pursue STEM careers at institutions of higher education.
This year, nearly 100 submitted essays focusing on their vision for a future STEM career. One merit-based and one need-based scholarship was awarded in each region.
These contributions will be used toward the STAGS Team purchase of two Pneumatic Troubleshooting Systems. These systems enable the students on FIRST Team 1262 and other local teams, to learn how to find the cause of a malfunction in pneumatics – which are oftentimes a major component of the robot.
NCI robotics team gets $$$$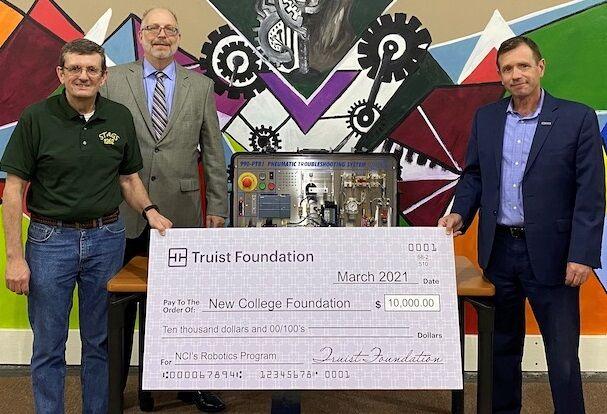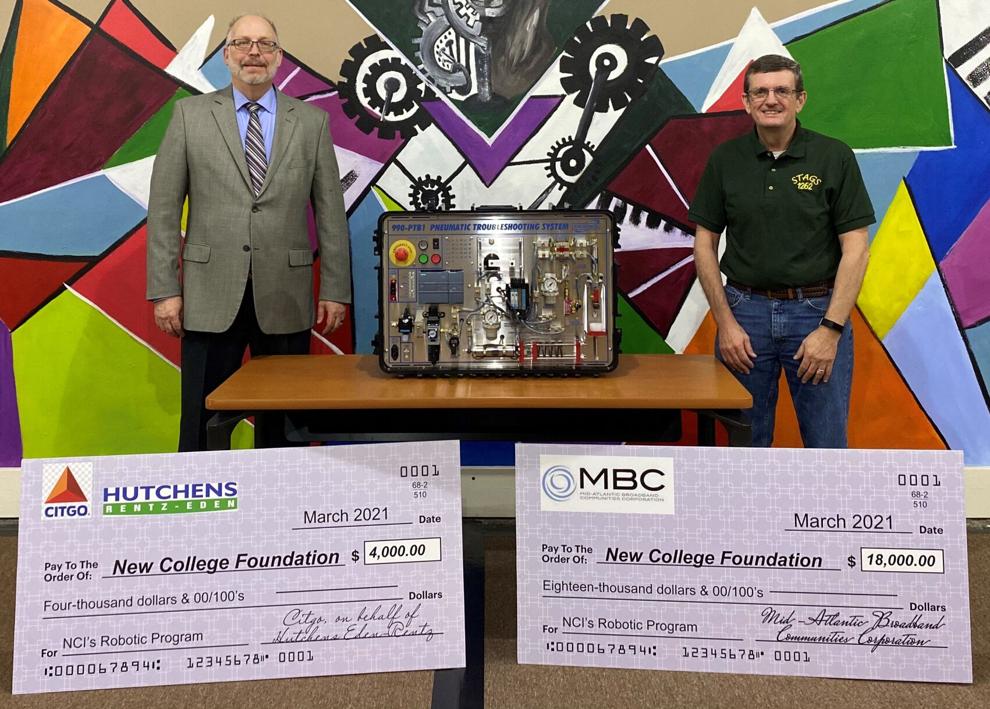 New College Institute's FIRST Robotics Team known as the STAGS (Students Technologically Advancing for Greater Success) was awarded $32,000 through grants and contributions to the New College Foundation, the foundation announced.
NCI FIRST Robotics Team 1262, beginning its 18th year of competition, is comprised of students from Bassett High School, Magna Vista High School, Martinsville High School and home-school students who are mentored by volunteer engineers, programmers, retired teachers and other STEM professionals.
NCF Executive Director said the awards to the team were made positive by a $4,000 gift from CITGO Petroleum (on behalf of Hutchens Eden-Rentz), $10,000 from the Truist Foundation and $18,000 from Mid-Atlantic Broadband Corp.
"NCI is grateful for the generosity and support of our STAGS Robotics Team," said Karen Jackson, interim executive director at NCI. "Inspiring students across diverse, rural communities to become science and technology leaders and innovators is the heart of this program, and generous investments like these will better equip the STAGS Team to realize success."
PHCC gets donation, too
Mid-Atlantic Broadband also gave $10,000 to Patrick Henry Community College to create customized workforce training programs that can meet the community's needs for training.
PHCC said in a release that it plans to use this funding to increase its capacity to customize training programs for new, expanding and existing industries in partnership with the Martinsville Henry County Economic Development Corporation. College and community officials describe these custom training opportunities as critical to economic development in the region.
"The donation from MBC will really go a long way in helping us develop these turn-key, customized workforce programs," Rhonda Hodges PHCC's vice president of workforce, economic, and community development, said in the release.
Scholarship deadlines
Deadline to apply for the Patrick Henry Community College Foundation is April 15. These scholarships, open to are high school seniors, cover tuition, textbooks and fees for up to two academic years to students who have a high school grade-point average of 3.0 or higher at an area high school or have completed a home-school program of study. Applications are available at www.patrickhenryfoundation.com and www.patrickhenry.edu, under Financial Assistance.
Piedmont Arts is accepting applications for the Nicodemus Hufford Memorial Arts Scholarship and the Harold Knowlton Work Memorial Scholarship. Applications are due by 5 p.m. May 3 and are available at the museum and PiedmontArts.org, under the Education tab. For questions, contact Education Coordinator Sarah Short at sshort@piedmontarts.org.
Sept. 1 is the deadline to enter the Virginia, Maryland & Delaware Association of Electric Cooperatives essay contest for schoolchildren of electric cooperative members. Entries must be submitted to vmdaec.com/powerfulcareers. No mail-ins will be accepted. There are cash prizes in two grade groupings. For rules and requirements visit vmdaec.com/powerfulcareers.