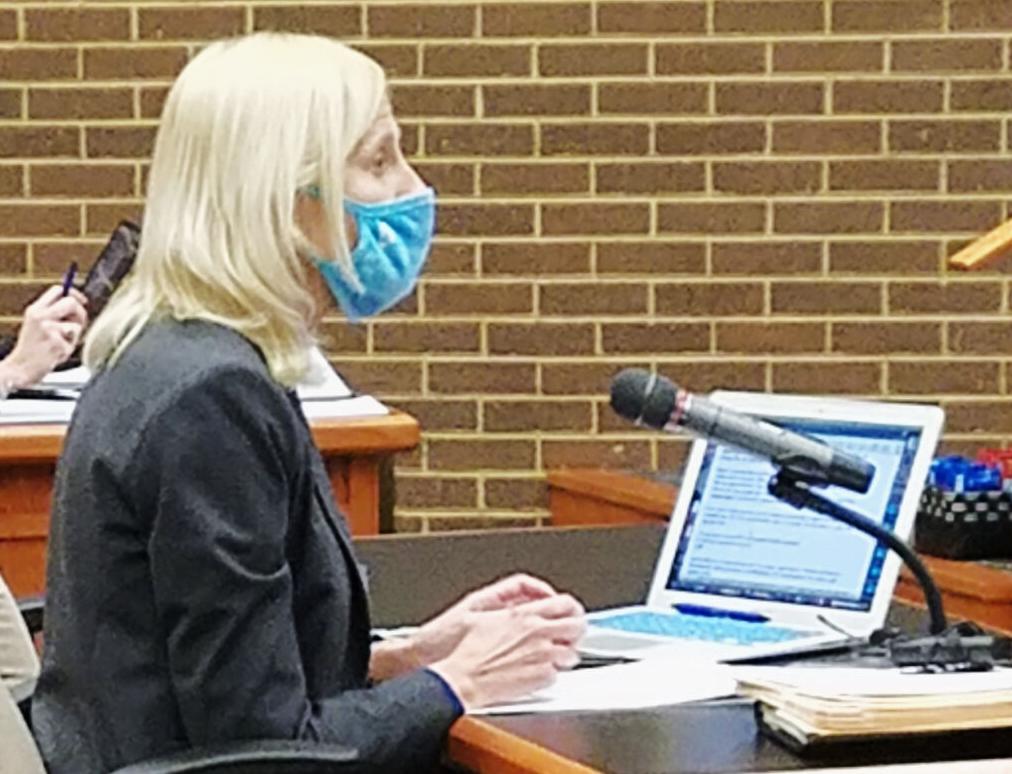 Henry County Public Schools is asking the Board of Supervisors for $19.433 million for the next fiscal year.
The overall budget for fiscal year 2021-22 is projected to be $90,669,832, a nearly $3.5 million increase from the current budget of $87,226,333.
Three million will come from other sources, such as federal and state funding, and half a million above last year's amount is being requested from the county.
The budget, presented by Superintendent Sandy Strayer to the school board, will be considered by supervisors on May 10, with final approval set for the school board's meeting on May 13.
Two-thirds of the schools' budget comes from state allocations, 21% from local funding, 11% from grants and 2% from other revenue, based on figures in the budget information packet.
Henry County's budget will include no tax increase for the coming year, but it will increase by $11.5 million, which includes the additional money for the schools. Some of that amount would be covered by a draw on reserves.
There is an unspecified amount of stimulus money available for schools, too.
More than half the school system's expenditures would be for instruction: $54.907 million, a $2.5 million increase from this year.
Transportation services for students would increase by $421,000, to 6.459 million.
Nearly $7 million is slated for operations and maintenance, and the facilities cost remains at $2.144 million.
In categories from which expenses would be paid, debt services and transfers are projected to be $3.165 million, $28,000 less than this year. About $10 million is expected from state and federal grants and $3.232 million for technology.
A 3% increase in salary accounts in part for the increase in instruction costs.
The breakdown in instructional services is: administrative salaries, $870,000; teachers, $24,867,000; librarian, $764,000; counselor, $1,246,000; principals and assistant principals, $1,902,000; dropout prevention teachers, $301,000; social workers, $244,000; teacher aides, $2,555,000; clerical staff, $1,274,000; part-time teachers and homebound, $529,000; substitute teachers, $529,000; substitute teachers aides, $43,000; and supplements for teachers, $690,000.
Most positions — except for substitutes and supplements — either would receive that increase over this year or "3 steps and varied percentages." There also is an additional $100,000 for substitute teachers, explained as "minimum wage adjustment."
There's an almost half-million-dollar increase, up to $15.904 million, for benefits.
The position of supervisor under the Pupil Transportation category undergoes a substantial increase — $179,000 as opposed to this year's $74,360 – explained as "restructuring of positions."
The 2022 proposed scale of teacher salaries lists the starting pay at $43,368.57 and ranges to $60,291 for a teacher with 30 years of experience. That represents a 3.5% increase for a starting salary but keeps the top grade at the same level.
There also are stipends: $2,100 stipend for a master's degree, $2,600 for an Ed.S. and $3,100 for a doctoral degree.
Salary ranges would be: Administration and bookkeeper, $29,510 to $40,622; Bus. Mech. II, $42,125 to $57,980; computer technician I, $41,201 to $56,724; executive/technician, $40,794 to $56,133; maintenance workers, starting ranges from $28,443 through $38,296, depending on level, to $39,149 to $52,709 at 28th year.
Office assistants would make from $17,159 to $23,619; secretaries, $20,556 to $28,293; secretary/bookkeepers, $21,451 to $29,524; school nurse RN, $48,192 to $66,332; and speech therapists, $58,555 yo $78,625.
Paraprofessionals would start at $17,297 to $21,262, depending on level, and advance to $23,808 to $29,268 at year 28. Health office assistant would earn from $19,571 to $26,939, depending on years of experience; nurse LPN, $25,353 to $34,129; various assistants, from $32,713 to $44,977 in first year to a maximum of $45,129 to $61,908.
Among administration, support staff would make between $44,422 and $74,036; elementary principals, $51,424-$85,706; high school principals, $72,359-$120,598.
There also are capital projects included in this budget. HCPS will receive new revenue this year from a 1-cent increase in sales tax, with that money designated for school renovations and future construction. The budget lists numerous projects, some of which will extend beyond the coming budget year:
A $1.08 million addition to the kitchen and storage areas at G.W. Carver Elementary School is in the design phase. That school has the smallest kitchen in the division, and it serves one of the largest elementary populations.
A major improvement project at Bassett High School to replace most of the deteriorated HVAC system from 1978. This includes adding air conditioning for the gym and kitchen and replacing lighting. The system may apply for CARES funding for the HVAC portion of the work. The cost is estimated to be $3,189,900.
Field houses would be built at Bassett and Magna Vista high schools for a total cost of $750,000, with construction to start in 2022. The 1% sales tax revenue may be applied. The buildings, near the football/soccer fields, are "for the safety of the students participating in the athletic contests," the budget states.
The 21-year-old rooftop air conditioning units and the roof at Laurel Park Middle School is scheduled for replacement at $5,000. CARES Act funding may apply.
Sanville Elementary School would be renovated and expanded, with new classroom additions to replace the 1927 original building and discontinue the use of mobile units and other improvements. The cost would be $6.5 million.
Generators would be installed at the secondary schools at a cost of $725,000, with a potential for grant funding.
The air-cooled chillers at Rich Acres and Sanville elementary schools and Fieldale-Collinsville Middle School are 21 years old, and replacement was recommended. The cost would be $600,000, and CARES funding may apply.
Elevators to increase disabled accessibility would be installed at Drewry Mason, Campbell Court and G.W. Carver Elementary Schools for a total of $550,000, after 2022.
Air conditioning would be installed in the gym and kitchen at Fieldale-Collinsville Middle School for $540,000 and for the gym at LPMS for $440,000, both after next year.
Cafeteria operating expenses of $5.849 million are expected to increase by about $47,000. The amount the school system pays for adult lunches would decrease, thanks to a price increase to $4. Student lunches would remain at no cost.
Equipment replacements at various schools would cost $209,000.