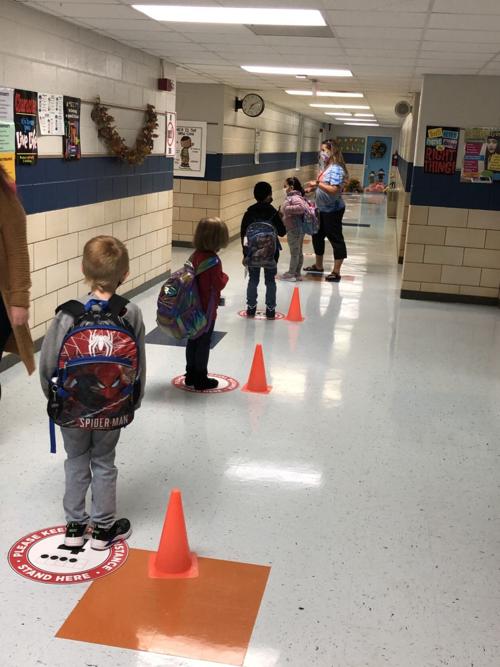 Some classrooms — but not the entire building — at Rich Acres Elementary School have closed temporarily after administrators learned Tuesday that an employee has tested positive for COVID-19.
This is the third positive case reported by Henry County Public Schools staff members since Monday. On Tuesday evening, district leaders announced Laurel Park Middle School will shut down until Nov. 4 as a precaution after two school employees were diagnosed with the virus and several others were potentially exposed.
Superintendent Sandy Strayer notified Rich Acres families in an email Tuesday that one staff member had been diagnosed with COVID-19. The school building "will remain open at this time," she wrote, except for certain classrooms where exposure may have occurred.
"This person was on school premises on October 20 and did have direct exposure with other members of our community," Strayer wrote. "The area(s) where the staff member visited today are being deep cleaned and sanitized this evening. Those individuals with direct exposure were notified as soon as we knew of a possible exposure and are currently quarantining."
District spokesperson Monica Hatchett did not specify how many classrooms have closed as a result, but said, "There are some classes that will be learning virtually as a precaution based on possible exposure."
Rich Acres Principal Renee Scott made phone calls Tuesday evening to inform families of students in the affected classes, Hatchett said.
As Strayer has stated in previous school cases of COVID-19, the district is "working closely with the Virginia Department of Health to identify anyone else who had close contact with the person to determine whether they may have been exposed to the virus that causes COVID-19."
Anyone identified as having been potentially exposed is then contacted by the health department and told to quarantine for 14 days after their last contact. People should watch for symptoms including "cough, shortness of breath, or a temperature higher than 100.4°F," according to Strayer's email.
Quarantine guidelines factored into the district's decision to close Laurel Park Middle School for the next two weeks, school officials have said. Multiple staff members are isolating at home after possible exposure to the virus, which may leave the school short-staffed for supervising children in the classrooms.
In an email to parents Tuesday evening about the closure, Laurel Park Principal Jo Ellen Hylton wrote, "Because the period of quarantine may prevent our in-person learners from receiving the support they need from highly qualified professionals, we have decided to have all Laurel Park students will learn remotely from October 21-November 3, and students will return to in-person learning on November 4."
Most Henry County school buildings reopened to students for face-to-face instruction on a hybrid schedule starting Oct. 12. The only other school still on 100% virtual learning is Meadow View Elementary, which delayed bringing students back until Oct. 26 as a precautionary measure after two staff members tested positive for COVID-19 earlier in October.
School officials continue to urge parents to notify their children's school if they have been exposed to or diagnosed with COVID-19. This information will be kept confidential, Strayer said.
"People without symptoms do not need to seek care or be tested. Those who become ill should contact their healthcare provider. Your doctor, in consultation with public health officials, will determine appropriate care and whether testing is necessary," she wrote in the email to families.
The district's detailed health plan for reducing the risk of COVID-19 transmission in school buildings is available at www.henry.k12.va.us.
Concerned about COVID-19?
Sign up now to get the most recent coronavirus headlines and other important local and national news sent to your email inbox daily.