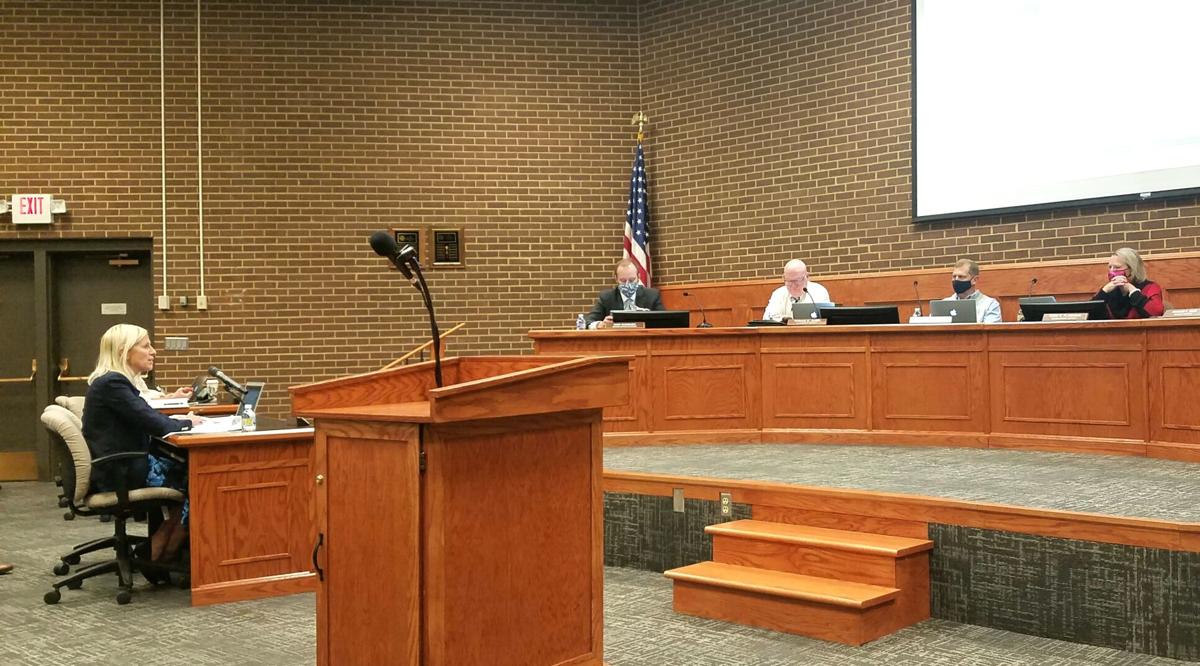 Employees of Henry County Public Schools will get a one-time hazard stipend of up to $1,000 for their work during the COVID-19 pandemic.
During its recent monthly meeting, the Henry County School Board approved spending an estimated $1,136,292 from the district's federal coronavirus relief funds on hazard supplements for current district employees who are "performing jobs in person at the school building level directly associated with preparing for, responding to, and mitigating the impacts of Covid-19," according to board documents.
These include not only teachers, but jobs like cafeteria workers, bus drivers and paraprofessionals working in the schools, Superintendent Sandy Strayer told the board.
The school board also approved spending an additional $142,500 out of the local budget to pay employees who do not qualify for payments using the federal dollars.
"Many of these employees may not work at a school, but they too work with the public on a daily basis, visit schools often, and have responded to the pandemic performing both traditional job duties and duties beyond their job description because of Covid-19," school board documents state.
Earlier in October, officials learned the district would receive $1,220,590, part of $220.8 million in CARES Act funds that Gov. Ralph Northam allocated directly to Virginia school systems. The money must be spent by the end of December.
Officials noted that taxes and other deductions will be subtracted from the total stipend amount. Eligible employees hired and continuously employed with HCPS from Aug. 31 to Nov. 13 (the date of the stipend payment) will receive $1,000, minus any deductions. That amount is pro-rated based on hire date for employees hired after Aug. 31.
The remaining federal CARES Act funds will be used for air-cleaning devices meant to reduce the risk of airborne particle transmission in school buildings, including the virus that causes COVID-19. The school board approved $84,298 to help pay for the cost of labor and materials to install Bi-Polar ionization devices in school air and ventilation systems.
"This device creates a plasma field that separates the particles into positive and negative icons improving indoor air quality while capturing air particles," Ben Boone, the district's finance director, wrote in board documents.
HCPS also will use a different pot of competitive grant funding recently awarded through the CARES Act to purchase internet devices for more students as well as cleaning supplies and special education supports.
And, like most government programs, the funding comes with still more acronyms to keep track of: the Elementary and Secondary School Emergency Relief (ESSER) Fund and the Governor's Emergency Education Relief (GEER) Fund. The Henry County Board of Supervisors recently appropriated $269,393 received from these grants to the school board.
The largest chunk of the funding, about $200,023, is part of yet another acronym-named program, the Virginia Initiative to Support Internet Outside of School Networks, or VISION. This amount will be used to buy "items such as Kajeet mifis (filtered web access system) for students who do not have internet at home and will help facilitate virtual learning," schools spokesperson Monica Hatchett said.
The other funding will go towards other COVID-19-related expenses as follows: $24,487 for cleaning supplies, $10,395 for facilities upgrades and $34,487 for special education services and supports, according to board documents.
Kim Barto Meeks is a reporter for the Martinsville Bulletin. She can be reached at 276-638-8801.