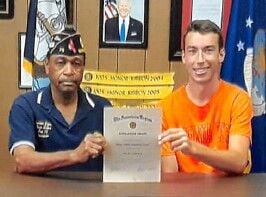 Magna Vista graduate earns scholarship from American Legion
The American Legion Homer Dillard Post No. 78 awarded its 2021 Homer Dillard Scholarship to Wil B. Gardner, a 2021 graduate of Magna Vista High School.
He is the son of Scott and Kristie Gardner of Ridgeway, who are both both educators in Henry County Public Schools.
Wil Gardner had a grade-point average of 4.3 and was an honor graduate with distinction. He plans to attend Virginia Tech and study engineering.
At Magna Vista, he participated in Beta Club, National Honor Society, SODA, Phi Theta Kappa, Fellowship of Christian Athletes, was a member of the golf team, for which he was captain and and made all-district his junior and senior years, and played soccer and basketball.
He also was active in various community activities.
Vaccination changes for children
Superintendent of Public Instruction James Lane issued a release this week to remind parents about updating their children's immunization records, especially for those affected by requirements that were implemented on July 1.
To align with recommendations of the CDC's Advisory Committee on Immunization Practices, the General Assembly last year passed a bill to update requirements for attending public and private schools, child care centers, nursery schools, family home day care centers and developmental centers.
Two doses of properly spaced human papillomavirus vaccine for all children. The first dose is required before the child enters the seventh grade.
Two or three properly spaced doses of rotavirus vaccine, depending on the manufacturer, for children up to eight months of age.
Two properly spaced doses of hepatitis A vaccine. The first dose must be administered at age 12 months or older. The new hepatitis A vaccine requirement is an addition to the existing kindergarten immunization requirements.
Two properly spaced doses of meningococcal conjugate vaccine. The first is required prior to entry to the seventh grade. The second dose is required prior to entry to the 12th grade.
The new immunization requirements do not include vaccination against COVID-19, but the CDC recommends the use of the Pfizer vaccine for children 12 and older. Virginia law does not require COVID-19 vaccines for enrollment in public schools.
PHCC begins fall advising
Patrick Henry Community College's in-person advising days begin Thursday. There will be several in-person events that will be conducted on a first-come-first-serve basis in PHCC's Walker Fine Arts Building:
Thursday and July 29, 9 a.m.-3 p.m.
Aug. 17-20, 8 a.m.-5 p.m.
Students also can connect with some of the many funding opportunities available.