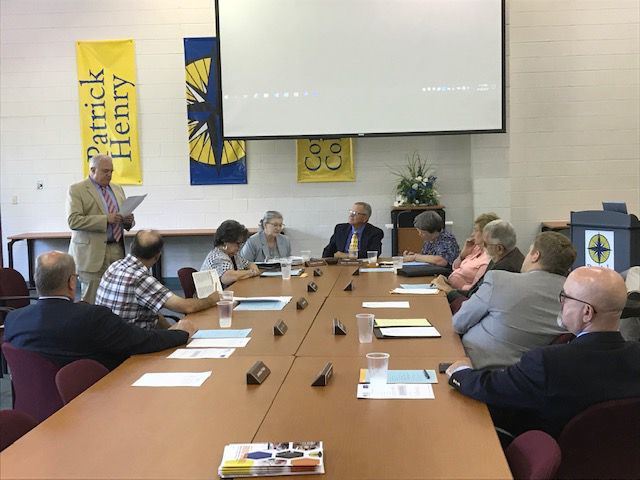 Having been turned down once for reasons that aren't being explained fully, Patrick Henry Community College officials should find out by late November whether their second run at starting a program for physical therapist assistant earns accreditation.
Amy Webster, the college's director of nursing and allied health, told the college's board of directors Monday that PHCC has asked for reconsideration of a decision by the Commission on Accreditation in Physical Therapy, which in May had denied PHCC's application to start the program. A reconsideration hearing is set for Oct. 25.
If approval is granted, the program would begin in January 2020, and earlier this year the school had received some two dozen applications.
Webster said PHCC initiated work to pursue this program during the 2015-16 academic year, received a grant to begin program development, identified credentials required by CAPTE for a program director, recruited for that position and bought lab equipment.
Webster did not say Monday why that application was denied, but later PHCC spokesperson Amanda Broome sent an email that said: "PHCC was judged as not being ready to implement a physical therapy education program at the time of the receipt of the report." She provided no further explanation.
A physical therapist assistant is a licensed professional health care provider who works under the direction and supervision of a physical therapist to provide treatment to people of all ages with various medical and health-related conditions that limit their mobility and daily function.
A PTA may work in such settings as hospitals, outpatient clinics, home health agencies, rehabilitation centers, schools, nursing homes and sports/fitness facilities to assist patients with exercises, learning to walk with devices and some massage and therapy.
PHCC cites figures from the Bureau of Labor Statistics that says the field is expected to grow by 41% from 2014 to 2024, and wages for PTAs range from $52,210 to $64,030 annually.
The Virginia Employment Commission reported that as of May 2018 there were an estimated 2,630 PTAs employed in Virginia, with an average entry wage of $42,429, average wage of $62,039, median wage of $62,834 and average experienced wage of $71,844.
Broome said that there is no other accredited program within a 3-hour drive of Martinsville.
"It's a growing and dynamic need in our area and beyond, and a very nice, sustainable wage," PHCC President Angeline Godwin told the board.
To meet that need, Julie Martin was hired as PTA program director in September 2016. She developed a curriculum proposal and received local approval in February 2017. In May 2017, the College State Board told PHCC that its program was approved.
During the next year PHCC accelerated many of the necessary phases, such as enrollment guidelines, course summaries, curriculum plans and buying equipment and supplies. Lucy Williams was hired as academic coordinator of clinical education.
Officials developed the standards and requirements based on CAPTE's accreditation process, even hiring a consultant who specialized in that process, and submitted their application on Nov. 30.
CAPTE conducted an on-site review in January, and 24 potential students already had submitted applications for the pending program.
But on May 25, PHCC "received official notification of action to deny candidacy from CAPTE," Webster said.
But, she said, that hasn't stopped PHCC's efforts to earn approval.
Martin and Williams continue to collaborate with the consultant to revise documents "to address standards and elements that were concerns in the program's Summary of Action report" and to prepare for the reconsideration process.
"Here's the big take-away, if you don't remember anything else," Godwin told the board. "As an accredited institution of higher learning, I think you all get a glimpse of what accreditation means. … You can see the level of complexity that is required to pursue accreditation and to secure it.
"I want to highlight one more time the comments from SACSCOC [Southern Association of Colleges and Schools Commission on Colleges], which is our regional accrediting body, which is considered the toughest accrediting region in the country. … [They] had only glowing, glowing comments. I spent seven years on the commission. It is extraordinary for them to not do a site visit."
She commended the work by her staff and the plans that are in place and reminded everyone of how important this is to PHCC and, ultimately, her optimism.
"If you are of a praying persuasion, would you put Oct. 25 down? We need all knees on deck, because this is serious," she said. "We have [committed] a lot of resources, a lot time. Our team has done an extraordinary job. But it really shows you the mountain you have to climb to add an accredited program to an institution. That's why when we get these we are so proud of them. It's a very high climb. It's really what our students deserve, even though the pathway is just so extraordinary.
"I think we will be successful, and it will be an extraordinary opportunity for students in our region."
Paul Collins is a reporter for the Martinsville Bulletin. Contact him at 276-638-8801, ext. 236.
Paul Collins is a reporter for the Martinsville Bulletin. Contact him at 276-638-8801, ext. 236.