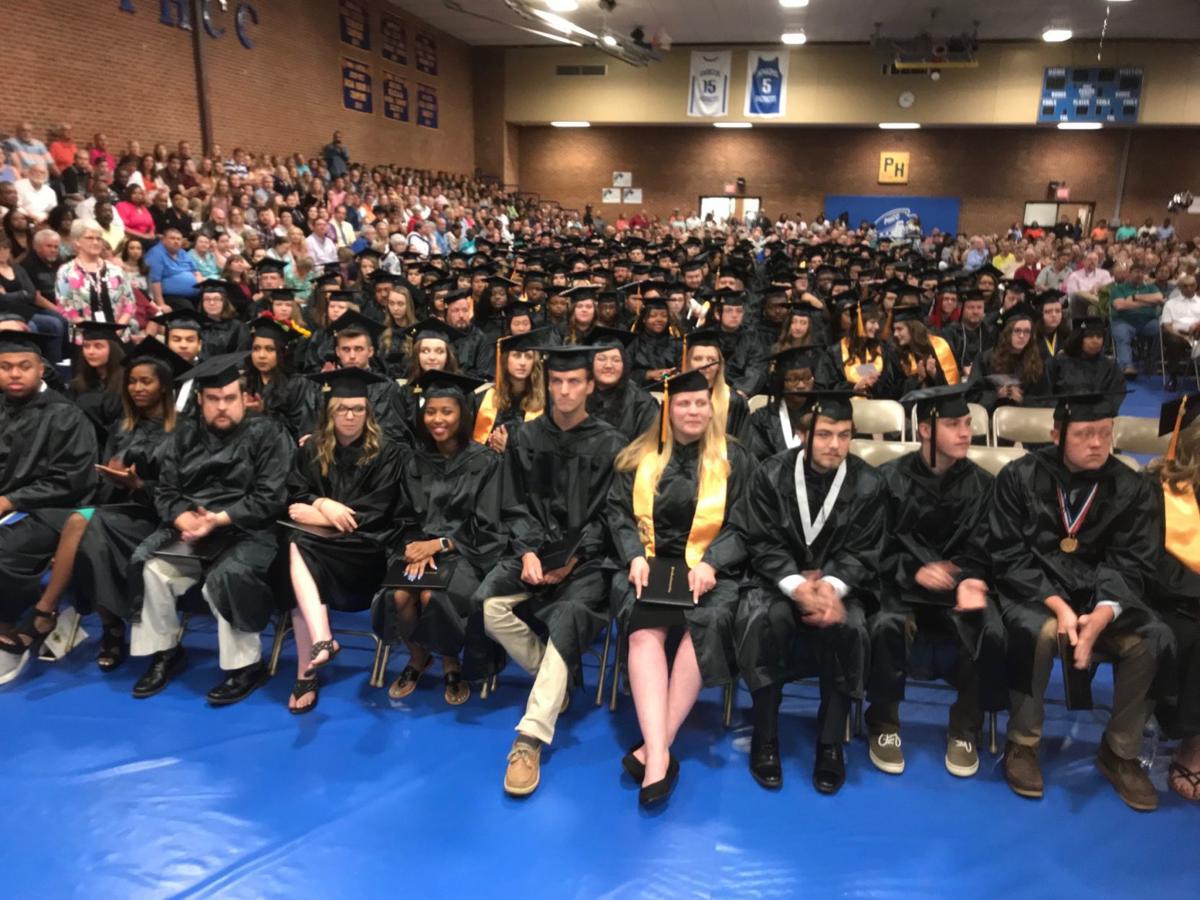 Reopening a college under pandemic protections is a complicated enough job that it is requiring a task force of six teams to accomplish.
That's the approach at Patrick Henry Community College, where those teams are working to find creative solutions to ensure classes can resume as scheduled on Aug. 24.
As many classes as possible – about half – will be online for the time being, PHCC President Angeline Godwin said. The other half will have students and faculty spaced far apart from each other, using even the Frith Exhibit Hall for wide-open classroom space, and many classes will have a combination of online as well as on-campus components.
And that concept creates a lot of logistics that have to be identified and solved.
Six teams representing "very strategic areas" will tackle the various areas of preparing the campus for reopen, Godwin said. "Four teams have a very tactile approach," and the other two teams will assist those four.
They are working together as the New Reality Task Force.
The team A Safe Welcome Back will prepare "every room, every entrance, every hallway, every point of engagement in our college" for people to be there, Godwin said.
"We're really looking at how do we repurpose the entire campus," including turning large meeting areas into "primary instructional spaces," she said.
The Safe Welcome Back Team "will study existing and emerging guidelines being issued by public authorities" and use them "to develop and implement best practices to support a safe and healthy campus environment," said its chair, Roberta Wright, PHCC's facilities director.
The PHCC Experience team is "laser focused" on aiding the faculty and staff in working under the new conditions, Godwin said. That team is led by Associate Professor of Accounting and Economics Ronnie Carter.
The 360 Degree Student Support team will handle "everything outside the classroom that supports instruction and training," Godwin said. That includes technology, tutoring, library services, the food pantry and emergency funds, counseling and advising.
That team "is to ensure that every enrolled student has access to the tools they need for success," said its chair, Ophelia Griggs, PHCC's retention coach/academic coach for Student Support Services.
The Student Engagement Team "is charged with exploring innovative and effective ways for students to connect with the college," Chair Shelira Morrison, PHCC Recruitment and Marketing Specialist, wrote by email.
That group will support student activities, Godwin said.
"The work of the Equity Alliance Response Team will be integrated with the work of every team," Godwin said.
"The Equity Alliance Response Team seeks to … address equity, diversity and inclusion at PHCC. The EAR team was established to ensure PHCC is listening to the needs of our PHCC PHamily," Chair Brian Henderson, PHCC's athletics director, wrote in an email.
The Communications Team, chaired by Public Relations Specialist Amanda Broome, will "help make people … aware of any changes and initiatives that these teams may put in place," Broome wrote.
The measures these teams put in place may continue through the next two or three academic years, Godwin said.
Meawhile, the Virginia Community College System this week announced in a press release that all of Virginia's community colleges "are open for business and ready to help individuals meet their educational needs as safely as possible."
Classes that require in-person meetings will be allowed to meet as long as social distancing and sanitizing measures are in place.
About half of PHCC's classes, including welding, machinery, nursing and megatronics, require a great deal of hands-on instruction and practice and will have to meet in person rather than online, Godwin said.
"Our colleges have evolved" from strictly the lectures-and-books style they started out being, Godwin said.
Whereas PHCC was created to offer basic college classes – math, English, history, science — students could take before transferring to 4-year universities, now students' directions are split, with about half as transfer students and half going directly into the workforce, after their time at PHCC.
Having so many in-person, hands-on classes is "what matches the needs of our community," Godwin said. However, it also makes it "more difficult than other community colleges" to have majority online classes.
Since March, the campus has been operating with minimal staff Mondays through Wednesdays, under campus operating hours of 9 a.m. to 3 p.m., according to a press release from PHCC. All employees have worked remotely on Thursdays and Fridays.
Starting June 22, the campus will be open Mondays through Thursdays, from 9 a.m. to 3 p.m. The campus will be closed on Fridays for deep cleaning and sanitizing. Employees will work on campus two days a week and remotely on the other days.
The campus will be closed for the week of June 29 to allow housekeeping and maintenance departments "to deploy new safety initiatives in preparation for the returning students," the release states. Employees will work remotely that week.
The campus will return to operating hours of 8 a.m. to 5 p.m. Mondays through Thursdays, beginning Aug. 3. Employees will work remotely on Fridays, to leave two days for deep cleaning, according to the release.
According to PHCC's 2020-21 Calendar, college-wide in-service and planning will be Aug. 17-18, and open advising and registration will be Aug. 19-21. "Early bird registration" for the fall semester has been open since April 1.
Holly Kozelsky is a writer for the Martinsville Bulletin; contact her at 276-638-8801 ext. 243.
Holly Kozelsky is a writer for the Martinsville Bulletin; contact her at 276-638-8801 ext. 243.