Alessandro Anzalone, the first of four finalists to be the next president of Patrick Henry Community College, spoke on campus Tuesday during a community forum. About a dozen people attended the socially distanced event in person, and others watched on Zoom.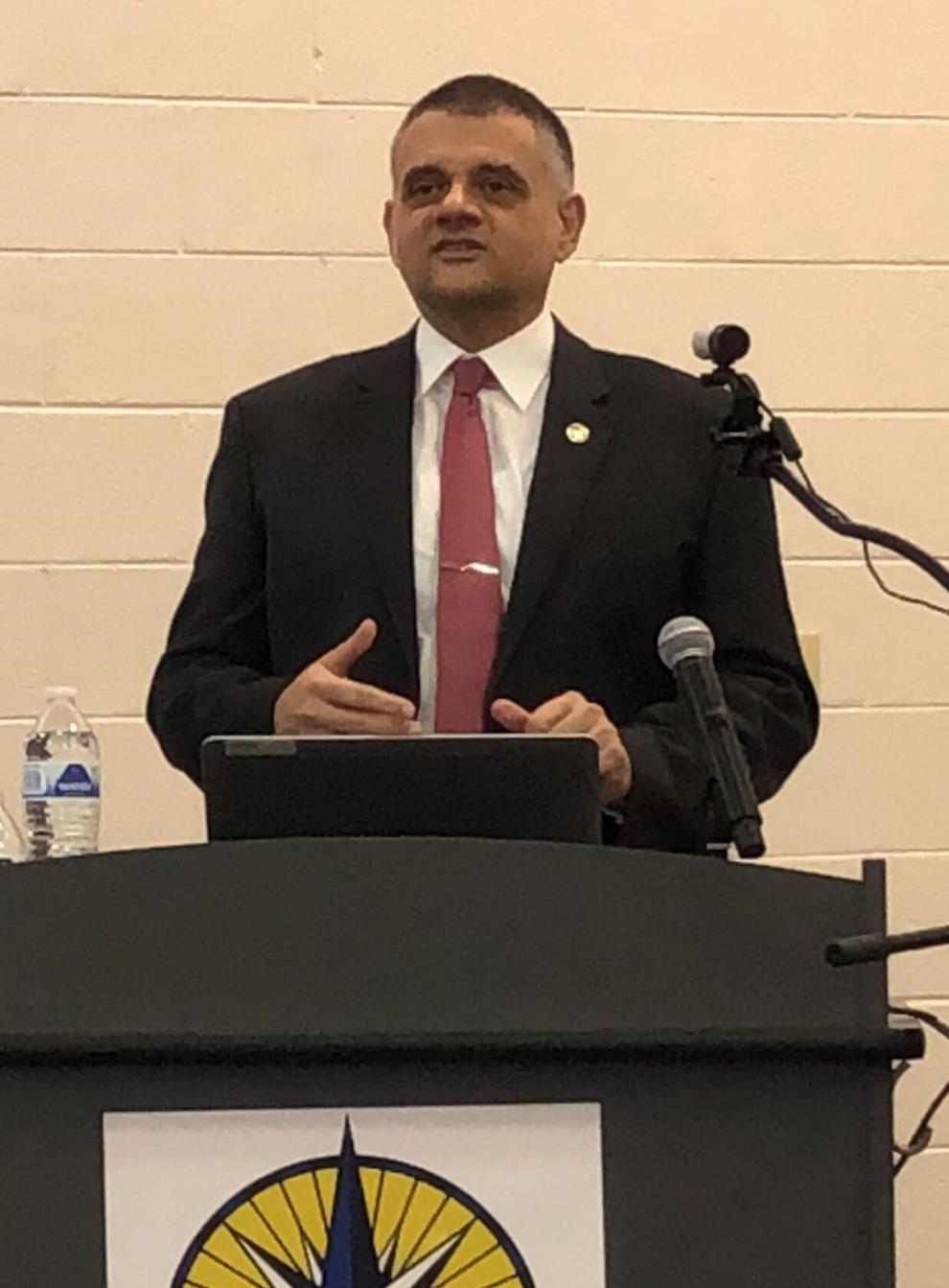 Each finalist will appear in a similar forum in the next two weeks as part of the process for finding the replacement for Angeline Godwin, who is retiring in July.
Up next at 9 a.m. Thursday is Tanjula Petty, the assistant provost for Student Success and Special Initiatives at Alabama State University. She will be followed on May 11 by Greg Hodges, PHCC's vice president of Academics and Student Success Services, and on May 13 by Jermaine Ford, vice president for Workforce and Economic Development of South Louisiana Community College.
Henry County Administrator Tim Hall was the host and moderator for Anzalone. Hall read questions that had been submitted earlier by the public.
Hall opened with a question about how the school serves the specific community. There are two approaches for a community college to serve the needs of the local workforce, Anzalone said. First, it's important to have programs to teach specific industry and workforce skills, but general skills are also important.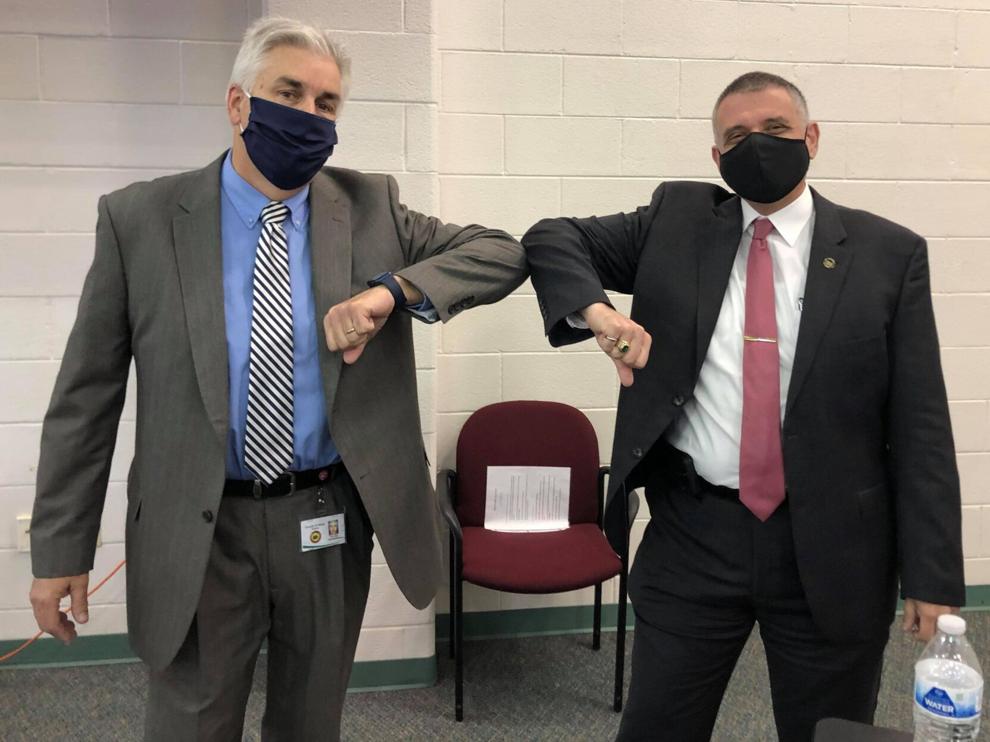 "There are other skills that are general to the collective, to all the companies in the area. Well, you focus on those general skills, and the specifics are something the company can provide for itself," he said. "Or we can find a way of providing that training," something he has done in his previous positions.
Hall read a question asking how PHCC could help the area high schools get more engaged in the areas of trade.
That's been "my major challenge over the last 28 years" he has worked in higher education, Anzalone said.
When he addresses elementary students about engineering, he asks them to look at everything around them, he said. Everything they see – chairs, the paint on the wall – was manufactured and is an example of the types of jobs they could get into in the future.
Engineering and STEM camps as well as college tours and open houses also are important ways of attracting students to the fields, he said. They allow people "see that manufacturing is not what it used to be. Manufacturing is not a greasy and grimy and smoky place."
When asked how to PHCC could demonstrate that it is a resource to underrepresented students and families, "That is near and dear to me," replied Anzalone, who is from Venezuela and the first of his family to be college educated.
He said he encourages minority faculty to be involved with local schools "so the students see somebody like them … talking to them about a future."
One of the submitted questions was to identify strategies to partner with local businesses to enhance programs that will lead to higher paying careers.
He said the first thing he does when he goes into an area is identify the key industries, then work with them.
Teachers from varied fields could be given training in STEM, through funding such as the National Science Foundation, he said. Activities at the college would "expose teachers, counselors and students to what we have to offer."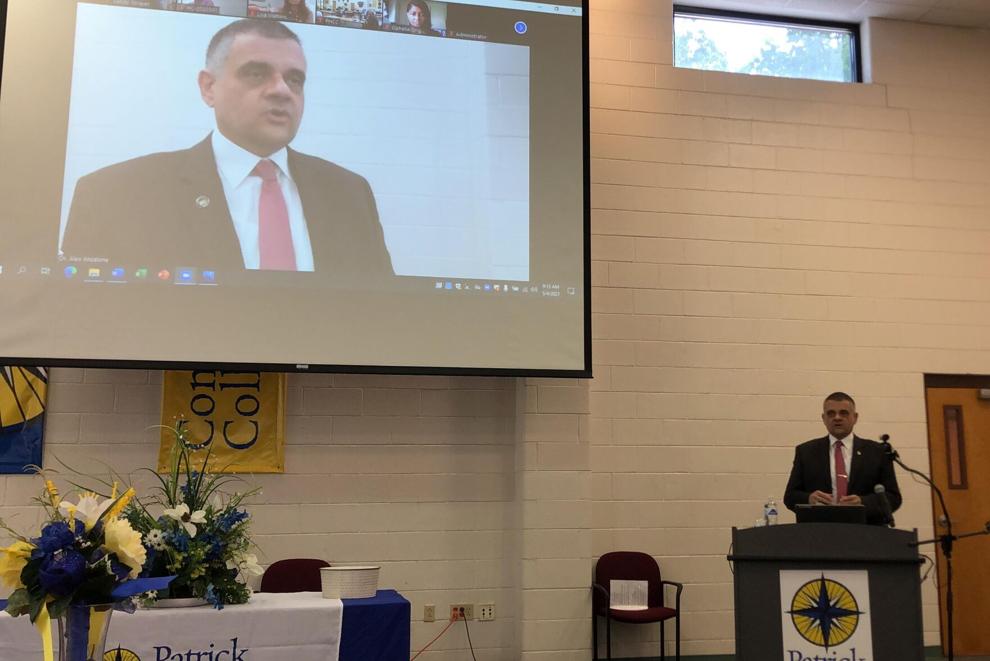 He was asked how to ensure that PHCC is a preferred college and not seen as a last resort. Students get more help and support at a community college than a larger school, he replied, because they are in classes of 20 students instead of 500, and the community college instructor's primary job is to teach them directly, rather than to conduct research and leave the teaching to assistants.
Plus, the cost of community college is significantly lower, he said.
"These are stories you have to teach people. People don't need to think that college is less," he said.
"Those people still that think it's not good enough for them, well, it is their problem. I know it is the best option for them, for their kids."
When asked about his fundraising plan, he responded that PHCC has an "amazing foundation" and an "amazing community" that supports PHCC, and grants also are a strong source of funding.
"I've developed a network of people that support education," he said.
The county also is an important source of funding, but the county's investment into the community college is paid back through local companies that thrive – and pay more taxes – because their workers have been well prepared, he said.
It was the question about how and what led him into the field of education and inspired him to his current role that really got him talking.
He was the first of his family to attend college; his parents only made it up through the seventh grade, which was normal for that time and place, he said.
From growing up in a family where no one yet had gone to college, he attended college, which is free in Venezuela, he said. However, despite the affordability, of 900 students enrolled, only 40 graduated.
"Venezuela has the largest oil reserves in the world," he said, and he ended up working as an engineer in the field. However, "my school kept calling me" to teach, including with the offer to send him to the United States for his master's degree.
"If you put me in any measure, there were no prospects … my school provided me an option" for a good life, working for a top company.
He taught in Puerto Rico, then Tampa, Fla., following a professional opportunity for his wife. That was 12 years ago.
"The community college had an opening – I had never been to a community college. I am being frank and honest with you," he said. "They hired me quickly."
In the United States, "my students were very different. My students had different needs from the ones I had seen at university."
Several years in, when a position for dean opened up, he was not interested, because it paid less than teaching. The president asked him to do it, with equal pay, "and it took me a month to say yes."
It ended up being the right move, he said. As an administrator for the past five and a half years, "instead of helping 300 students, I can help 5,000 students."
Anzalone has a bachelor's degree from the Universidad Nacional Experimental Politecnica, Antonio Jose de Sucre in Venezuela; a master's degree from New York University; and a doctoral degree from the University of South Florida. He has worked in numerous roles in Puerto Rico before moving to Tampa in 2015.
From 2019 to 2021, he served as the interim president of Hillsborough Community College's Brandon Campus.
When asked how his educational philosophy relates to his leadership style, he said his philosophy is "providing people as any possible avenues to acquire the knowledge" they are trying to get.
When he was teaching, "I spent a lot of time when I design tests," making sure those tests fairly and accurately assess students' learning. That including getting students' input on which types of tests worked best.
As a leader, "my team is my team, and I love it as family," and he never allows people to mistreat each other. A leader also should make it possible for all team members to work to the best of their abilities.
Asked about his vision as he ponders being the next leader of PHCC, Anzalone said his vision is growth, and "the only way to do this is in a partnership."
That can only be done through being "a unified voice," he said.
He comes from "a very large system, a very underfunded system," he said. The statistics and "the good job" of PHCC's vice presidents show that here is "a very different situation."
It has been obvious to him that the people who work at PHCC are happy, he said, and "I spend a lot of time in my work. I want to make it a happy place, and it is a happy place. I want to make it even happier."
In closing remarks, he said, "This school is very strong. The community is very resilient and bouncing back."
His experience will help, as it has in every job he has had, he said.