The fourth and final candidate for president of Patrick Henry Community College, Jermaine Ford, addressed the community in a forum Thursday attended by about 10 and viewed virtually via Zoom.
Ford is the vice president of Workforce and Economic Development at South Louisiana Community College. Henry County Administrator Tim Hall read the questions that had been submitted by the community.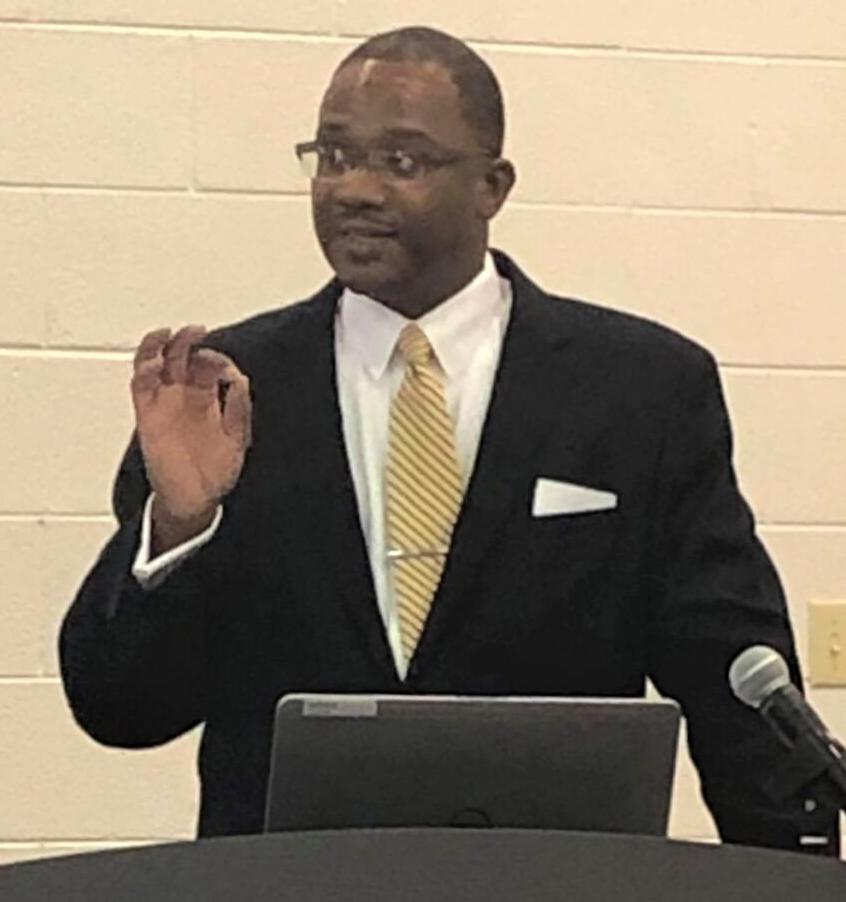 He follows similar sessions with Alessandro Anzalone, the interim president of Hillsborough (Fla.) Community College's Brandon Campus; James "Greg" Hodges, PHCC's vice president of Academics and Student Success Services; and Tanjula Petty, the assistant provost for Student Success and Special Initiatives at Alabama State University.
The candidate forums have been convened each Tuesday and Thursday for the past two weeks, and each candidate was asked the same nine questions.
PHCC is replacing Angeline Godwin, who is retiring next month after nine years leading PHCC. The PHCC board has a meeting scheduled for Monday.
The first question was, "Patrick County is in the footprint of PHCC and has seen an emphasis on more course offerings and expansion of programs under the current president. How will you continue to address the needs of Patrick County and work to provide programs, when the county is different from the Martinsville-Henry County area in terms of employers?"
"As I think about this question, one of the things I would like to say, is Patrick Henry Community College is the hub of connectivity," Ford said.
Without addressing Patrick County, he talked about hearing that PHCC has a great reputation; that he aims to have quarterly meetings with industry leaders; that the area has a 20% decline in population; and that PHCC should provide "learner options."
On the second question, how he would engage high school students in trade programs, Ford replied he would like to do "stakeholder engagement" and "what we need to do on curriculum to be able to help connect the dots" for younger students.
Working with career counselors is beneficial for students as young as sixth grade, he said. He also recommended "career signing days" in the pattern of sports signing events.
The third matter he was asked was how he would partner with local school districts to show that PHCC is a resource for underrepresented children and families.
"This one is near and dear to my heart because I'm a first-generation community college graduate," he said. "I grew up in a region that looks just like this."
Ford talked about having "great conversations" with leaders of local schools and organizations and about increasing internet access for students "to close the digital divide in the rural areas."
On strategies, he said, he would have to partner with local businesses to have programs that lead to higher-paying careers. He said it's important to ask businesses where they want to be in the future.
"One of my leadership traits is visionary and collaborative, so with that being said, as we see the needs between business and industry, business expansion, business recruitment. … I as the next president of PHCC will be at the table," Ford said.
While doing research on the area, he said, he found 142,000 people "within that service area" of PHCC. Of those, there are 60,000 people ages 15 to 49.
"By 2030, given that same scope that I just mentioned, it's not 142,000 anymore. Now it's around 130,000 plus, and at age 15 to 49 drops to under 30,000. I said, 'Oh, there has to be a sense of urgency. We have population decline; we have low enrollment.'" And must expand programs.
As PHCC president, he would be on "listening tours" and meet with every business owner, he said.
To the question about ensuring that PHCC is a school of preference rather than last resort, Ford replied that students should receive the message that no matter what type or level of program they are enrolled in, "You are coming to college."
PHCC has options for learners, he said, and should create "very clearly defined career maps" to help students understand the educational process. "That is going to be the secret sauce of our success to help connect the dots."
The sixth question was to ask the candidate about his fundraising plan for PHCC. He said he "had great conversations with several faculty" about the topic. He said he replied to those questions with examples from his work in South Louisiana Community College, which has an economic environment similar to this area.
"The strategic plan is the foundation for everything that we look at. That's number one. Here's number two:" to talk with local businesses about their needs, he said.
Ford gave an example from SLCC. Car dealers could not get enough people to work as mechanics, so he offered to set up an arrangement by which the dealers would pay for equipment for his college, which in turn would train future workers for them.
PHCC needs "service reps" in the industries to make assessment, he said.
When asked what led him to a career of higher education leadership, he repeated his background as first-generation community college graduate in a small town.
He talked about challenges getting through college and said he operated a business that he later sold. During a time of transition, three people separately suggested he go into work in community college administration: the president of his community college, a mentor and his wife.
The eighth question was to ask his educational philosophy and how it relates to his leadership style.
"Teaching and learning" form the foundation, he said.
"The second thing that I would say is collaborative leadership. … I believe that you can lead from any seat."
He in entrepreneurial-minded, he said: "We have to be able to turn over rocks to be able to connect the dots." He also is a visionary leader and a servant-leader, he said.
Ford said his community college it was receiving less than $200,000 a year in grants when he arrived to more than $30 million in less than six years, and the student body rose from less than 1,000 students to 5,000, "and that is why partnerships are so, so important."
The final question was about his vision as president of PHCC. "Boy, I've this one a lot of thought," he said, and had written it all down so he wouldn't forget anything. His answer to this question covered 13 of the 56 minutes of the forum.
"From a broad perspective," he said, his vision "has to be resilient and durable;" "it has to be inclusive" and "servant-leadership, and the benefactors of our service must be students and student success."
On a tactile level, he said, it involves tapping into the nontraditional market, "closing the digital divide," economic and workforce development, safety and "I don't look at color, I look at competency" and vision.
"I really want to be here as the next president of Patrick Henry Community College," he said.
Note: This story contains a correction of the figure of $30 million raided at the Louisiana community college from the original story.