The second of four candidates for the position of Patrick Henry Community College's president spoke publicly during a forum at the college Thursday morning.
Tanjula Petty, the assistant provost for Student Success and Special Initiatives at Alabama State University, answered questions from moderator Tim Hall, the Henry County administrator who also serves on the presidential search team.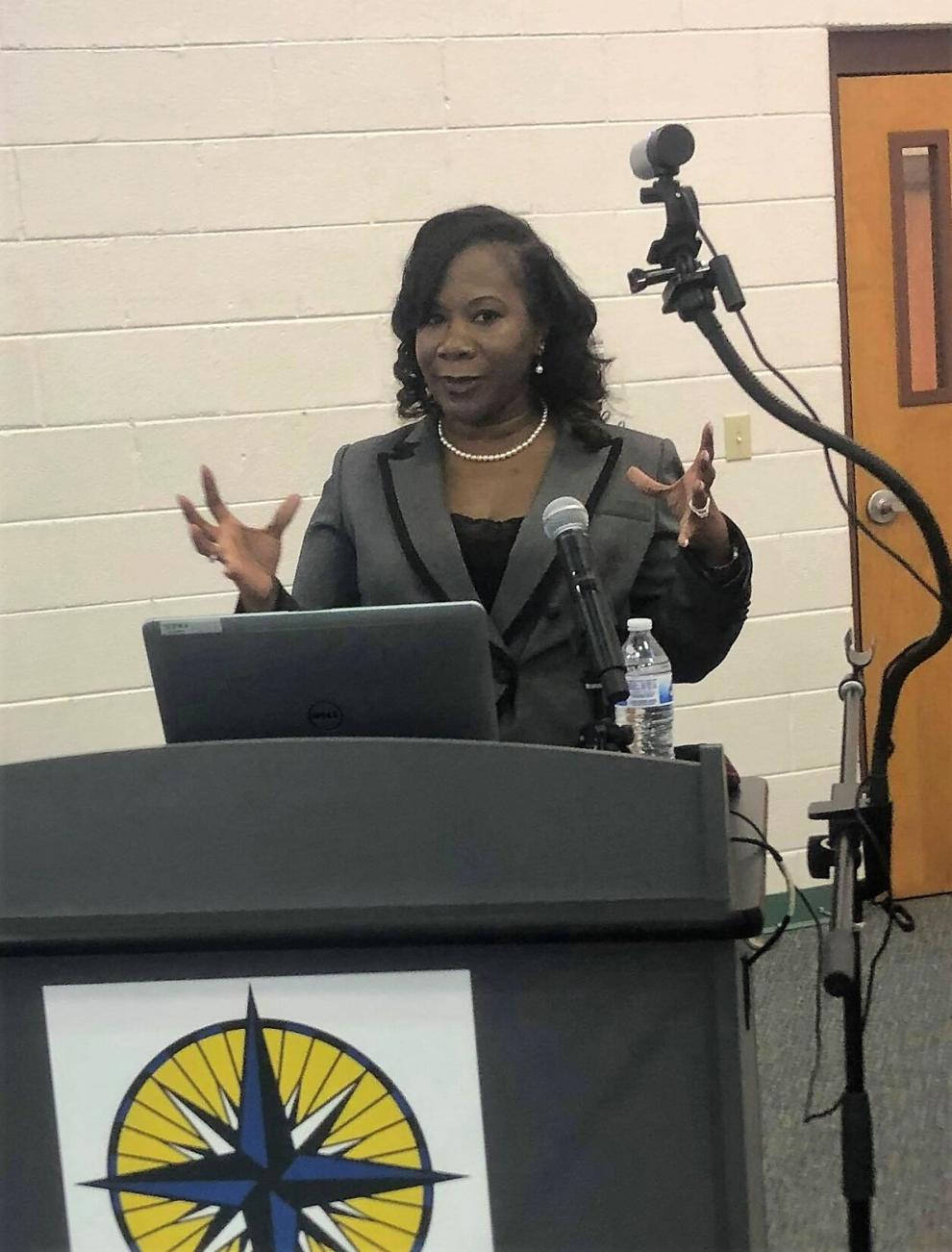 A handful of people attended the morning session in person, and many more watched her interview over Zoom.
She followed Alessandro Anzalone, the interim president of Hillsborough (Fla.) Community College's Brandon Campus, whose forum was Tuesday.
She will be followed at 9 a.m. Tuesday by James "Greg" Hodges, PHCC's vice president of Academics and Student Success Services, and at 9 a.m. next Thursday by Jermaine Ford, vice president of Workforce and Economic Development at South Louisiana Community College.
Petty said she has had a variety of jobs in different locations because her husband is a retired Army colonel "who has dragged me across this country. It allowed me to experience some wonderful things and have some wonderful opportunities at some great colleges and universities," she said.
The first question was how Petty would carry out PHCC's role in Patrick County, which is "different from the Martinsville and Henry County area in terms of employers," Hall said.
PHCC President Angeline Godwin, who is slated to retire in July, "has developed a great foundation already, so I don't see myself veering away from that foundation," Petty said. She said she would align programs to the needs of programs and industry and remain in touch with those partners.
Her last institution held an industry roundtable "where we would bring all of our business and industry partners in addition to the chamber of commerce … to the table so that we could have robust conversations about the needs" for them as well as the college, she said.
The second question was how to get more K-12 students engaged. She would encourage relationships with those partners, she said, and aim to "increase the number of students coming through the pipeline for dual enrollment. The one thing I would love to see is every high school student graduated with some type of credential."
Next was how to partner with schools to demonstrate that PHCC is a resource to underrepresented populations.
"Effective communication," not only with school districts but "our community at large to let them know what resources are available," she said. That would include promotion on a large scope, "and I didn't see that" as she was coming into Virginia, she said.
People who are worried about basic needs such as housing or feeding their families need to get the message that PHCC can help through resources such as the Patriot Pantry food bank, as well as through outside organizations, she said. That message must be direct and easily understandable.
She was asked about partnering with area businesses to enhance programs to lead to higher paying, in-demand careers. Again, she mentioned the roundtable, "but also looking at advisory committees … to help us guide how the curriculum should look and what should be taught."
The programs must be demand-driven," and the student body should be diverse, such as how the PHCC welding program has female as well as male students. Skills taught at PHCC should be transferable between fields, she said.
The fifth question was how to ensure that PHCC becomes the preferred choice rather than a last resort for students.
"I will be the biggest recruiter for this college, but I believe internally everyone who's employed by Patrick Henry Community College is a recruiter," she said.
Marketing of the college should be increased "to sell that message," she said. That includes presenting PHCC's message in varied ways, from personalized messages to newspaper and mail. Community engagement also is important, she said.
She was asked about her fundraising plan for new equipment, renovations and/or campus buildings. She was just talking about the day before in a meeting with faculty, she said.
A first step would be through budget hearings, which allow needs to be ranked "and allow our faculty voices to be heard." Those staff, especially of technical programs and workforce development programs "will drive what our needs are as it relates to our equipment," Petty said.
Before considering new buildings, it's important to assess the existing buildings and how they are maintained, she said.
"I believe in creating an environment and a culture of philanthropy where we are able to have donors" both locally and corporate, she said.
Petty has bachelor's and master's degrees from Troy State University and a doctoral degree from Alabama State University. She began her career in 2005 at Vernon (Texas) College and worked in Pensacola, Fla., before returning to Alabama, and in 2018 moved to Alabama State.
But when she was asked what led her into her career as a higher education administrator, Petty replied that she ended up in the field accidentally.
Her higher education began when she was a single mother, living in community housing with no transportation, she said. She walked 7 miles to her community college for a nursing program.
"It was because of that journey … I was able to go to Troy State," with an interest in work that helped others. She wanted to go to law school, but because of a move from her husband's job, she ended up in Texas, where she worked as a recruitment specialist for a college.
Working to help students from different backgrounds succeed in college "was my calling," she said. When she moved to Pensacola, she was inspired by a dynamic vice president to pursue her doctoral degree in educational leadership "with a little bit of law."
In this field, "I am able to change lives."
When asked about how her educational philosophy relates to her leadership style, Petty replied that she has a "dual leadership approach" to be "a servant-leader as well as a transitional leader."
People must know how they can serve before they can lead, and listening and demonstrating empathy and developing a culture of trust are important.
"With a transformational leader comes understanding the philosophy of change management," she said, and that includes stimulating and motivating people." Dealing with transformation is particularly important in the post-pandemic world, she said.
She said she believes in a collaborative rather than an individual vision, "and I believe I will provide leadership to help facilitate the goals and the mission of this institution, but when it comes to developing the holistic mission, I believe in working with a high performing team to have all the voices at the table to make data-driven decisions that will lead the college forward."
Petty also talked about fulfilling the mission of PHCC, which addresses enriching the quality of life in the service region, which involves academic excellence, student success, workforce development and lifelong learning.