Henry County Public Schools, following an initiative across Virginia, will take its math program out of the 19th century and into modern times.
It's through the Virginia Mathematics Pathway Initiative, a joint movement among the Virginia Department of Education, the State Council of Higher Education for Virginia and the Virginia Community College System.
The VMPI will change the way math is taught "to address the knowledge, skills, experiences, and attributes that students must attain to be successful in college and/or the workforce and be 'life ready,' information presented to the school board on Thursday states.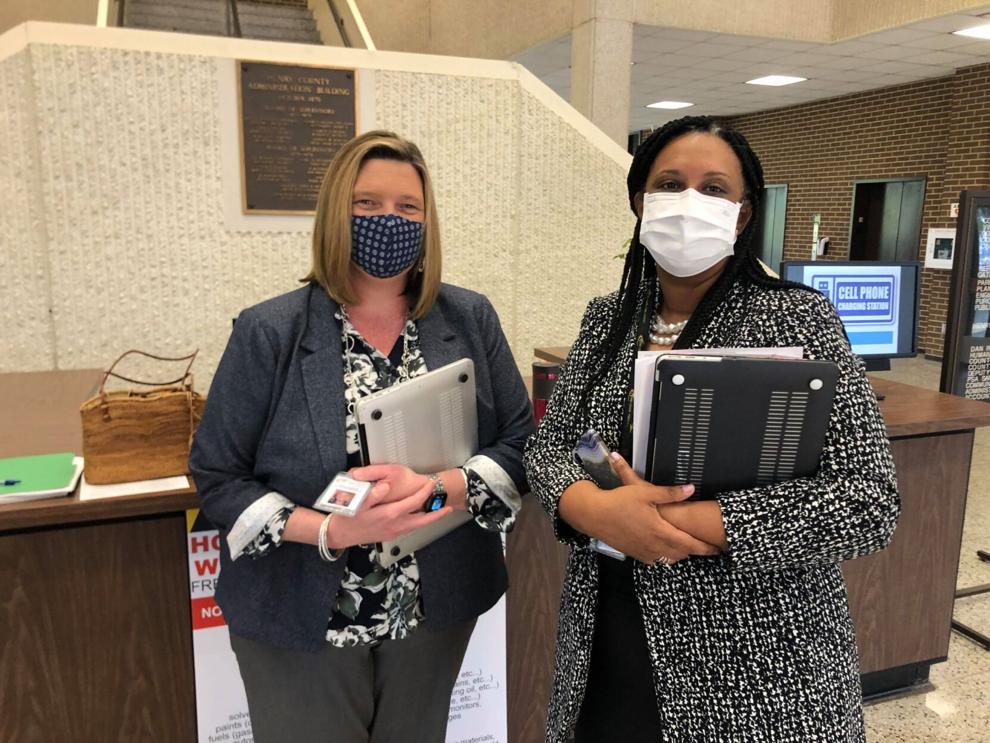 All students in grades kindergarten through 10 would receive the same foundational courses, and students in 11th and 12th grades would choose among diverse course offerings based on whether they plan to go straight into the workforce, trade school, college or the military.
Curriculum Coordinator for Secondary Math and Science Sherri Helbert and STEM Coordinator Phyllis Meade described the initiative at the meeting.
"The VDOE wants students to have more than one pathway to learn mathematics," Meade said. Analysis has "brought to light that the structure of Algebra 1, Geometry and Algebra II in mathematics for high school students has been in place since the 1800s."
Much of the math taught "is very pertinent" for students heading to college and careers, she said. However, there also are math areas "that we need to steer some students toward, so the Mathematics Pathway Initiative really hopes to address the ability and let students move in different directions and have options when learning mathematics."
The new approach would provide math that is useful for all students, "not just a curriculum that is focused on passing a test," Meade said.
Showing pictures of two trees, she likened the math currently taught with a cone-shaped tree, pointed at the top, and the future approach to math as a tree with freeform branches leading off in different directions.
By being able to branch out into different areas of math, students would be able to "truly enjoy the joy, wonder and beauty of mathematics," Meade said.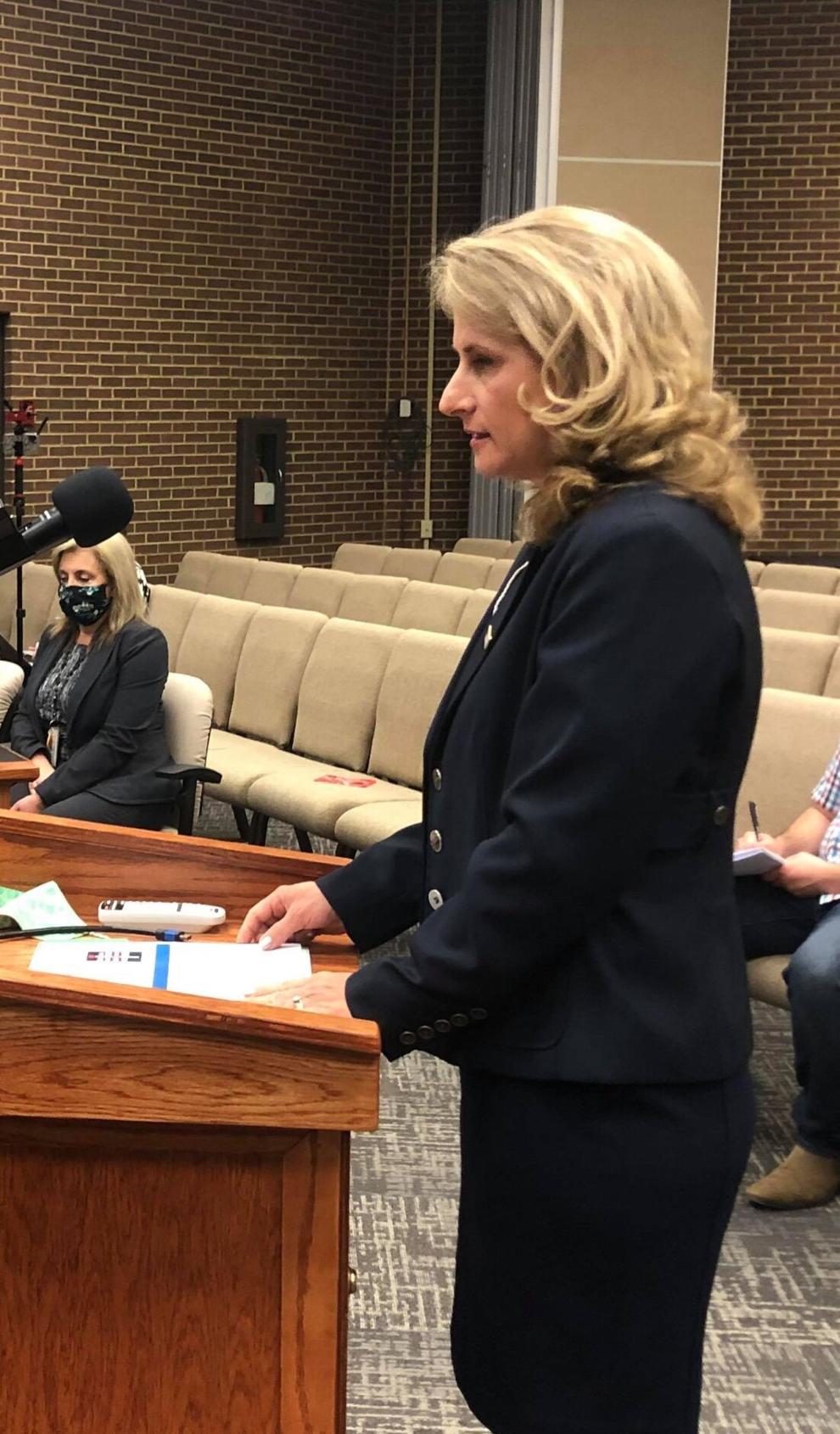 Helbert described how math would be taught by grades.
Students up through seventh grade would be taught foundational math: number and number sense; computation and estimation; measurement and geometry; probability and statistics and patterns, functions and algebra, Helbert said. Those are the foundations that set the stage for future learning.
"Some of the biggest changes will be seen" in the math instruction for grades 8 through 10, she said. "The traditional Algebra I, Geometry and Algebra II course sequence will be removed and replaced with Essential Concepts 8, Essential Concepts 9 and Essential Concepts 10."
Those students would be taught data analysis; mathematical modeling, functions and algebra; special reasoning; and probability. Problems will have a real-life focus. Those classes will carry two credits.
"All students be on an even playing field and will have the same opportunities as they enter the advanced mathematics pathways," she said.
Although students will study the same content at the same time, "students who grasp the concepts are going to go deeper" with enriched lessons, Helbert said after the meeting.
"Everybody has the same objective – the same content," Director of K-12 Instruction Wendy Durham said after the meeting. Teachers would "look at where students are as far as mastering that objective and can provide enrichment activities for deeper learning." Durham and Helbert said teachers do that now as well.
High school juniors and seniors would mix and match courses for a total of two credit hours, Helbert told the school board. They will be:
Half-credit course options: data modules (Data Science, Probability and Statistics classes); design modules (Geometry and Design and Trigonometric Applications classes); analysis modules (Application of Advanced Algebra and Precalculus- Focus on Functions classes), modeling modules (Mathematical Modeling and Financial Modeling) and computing modules (Discrete Mathematics for Computing and Sets and Logic classes).
The 1-credit course options, which may include Dual Enrollment and Advanced Placement, are Quantitative Reasoning, Computer Science, Calculus, Statistics and International Baccalaureate.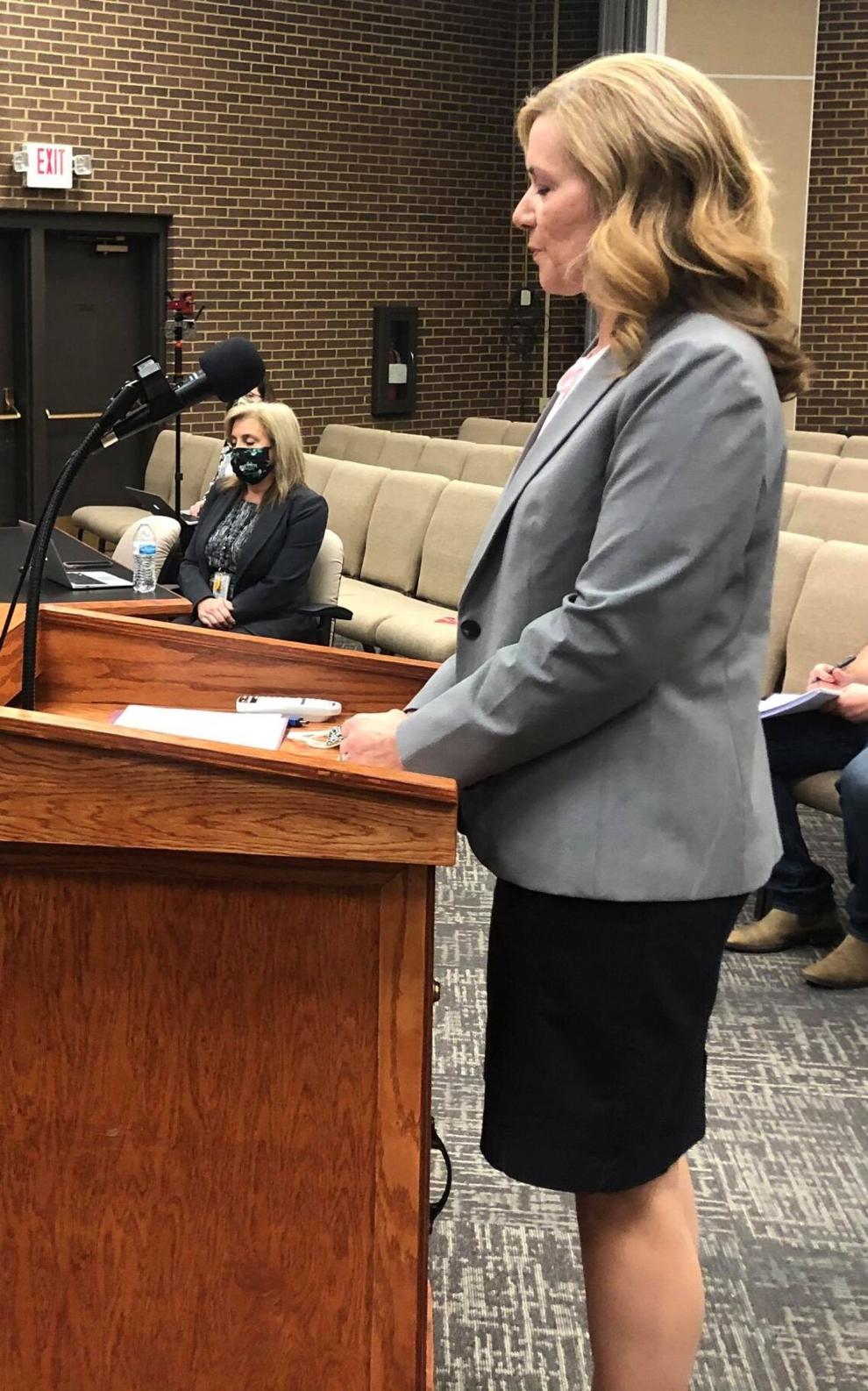 Students will be able to "specialize or sample various mathematics courses based on their interests and goals," Helbert said.
It would be crucial to help students decide what their future interests are and which pathways would be appropriate for them, she said. "Guidance counselors will play a big role in guiding students to a logical path."
Implementation
This year's Henry County Public Schools sixth-graders will be the first to be graduated fully under the new program, which will be implemented gradually.
The essential concepts are being developed this year, and next year a revision committee will create a draft of the 2023 Math SOL. The Virginia Board of Education will review the draft and have it approved by the 2023-24 school year.
Teachers will start to integrate the new standards into their teaching while still teaching the old standards in the 2024-25 school year.
Full implementation will be made in the 2025-26 school year, and the new graduation requirements will be in place during the 2026-27 school year.
The course offerings for next year's seventh-graders have been modified, Helbert said. Integrated Math 7 will not be offered next year. All seventh-graders will take Grade 7 Mathematics. "During Math 7 instruction, teachers will use formative assessments to diagnose students' learning needs. The data will drive the instruction, and lessons will be differentiated to provide a more tailored learning experience for students."
To bridge learning gaps, "teachers will provide flexible grouping focusing on recovery and intervention," she said.
Algebra I still will be an option for students in eighth grade, she said.
"We've been meeting with teachers and students and parents to discuss math and math skills … and our students must be able to transfer the knowledge that they receive from us into real-world situations throughout their life," Superintendent Sandy Strayer said.
"I'm excited the Virginia Department of Education is now following suit and issuing a math pathway, the model that we've been reaching for," Strayer said.
Information sessions
The VDOE on Tuesdays is offering several 1-hour community informational sessions about the VMPI. The first, "Why Change Mathematics Instruction?", was March 23. "How Does VMPI Affect Virginia Children's Futures?" will be on Tuesday. "Essential Concepts in Grades 8-10" will be on April 27. "Advanced Pathways in Grades 11-12" will be May 25.
All sessions will be livestreamed on VDOE's YouTube channel beginning at 6:30 with a 20-minute presentation from members of the VMPI and with time for question from the public.