More students are failing classes this year under virtual learning, the Henry County School Board learned Thursday.
Out of 6,821 total students in Henry County Public Schools, 2,432 — or 36% of the student population — are failing at least one course, and 1,759 are failing two or more courses, Assistant Superintendent Lisa Millner told the board.
That's in line with trends other school districts across the country have reported in numerous national news stories. Many are experiencing striking dips in student achievement and engagement while operating virtually due to the coronavirus.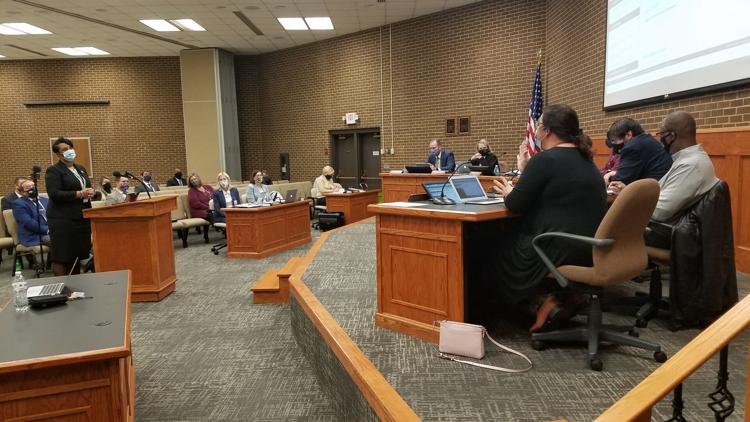 Although some Henry County students have done very well during remote learning, "research says the best place for the majority of students is to be in school, interacting with teachers and peers," Millner said.
During the monthly school board meeting, Millner shared efforts to support student achievement and outlined how educators are planning to address student learning gaps when Henry County Public Schools resumes hybrid instruction on Jan. 19.
The board made no changes to the return to school plan during the meeting.
Students on the hybrid learning plan make up more than half of those failing, according to Millner. However, as school board member Teddy Martin pointed out, most hybrid students were only able to attend in-person classes for six days during the fall semester.
District leaders are using student assessment data to make decisions on next steps, which include extra tutoring, expanded summer school offerings, and other strategies, Millner said.
"Beginning in January, when we bring those students back, we will be working with students in small groups. We will continue to assess students," she said. "Afterschool tutoring groups will begin this month, and [afterschool provider] MHC After 3 is offering virtual tutoring."
Some schools are offering "homework help clubs," she said. Other help and outreach offered to students and parents last semester include scheduled Zoom group sessions, online office hours and phone calls, home visits, visits to child care centers, distributing newsletters with tips, and even "curbside help" in person outside the school building.
Millner said the district recently delivered "conversation starters" to various beauticians and barbers in the community so they can ask students about school while getting a haircut.
District leaders are already surveying teachers to gauge interest in teaching summer school. Millner said they plan to offer six weeks of summer classes this year, but how many students they serve will depend on teacher participation. There is a 1 to 10 teacher/student ratio for summer classes.
The academic calendar for the 2021-22 school year, which the board approved Thursday, pushes the start of school back a week to allow time for extended summer school.
The first day of school in Henry County will be Aug. 16. Testing will still take place in December, and the plan preserves a full two weeks for winter break from Dec. 20-31, Communications Director Monica Hatchett said.
"This calendar allows us greater flexibility in the beginning of the school year," Hatchett said. "This would allow us professional development time for new teachers and also allow time for teachers who do teach summer school to have a little break."
Hatchett added that summer school "may run all the way through the end of July, depending on the virus."
The calendar also preserves the Wednesday before Thanksgiving as a full-day holiday for students and teachers. Spring break will run from April 11 to 15, along with a holiday April 18. The last day of school will be a 3-hour, early release on May 27.
Hatchett said the calendar was developed with survey input from more than 1,200 school community stakeholders. The district originally prepared four different calendar options for review, including one starting after Labor Day, but the most popular option was to start in August and end before Memorial Day.