Greg Hodges has been selected as Patrick Henry Community College's new president.
Hodges has spent his career in higher education at PHCC and became a vice president in 2016. He currently is the vice president of Academic and Student Success Services.
The announcement was made Friday by Virginia Community College System Chancellor Glen DuBois, who led the search, assisted by the PHCC College Board. The national search attracted 64 applicants, according to a press release, and was narrowed down to four who were brought in for various meetings and interviews.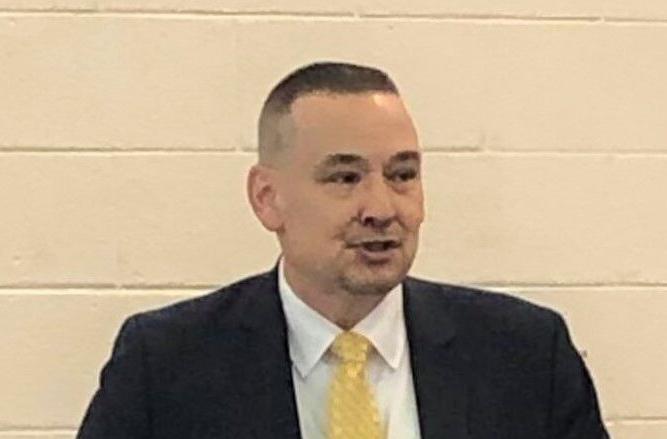 "I'm deeply honored and thrilled to be able to serve this college and this community," Hodges said in a telephone interview Friday.
"Greg is an impressive higher education leader who has earned a reputation for hard work and focusing on the people, businesses, and communities that our colleges serve," DuBois stated in the release. "He's gained impressive experience across different parts of the college and I believe he's ready to lead this institution forward."
Hodges said DuBois had called him Thursday evening with the news. "I'm deeply grateful for his confidence in me, and looking forward to beginning," Hodges said.
"We had a tremendous group of finalists for this college presidency, and I'm grateful to our local board members and others who worked so hard to make this search process a success," said Janet Copenhaver, chair of the PHCC local board. "We are excited to work with Dr. Hodges and believe he will build on the success our college has enjoyed under our current president."
Hodges succeeds Dr. Angeline Godwin, who served for 9 years and announced on Jan. 25 that she would be retiring, effective July 1. She was the third president, following Max Wingett, who served for more than 33 years.
Though no one will be able to fill Godwin's shoes, Hodges said, "I will do 100% of my ability to serve this college."
He said he will step into the role on Thursday, July 1, the day she retires.
"She's been a phenomenal president over the last 9 years, and I'm looking forward to building on the legacy that she's created," he said. "We have tremendous things in the hopper on all fronts – academic, workforce development … and we're eager to move all of those forward."
Hodges began his career in higher education in 2004 as an assistant professor on Education Assisting at PHCC. In 2007, he became the Assistant Dean of Arts, Science and Business Technology. Following this, he moved into the Dean of Developmental Education and Transitional Programs role. Two years later, he became the Dean of Academic Success and College Transfer.

In 2016, he rose to become the Vice President of Institutional Advancement, Effectiveness and Campus Life. One year later, he became the Vice President of Academics and Student Success Services, the position he holds today. He has been an Achieving the Dream Workforce and Leadership Coach since 2017.
Hodges has a bachelor's degree from the College of William and Mary. He holds two master's degrees, one from Bethany Theological Seminary and the other from the University of Phoenix. His doctoral degree is from Trident University International.
The other candidates were Jermaine Ford is the vice president of Workforce and Economic Development at South Louisiana Community College; Alessandro Anzalone, the interim president of Hillsborough (Fla.) Community College's Brandon Campus; and Tanjula Petty, the assistant provost for Student Success and Special Initiatives at Alabama State University.
Over a 2-week period this month, each candidate of four candidates met with faculty, students and the community through size-limited gatherings that were broadcast over Zoom. They also met over Zoom with the college board.
The college board held a closed meeting on Wednesday to talk about the candidates.
PHCC, which serves nearly 3,000 students each year, was founded in 1962 as a two-year branch of the University of Virginia's School of General Studies. It became an autonomous two-year college of the university two years later and joined the Virginia Community College System in 1971. Serving Martinsville, Henry County, and Patrick County, PHCC is a comprehensive open-door institution, accredited by the Southern Association of Colleges and Schools Commission on Colleges (SACSCOC).