As she is poised to retire, Patrick Henry Community College President Angeline Godwin says she has come full circle.
Her time with community colleges began when she was a student at one, after being graduated from high school as a sophomore.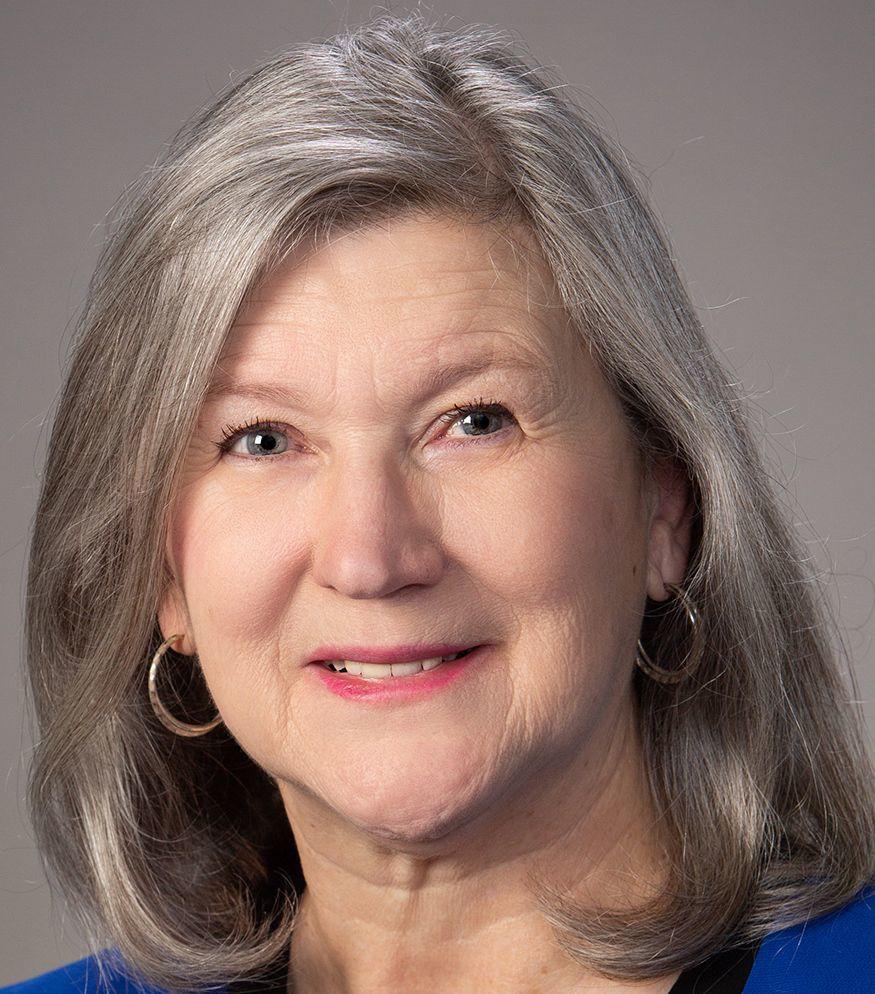 "Returning to a community college, to serve in a leadership role, having been a product of that, is one of the things I'm most proud of," she said.
"As of this fall, I have taught or been affiliated with some level of education for 42 years," she said. "Even when I was not a professional educator, I was connected to educating and training people, something I am very proud of."
That service to community colleges is being recognized by Phi Theta Kappa, the international honor society for 2-year colleges, which has announced plans to award Godwin the Michael Bennett Lifetime Achievement Award.
"Phi Theta Kappa honors retiring presidents who have demonstrated a strong devotion to student success throughout their careers," Phi Theta Kappa President and CEO Lynn Tincher-Ladner said. "Dr. Godwin's leadership is known throughout the nation, and she is admired for her efforts to improve completion, transfer, and employment outcomes for her students."
Educated educator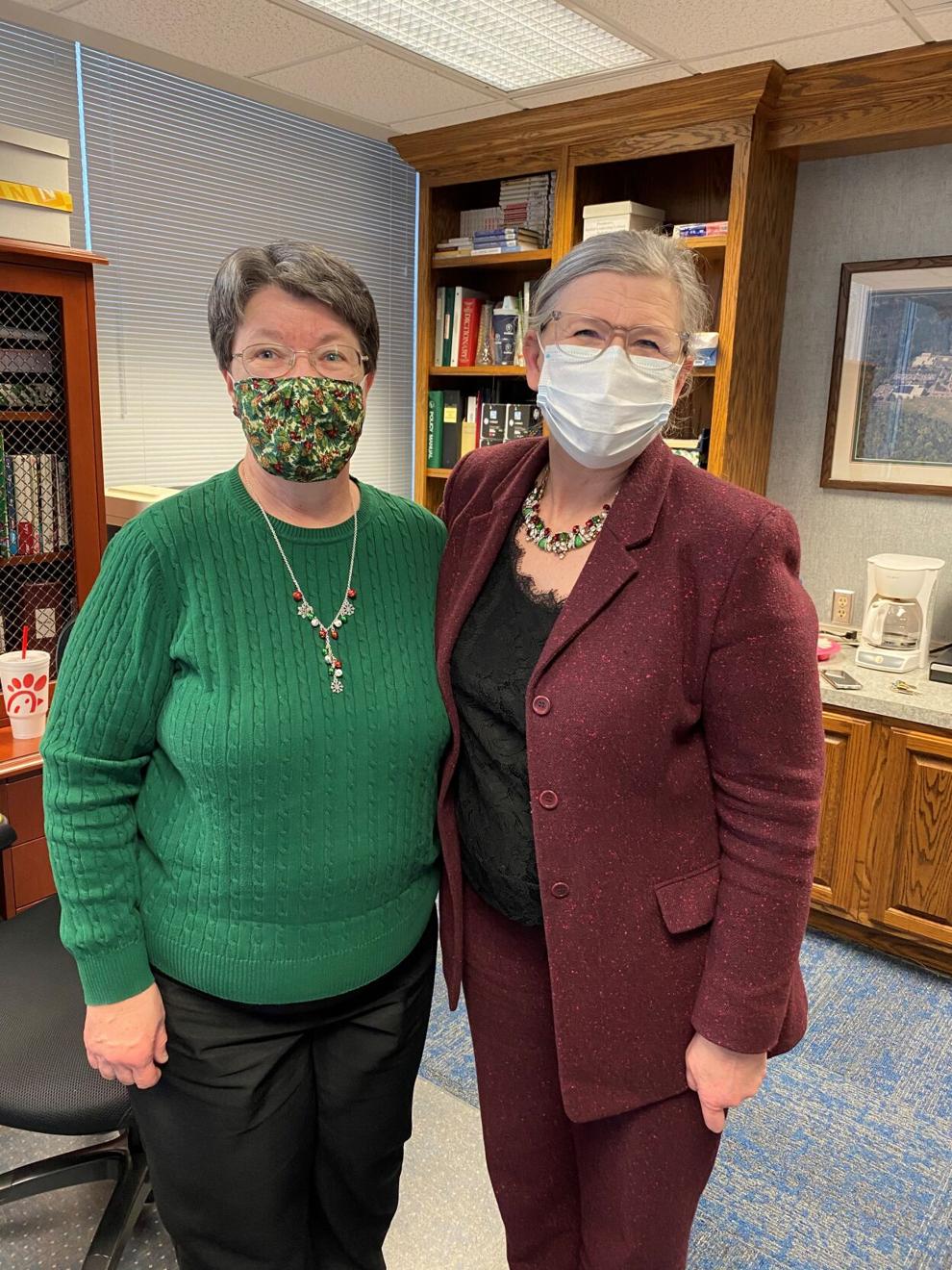 Education is the great equalizer, Godwin said: "A true education is what gives people your own power."
"Dr. Godwin's impact on PHCC and the community are immeasurable. Her main focus was always on our students and ways to help them get the most from their college experience as well as prepare them for the future," said Jencie Gibson, who retired in December after 40 years at PHCC, including 9 years as Godwin's assistant.
Before coming to PHCC in 2012, Godwin was president of Ashland (Ky.) Community College from 1997-2000. She was vice president for research and economic development at the University of Southern Mississippi in 2002-2004, and dean of arts and sciences of Jackson (Tenn.) State Community College in 1994-97. In the 1990s she had a number of positions at Michigan State University, and she also has taught at the middle school and high school levels.
As an economic developer, Godwin has led both statewide and regional economic development organizations. She was recruited to Mississippi in 2000 to become the founding CEO/president of the Mississippi Technology Alliance, the state's science-and-technology-based economic development organization. She also was president of a 3-county economic and chamber of commerce organization.
Godwin received a law degree from Thomas M. Cooley Law School in Lansing, Mich., graduating cum laude; a Ph.D. in English and a master's degree in English education from Florida State University; a master's degree in English from the University of Alabama; a bachelor's degree in English from Troy State University; and an associate degree from Gulf Coast Community College in Panama City, Fla.
'A wonderful team of people'
In January, Godwin announced that she will retire July 1.
The transition to a new president should go smoothly because of the "extraordinary team at Patrick Henry Community College," Godwin said.
The school has "leaders at all levels. Your title does not define your leadership. We have a wonderful team of people at PHCC, very innovative-minded," she said.
To keep PHCC constantly on top of the community's and students' needs, "we've tried to look down the road and around the corner" to serve both students planning to transfer to 4-year universities as well as those who want to go directly into the workplace, she said.
A strong community college is an asset for recruiting new businesses and industries to the area on two levels Godwin said. It can quickly and efficiently train the workforce a company needs.
It's also an amenity for the company's employees on a personal level, as it provides quality education to their children, Godwin said – and especially now, with the tuition paid through The Harvest Foundation's SEED Fund. "Frankly, it's a very smart business tool, and we certainly pitch it heavily when we market to companies."
Building 'an ongoing pipeline'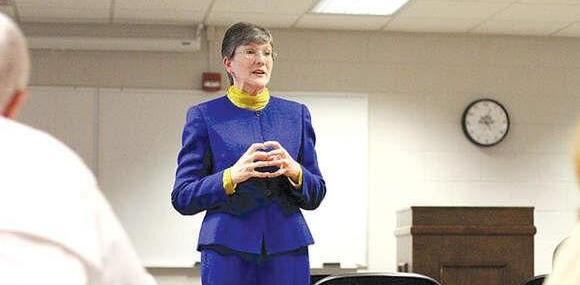 When Godwin arrived at PHCC, the area was still reeling from the closure of its mainstay furniture and textile industries and suffering from high unemployment.
Now, she said, "the college and the community are positioned … to recover from the past economic challenges and to exceed it."
Jobs have come back to the area, she said, but these new jobs "are advanced manufacturing, where the entry-level people are true technicians, and that requires training."
PHCC is "making sure we have the facilities and the faculty and industry partnerships and all those things together to make that happen."
To be a successful college and to contribute to the success of the area, "you have to have an ongoing pipeline of people ready" for whatever jobs are in demand at any given time, she said. "Our strategy is to put people, process, strategies and equipment in place, to show company we are serious and have the capacity" to meeting their workforce training needs.
PHCC offers a consistent core of classes that are positioned to be useful across the board, "and then to specialize for a company is just one more step," she said. "That's what I spent most of my time" at PHCC building.
'You can mass train and customize concurrently, and that's the secret to the model. You have to be patient. None of this is fast. I have been after this since Day 1."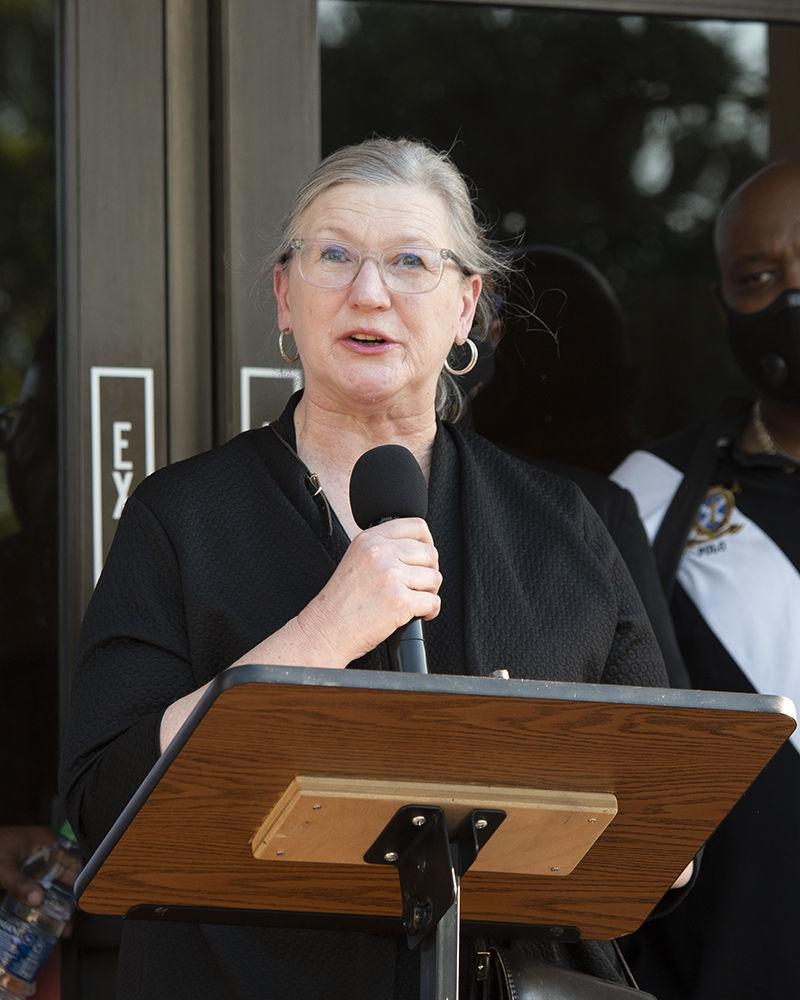 The movement of education online because of the COVID-19 pandemic has enhanced the delivery of education in "multi-modal ways that help accommodate students' lives and their situations better," she said.
The athletics department has added more sports under Godwin's leadership. Sports are important because they attract students who otherwise "might not take advantage of getting an education," she said. They key is to "leverage athletics to get them a great education and move them forward, to enter the middle class and have a long-term sustainable-wage career."
PHCC also encourages its student athletes to build leadership skills and be involved with the community, she said.
The role of president involves constant fundraising, she said: "If we just looked at tuition and state dollars, there's no way that Patrick Henry could do what it does."
PHCC's next president is "always going to have to be aggressive and visionary, and driving those opportunities for funding and looking for a very diverse approach to funding strategies," she said.
The award
The PTK award will be presented in April, during the society's annual convention, which will be staged online.
PHCC students nominated Godwin, and PTK selected eight retiring college presidents who have shown strong support of students' success on their campuses and continuously have provided academic, leadership, and service opportunities for their students.
PTK is "a great organization" that supports student success, Godwin said. That includes scholarship opportunities for society members at 4-year universities.
PHCC's foundation helps pay students' membership costs into the society to be sure all who were eligible could participate, and reap its benefits, she said.
She credited PHCC's Associate Professor Communication & Developmental Math Bronte Millner, English instructor and Dual Enrollment Liaison LaDonna Varner and Vice President of Academic and Student Success Services Greg Hodges with supporting the PTK chapter at PHCC.
Additionally, Godwin and her husband, retired biology instructor Jim Hatten, created a "presidential leadership school" for the PTK chapter, she said.
Once she leaves PHCC for her native Mississippi, "It probably is a cliché, but I would like for the community and the college as a whole to feel that I left the college better than I found it," Godwin said.
"I love the community, faculty, staff and students, and I would like for them to remember that I loved them and I was fighting for them every day. … I would like to be thought of as a champion, because that was my intent – to position the college in a way that would put it on a trajectory to be successful."