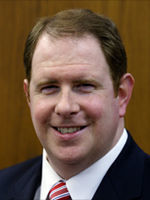 Les Adams (R-Pittsylvania County) will return to Richmond to represent the 16th District House of Delegates after handily defeating Libertarian candidate Dustin Evans.
"It's a tremendous privilege to represent the people of this district," said Adams. "I've never taken it for granted.
Adams easily defeated Evans of Blairs, 75% to 25%. In Martinsville Evans got 48% of the vote, while Adams dominated in Henry County.
Self-described non-traditional candidate Dustin Evans took on incumbent Les Adams with campaign priorities that included education, agriculture, and repairing health care as his priorities.
"I could have done better," said Evans. "We didn't get as many votes as I had hoped, but I'm proud. It's difficult to run a local campaign when the focus is on a national level, but we delivered a message that hasn't been heard and there is nothing I would change."
Evans blamed a lack of state funding as the major stumbling block for education in the District pointing at the disparity between Northern Virginia and Southern Virginia.
Red tape and regulations hinder agriculture, specifically hemp production according to Evans.
Evans argued the lack of health care facilities reduces the quality of healthcare in the District.
Adams has represented the District since 2014. Important to Adams is a better economy, good jobs, growth of small businesses, quality education, and the problem of opioid addiction.
"I'm honored by the support," said Adams. "Being re-elected is a validation of my representation. My constituents know I've kept my pledge and will continue to serve in their best interest."
Adams said he has been very effective in passing legislation that benefits minority owned businesses, strengthens agriculture, and reforms criminal justice.
Adams has pledged to continue to legislate in a manner that allows Virginia to remain the best state in which to do business while protecting the interests of the region. He says he is looking forward to continuing to serve his District.
Eric Bowling, a supporter for Evans in Henry County recently told the Bulletin: "No matter the result, there's going to be different ways that we can classify this as a win, either way. There are going to be, regardless of the turnout, people voting for a libertarian for the irst time ever.
Evans congratulated his opponent: "I'd like to congratulate Mr. Adams. I've met him and he's a very nice man and ran a very good campaign."
"The last couple of years, the opponent that Dustin is going against has run unopposed. It encourages participation, the more voices and the more choices that people have," Bowling said.
Get local news delivered to your inbox!
Subscribe to our Daily Headlines newsletter.