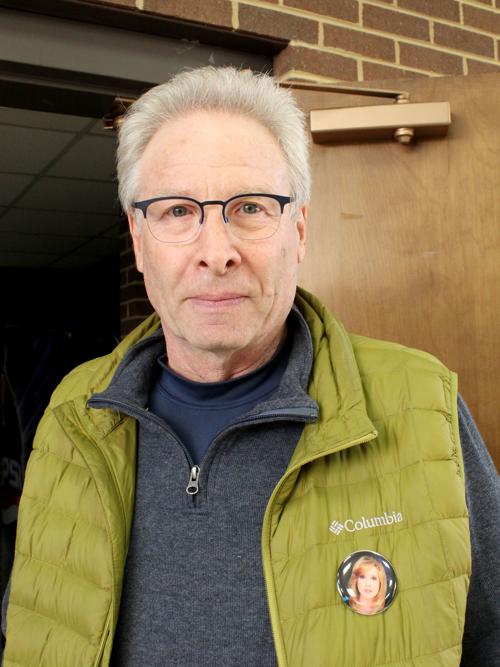 Gun rights continue to be in the spotlight in Henry County, as the father of a news reporter shot and killed on live TV took the podium at Tuesday afternoon's Board of Supervisors meeting to decry their resolution to become a "Second Amendment sanctuary."
On the opposite side of the debate, a militia organizer from Pittsylvania County was expected to speak during the public comment period at 6 p.m.
During the afternoon meeting, Andy Parker addressed the board wearing a button with the face of his daughter, Alison, who was slain at age 24 on Aug. 26, 2015. Since then, he and his wife, Barbara, have been outspoken advocates for what they call "common-sense legislation" that could have saved their daughter's life, such as red-flag laws to temporarily remove firearms for people deemed to be a danger to themselves or others.
In his remarks, Parker called the Second Amendment sanctuary movement "a pointless and gratuitous gesture solely designed to placate conspiracy theorists and those with a senseless paranoia about gun confiscation."
"Like other feckless supervisors in rural Virginia, you've defied legal advice in some cases, ignoring warnings from the county attorney and administrators that the sanctuary resolutions are legally meaningless and dangerously confusing," he said, noting that the Tazewell County administrator called them "unconstitutional and worthless."
The Parkers had seemed to be the only gun control proponents in the audience Nov. 26, when Blackberry resident Josh Barnhart and hundreds of supporters packed the board meeting to urge supervisors to join other rural localities in declaring the county a sanctuary for gun rights. The board did so that evening in a whirlwind process, drafting the resolution in just a couple of hours and voting on it that evening.
This action will have a negative impact on economic development efforts, Parker told the board.
"What you've done is foster the notion that any gun laws passed in Richmond will be ignored by the sheriff and commonwealth's attorney in Henry County. And in the process, you've made [MHC Economic Development Corp. President and CEO] Mark Heath's job that much harder by announcing to business prospects just how 'enlightened' you are," he said.
Many rural localities in Virginia passed Second Amendment sanctuary resolutions to protest a slate of gun control legislation being considered by the Democrat-controlled General Assembly this session. Gun rights supporters from Henry and Patrick counties joined tens of thousands of protesters, some armed, in a lobby day Jan. 20 in Richmond organized by the Virginia Citizens Defense League and other conservative groups.
If the protest did anything to affect the pending legislation, it is not evident. The day after the rally, a House of Delegates panel killed nearly a dozen Republican-sponsored gun bills. The Senate voted to approve a red-flag law Jan. 22, and other measures dealing with universal background checks and reinstatement of a law limiting handgun purchases to one a month are working their way through the committee process.
Parker told the board he was in Richmond for the rally. "They were there to intimidate, just as they did here in November," he said. "The difference is, legislators in the General Assembly weren't intimidated, and make no mistake — the common-sense, constitutionally valid legislation they reported out of committees will become law when they pass on the floor and are signed by the governor."
He also pointed out that the National Rifle Association did not publicly partner with the VCDL's Jan. 20 rally and held their own separate legislative day on Jan. 13. "It's saying something when the NRA doesn't even want to have anything to do with these crazies," Parker said.
Parker also questioned what law enforcement will be expected to do under the county's sanctuary measure once new gun control laws take effect in Virginia.
"What are you going to do about it? Are you going to instruct [Henry County] Sheriff [Lane] Perry to defy an Extreme Risk Protective Order? If you do defy the laws of the state, are you prepared for the consequences?" he said. "Because God forbid, if someone died because of your actions, the county better have plenty of liability insurance."
Referencing the evening portion of the board meeting, Parker added, "Soon, another crowd will come asking you to form a Henry County militia so they can continue their tactics of intimidation. I'm curious to see if you'll be okay with that kind of dangerous escalation and the damage it does to the county's image in the eyes of the civilized world."
Get local news delivered to your inbox!
Subscribe to our Daily Headlines newsletter.