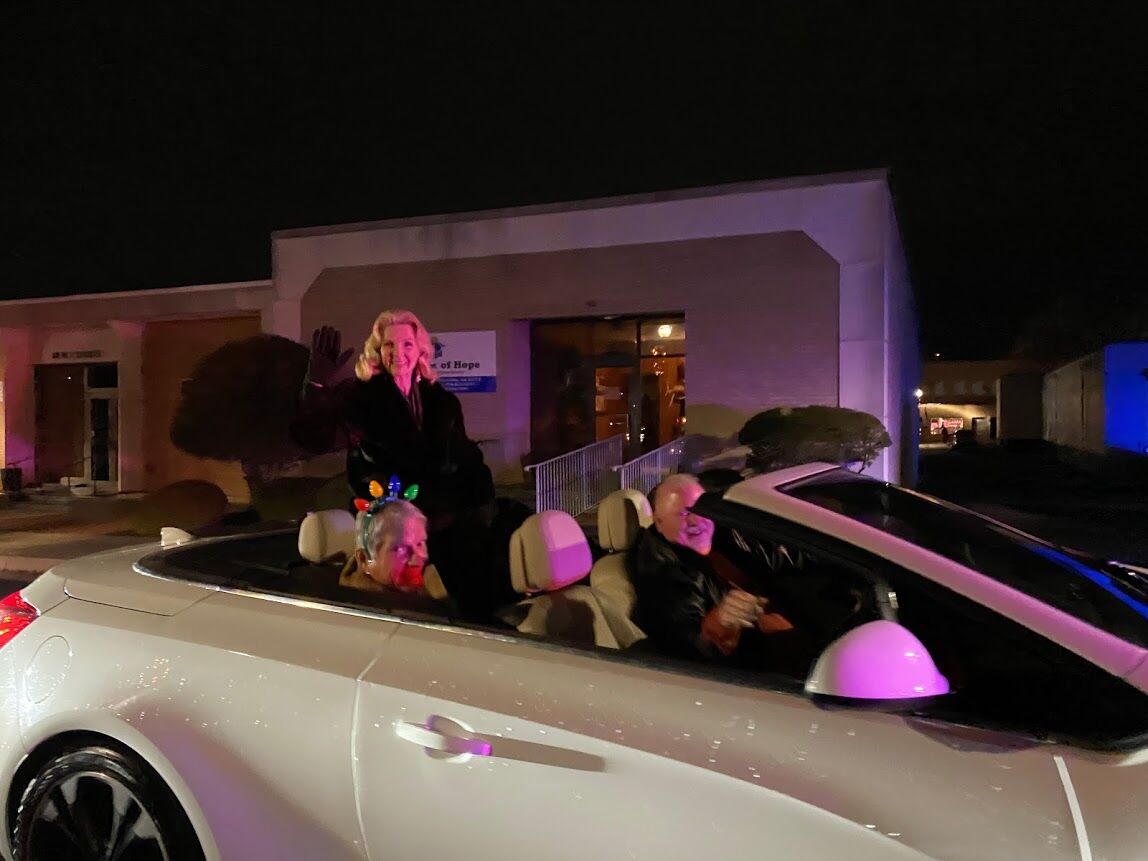 To all the titles won by Barbara Guthrie Lay you now can add "Christmas Miracle 2020."
Lay, the grand marshal of the Martinsville Christmas Parade earlier this month, was declared dead of COVID-19 on Christmas Eve.
And then she was revived.
Lay, 82, a former Miss Martinsville and Miss Virginia, is recovering from what turned out to be as near to death as one can get. She contracted the virus after returning home to Atlanta from riding in the scaled-down parade on Dec. 4.
"She lives in a townhouse in Georgia, and a kid next door got COVID," said Howard Huff, her longtime friend from Martinsville. "Her neighbor doesn't believe in wearing a mask, and the kid's mother came over to talk to Barbara. Next thing we know, she's [Lay is in the hospital and] on a ventilator."
On Christmas Eve, that hospital, Wellstar North Fulton Hospital in suburban Roswell, informed Thom Kelley, Lay's son and a physician, that his mother had died.
Kelley broke the news to Lay's husband, Tony.
Then the hospital called Kelley back to the hospital and explained to him that incredibly, when they had given up trying to resuscitate her, they detected a faint pulse.
Tony Lay rushed to the hospital.
"I stood outside her ICU room for about two hours, looking at her," he said. "They would not let me go in and speak to her or touch her. They were afraid the stress would be too much for her heart.
"They told me if she crashed again, there would be nothing they could do because her heart couldn't stand another resuscitation—that would kill her."
Tony Lay was sent home after being told not to be surprised if he received a call later that night and was told "it really was the end this time."
Two days later, Tony Lay was diagnosed with COVID-19 and confined to home recovery.
"Barbara was in an induced coma and on a ventilator," Huff said. "They said her heart was only functioning at 10%."
Huff said the doctors explained the coma and ventilator were both dangerous. While Lay needed both to survive, the longer she remained in that condition, the less chance she had of a recovery.
"Suddenly her heart function improved from 10% to 25%, and they were hoping to bring her out of the coma, but they decided to leave her another day for her lungs to improve," he said.
But on Sunday, Huff said nurses found Lay sitting up and demanding to see her husband.
"She's the Christmas miracle," Huff said. "Lots of people have been praying for her, and those prayers have been answered."
Sunday night, Kelley said he had spoken with his mom's nurse, and she reported that Lay was still doing well off of the ventilator.
"If she continues to improve, they may be able to switch her oxygen to a nasal prong, which is a huge step forward," Kelley said. "As a physician, I will say without hesitation there is only one word for what has happened over the past week—a miracle."
Huff wanted to know when the latest story on Lay would appear in the Bulletin so he could make sure she got a copy.
"Barbara has not seen a spotlight she didn't like," Huff said. "She has this incredible will to live and always says she plans to live until she's 101."
Said Kelley: "Anyone that knows my mom is aware of her tenacity, her desire to live to 101, and, yes, her stubbornness. All of this has helped her get to this place, but she most certainly would not be here today without all of the love, prayers and support that everyone has lifted up."
Bill Wyatt is a reporter for the Martinsville Bulletin. He can be reached at 276-638-8801, Ext. 236. Follow him @billdwyatt.