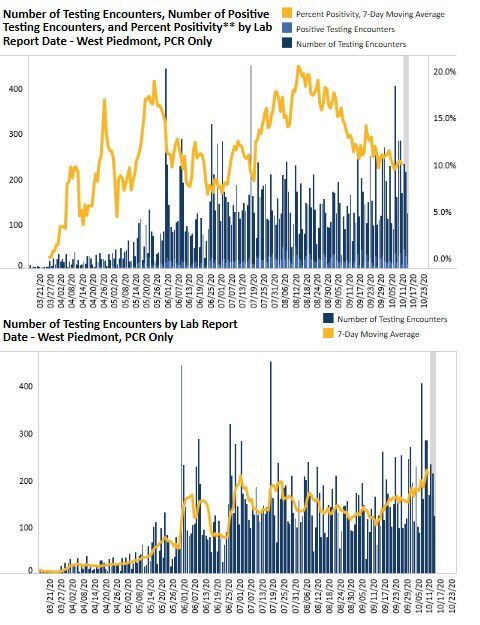 COVID-19 continues to claim lives in Henry County as a particularly deadline week continues.
The fourth resident has been reported dead in the past three days from the disease caused by the novel coronavirus. Deaths are reported after their cause has been verified in death certificates by the Virginia Department of Health. They are tracked by the victim's place of residence.
This 31st death -- the 84th in the West Piedmont Health District -- was one of only seven reported statewide on Thursday morning by VDH.
And it comes as researchers at Virginia Commonwealth suggest the number of cases and deaths maybe much higher than has been reported and a surge in escalating in about half the states.
This most recent casualty was a white man at least 80 years old, which is typical – except for gender – of the previous 83 who have died in the district. VDH no longer shares gender and age of specific cases in a locality.
Through Thursday, though, the virus has claimed 66 people 70 and older, nine in their 60s, five in their 50s and four in their 40s. Of those 60 were white, 18 were Black, and 44 were women.
A surge of 47 more cases of the virus across the district were reported on Thursday, centered once again in Franklin County, where a new outbreak has sent cases spiraling.
The county added 31 more this morning -- up to 597 now -- and another hospitalized case. In contrast to those trends are that there have been only four deaths and 23 hospitalizations.
Franklin County has issued multiple public health alerts and earlier this week closed the county treasurer's office until Monday. Its schools remain on virtual learning.
Henry County had 13 new cases and two hospitalizations along with the death. Martinsville had three new cases, and Patrick County was unchanged.
Oddly Franklin County has the lowest per capita case rate (1062.4 per 100,000 population) in a district that posts very high rates.
Martinsville has 3449.1 cases per 100K, and Henry County has 2394.4. Patrick County is at 1675.
Across Virginia, more than 2.3 million people – about 25% of the population – have been tested for the virus, and the positivity rate is 4.7 %. In West Piedmont, there have been 22,703 tests through Thursday, but the positivity was right at 10%.
And the 7-day moving average has been on a distinct rise when measured by lab report date and has matched the highest points since the pandemic began.
The West Piedmont Health District's updated cumulative totals since the pandemic began:
Henry County: 1,220 cases, 133 hospitalizations, 31 deaths.
Martinsville: 445, 63, 23.
Patrick County: 296, 52, 26.
Franklin County: 597, 23, 4.
By comparison, Danville has reported 1,090 cases (38 deaths), and Pittsylvania County has had 1,185 (11 deaths).
VDH reported that there have been 162,941 cases and 3,388 deaths statewide -- up by seven from Wednesday – and some 11,704 people have been hospitalized.
Concerned about COVID-19?
Sign up now to get the most recent coronavirus headlines and other important local and national news sent to your email inbox daily.